A Virgin America passenger is suing the airline for $500,000 after being detained by federal agents following an in-flight tiff. After his soft-drink order went awry, flight attendants reported to the police that the passenger went to the lavatory, cursed, and left the toilet unflushed.
While on board a Virgin America flight from Philadelphia from San Francisco last spring, passenger Salvatore Francesco Bevivino pressed the flight attendant call button to order a soft drink, but the crew member who arrived told him to use the seatback touch-screen in front of him to make the order, according to a copy of the lawsuit obtained by NBC Philadelphia.
Bevivino, 52, declined and asked to be brought the drink, which another flight attendant did.
The passenger had little other interaction with the crew, but when the plane landed at San Francisco International, he was pulled aside and taken into custody by airport police and federal agents, the lawsuit states.
An incident report filed by San Francisco police shows authorities were called to the scene because the flight crew complained to the pilot that Bevivino was using profanities and not listening to instructions.
A flight attendant told police Bevivino said, "My time is precious, you are here to serve me," and that he later used the lavatory but did not flush the toilet, according to the incident report.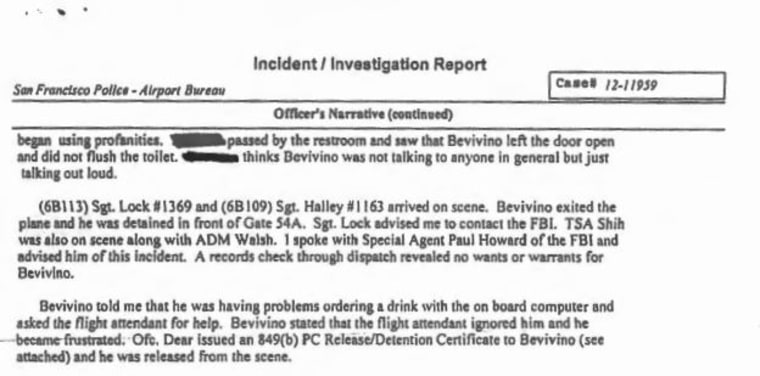 Bevivino denied using any profanities. His attorney said the lavatory visit was a "non-event" and pointed out that the pilot told police that at no time did the flight crew feel threatened by Bevivino.
"He was taken into police custody when he did nothing wrong," Patricia Barlow told NBC News. "I think there was probably racial profiling problem."
The lawsuit filed in U.S. District Court in California last week notes that Salvatore Francesco Bevivino, a U.S. citizen of Italian ancestry, "is of dark complexion and could be mistaken for being from the Middle East."
The lawsuit alleges the airline acted in an "arbitrary and capricious manner" and failed to train its crews "so that they do not escalate a customer service inquiry with a security threat resulting in passengers being wrongfully detained against their will."
The captain in this case went overboard, Barlow said. Bevivino was released after authorities told him the matter seemed to be a customer service issue, according to the lawsuit.

Virgin America said it generally does not comment on the details of ongoing litigation, but added that it takes guest service very seriously.
"We are aware of the incident in question, we have carefully reviewed our internal crew reports, and we are confident our teammates handled this matter appropriately," said airline spokeswoman Jennifer Thomas, in a statement.
All Virgin America flights have a cart beverage service during which passengers can verbally order drinks from flight attendants if they do not wish to use the touch-screen feature, according to the airline.
Meanwhile, Bevivino complains in the lawsuit that he suffered not only emotional and mental distress, but also that the incident caused him humiliation, fright, shock and loss of reputation. He is seeking $500,000 in damages.