Rome tour operators are rolling out special Pope Francis-themed deals and packages to both entice tourists and keep up with the increased demands from pilgrims.

"Pope Francis is the Church's new speculative asset aimed at drawing in religious tourism," says Pietro Tognazzi, adviser for several tour operators.
Elected in March, Pope Francis, who hails from Buenos Aires, Argentina, has turned-out to be a revamp for Rome's sagging economy. Tourism increased by 10 percent at Easter, according to Federalberghi, the Italian hotels' lobby. Local authorities expect thousands of pilgrims to pour into the capital as summer draws near.
Juanita del Carmelo, a 50-year-old housewife from Argentina, jumped on the first plane when she heard that her countryman had risen to the Chair of St. Peter. "I've always wanted to visit Rome, and now I'm here, I still can't believe it. I saw him at the window blessing us. An emotion I can't describe".
Pope Francis has a strong spiritual charisma, but also a "commercial" appeal. Rome tour operators, busy putting together new deals for pilgrims, are in bliss. They believe the new pope has the power to lure tourists, just like Pope John Paul II before him did.
Since the white smoke first rose, the number of passengers flying the Rome-Buenos Aires routes has increased by 57 percent according to data by Italy's flag-carrier Alitalia. They include Argentines who want to come say hello to their pope, and in the other direction, Italians who yearn to discover his native world. Alitalia has introduced new cheap flights from many Italian cities to Buenos Aires and in agreement with operator Tour 2000, a 7-days package including both trips, B&B and guided city visits for 990 euro ($1267 USD) per person.
Meanwhile, the Vatican's pilgrim tour operator, Opera Romana Pellegrinaggi, has signed an agreement with Italy's national railways for 48-euro ($61) train tickets to Rome from all across the peninsula, a discount from their normal price of 85 euro ($108).
Even hotels are in a frenzy. They're tossing in free wifi, free spa and a bottles of wine and fruit baskets. Special offers include the free shuttle bus to the Vatican, night visits of the Vatican Museums and early morning "skip-the-line" service. Forget the queues, it'll be just you and the Sistine Chapel.
Last-minute demand is soaring. Cristina Barbieri of the Nextbt agency says she has a group of 40 pilgrims from Slovakia that were originally just 20, but the number rose after the new pope ascended. Bookings are up 15 percent for May's Pentecost and the Year of Faith celebrations, says Barbieri.
Pope-themed tour packages typically combine visits to the Vatican and Ancient Rome via guided multilingual bus tours with lunch break at authentic restaurants and accommodation in simple hotels.

However, anything can be organized by request, tour operators say, even pre-booking tickets for the pope's general audiences on Wednesday and private mass services for groups arriving with their own priest.

A selection of toursand packages centered around the new Pope
Nexbt: "Christian Rome"
4 days in a 3-star hotel with half-board, private mass service, city bus tour with multilingual guide, restaurant lunch stop, visit of St. Peter's, Vatican Museums and other basilicas. 360 euro ($460)per person.nextbt.it
Radisson Blu: "Vatican Package"
2 nights stay, visit of Vatican Museums and St. Peter's, a welcome cocktail drink, romantic dinner at rooftop restaurant, chocolate box in room upon arrival, and a special seafood menu for two. 270 euro ($345)per person.radissonblue.com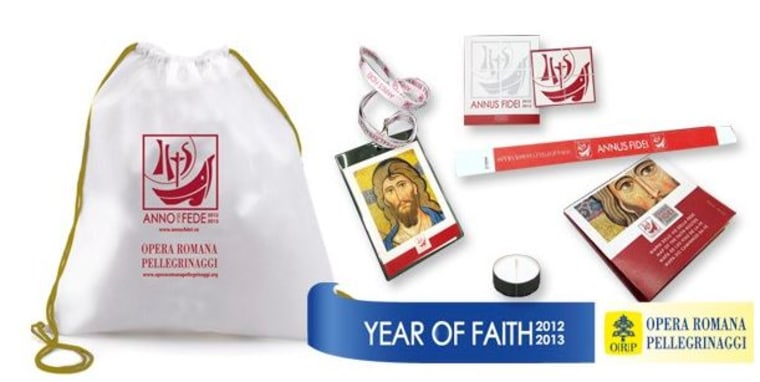 Opera Romana Pellegrinaggi: "The Routes of Faith"
The Vatican's official tourist board offers 1-3 day packages with accommodation in religious structures, city tour on the Christian Rome Open Bus, prayer sessions in churches, guided pilgrimages, insurance, medical assistance. The package includes a free "pilgrim kit," a white drawstring backpack containing a city map identifying itineraries, welcome centers and hospitality points; colored bracelet; badge-holder. 25-135 euro ($32-$172.8) per person.operaromanapellegrinaggi.org/en
Opera Romana Pellegrinaggi: "Omnia Vatican & Rome"
A double sightseeing pass for Rome and the Vatican with a 3 day validity. The package includes free public transport, free tickets for Rome's top attractions, like the Pantheon, Coliseum, and Roman Forum, fast track entrance, and non-stop use of the Open Bus. Adults 90 euro ($115); age 6-12 65 euro ($83); free for under 6.operaromanapellegrinaggi.org/en