In the real village of Sleepy Hollow, where the tour guides say "Halloween is our Christmas," the fall season is even busier than usual, thanks to a hit TV show that plays off the legend of the Headless Horseman.
The new Fox series "Sleepy Hollow," which brings Ichabod Crane into the present day with a save-the-world mission, has fostered interest in Washington Irving's 1819 short story, "The Legend of Sleepy Hollow." In the original, Crane is a skinny, superstitious schoolmaster who has a nightmarish encounter with a decapitated Hessian soldier. It mentions several places in modern-day Sleepy Hollow, located on the Hudson River 25 miles north of New York City.
One of them is the Old Dutch Church, which Susan Laclair, of Granby, Conn., explored with her husband this month.
"We were watching the show, and I was remembering the old story I'd read as a kid. I love anything to do with history, and I said, 'There's a real Sleepy Hollow. Let's go for a few days.'"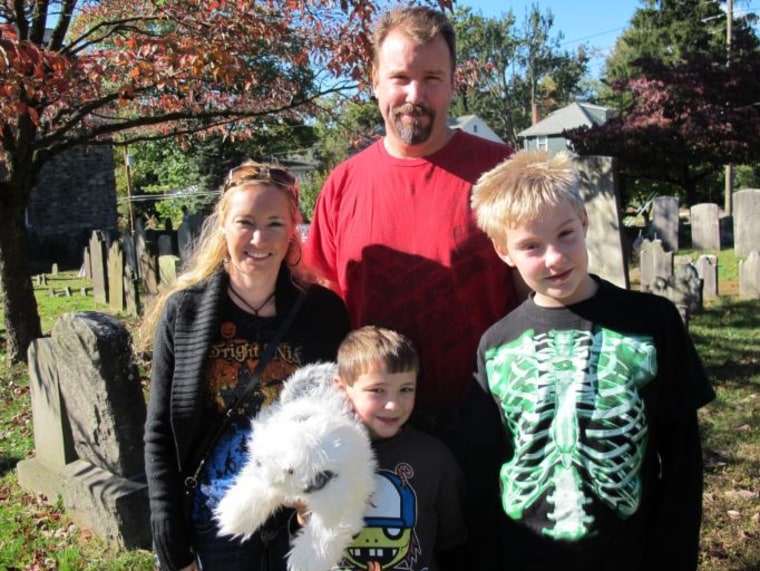 Also in town was the Werner family of Greenwood, Ind., which headed for Irving's gravesite at the historic Sleepy Hollow cemetery and planned to visit his home in nearby Tarrytown. Christian Werner, 10, wore a cemetery-appropriate skeleton T-shirt.
"We've always kind of wanted to come here, and we love the TV show," said his mother, Jill Werner. She said her younger son, 7-year-old Colin, planned to dress as the Headless Horseman for Halloween back home.
Anthony Giaccio, the village administrator, said, "We've always had people from all over come to our Halloween events, but the Fox show has really added to that."
On the local tourism website, "every time there's a show, the hits spike, and we're at three times more than last year," Giaccio said.
The extra attention fits the village's goal of encouraging tourism to support a downtown that has struggled since General Motors closed an assembly plant in 1996. Later that year, the village voted to change its name from North Tarrytown to Sleepy Hollow.
In 2006, on Halloween, an 18-by-18-foot sculpture depicting the climax of Irving's story was installed alongside Route 9. With a haunted Horseman's Hollow at an 18th-century mill and performances of the "Legend" at the Old Dutch Church, the village is part of Historic Hudson Valley's increasingly popular Halloween attractions.
Giaccio said the tourist season seems to be getting longer, starting in mid-September and stretching into mid-November, but the village hopes to encourage people to visit at other times of the year as well. A current TV ad, created using a state grant, says Sleepy Hollow "isn't all about horror" — but the characters intoning the phrase include the Grim Reaper and a disembodied head.
Mark Goffman, an executive producer of "Sleepy Hollow," said Irving's tale was inspirational.
"Every Halloween I was read it as a kid, and I have loved it," he said. "The idea that you can take this short story, which has such iconic characters in it, and then recreate it and reinvent it and involve the Revolution and put it in modern times, all told it just makes for a really epic kind of drama."
Even apart from the time travel, many liberties are taken on TV. To name just a few, Ichabod Crane is handsome, there are several Starbucks in Sleepy Hollow and the population is 144,000 instead of 10,000. An upcoming episode will suggest a "blood tie" between Crane and the Horseman, Goffman said.
It all appears to be working. The debut episode of "Sleepy Hollow" was Fox's most successful fall drama premiere since "24" began in 2001, and the series was renewed for a second season after just three episodes.
"The short story is 17 pages long, and we're creating a show that will hopefully be on for a very long time," Goffman said. "So we drew upon the short story as a basis and really needed to mold it into something new that people hadn't seen before."
"Sleepy Hollow" is shot in Wilmington, N.C., but Goffman said he'd like to travel to the real Sleepy Hollow for some scenes.
"We're looking for story lines that will get us up there," he said. "It would be great to take advantage of some of that iconic imagery."