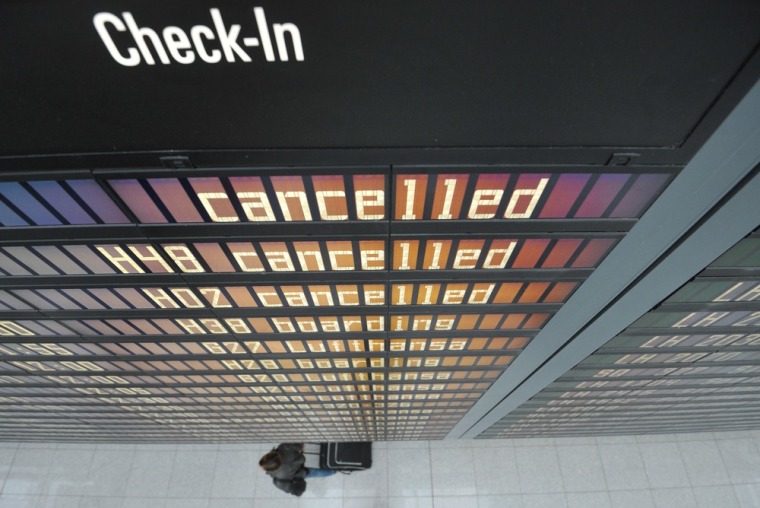 If you had to define a travel nightmare, this would be it: Thousands of flights canceled, train service halted, public transit on pause and countless travelers going nowhere fast as Hurricane Sandy menaces the East Coast.
"There are travel messes and then there are travel messes," said Rick Seaney, CEO of FareCompare.com.
"You have things like the Icelandic volcano, for example, which was only (affecting) trans-Atlantic traffic. This is bigger because it's both trans-Atlantic and Eastern seaboard. The Eastern seaboard controls sort of the nation, so it trickles down throughout the nation. Even if you're flying on the West Coast you could be delayed because of what's going on."
Deteriorating weather conditions forced airlines to cancel nearly 14,000 flights through Tuesday, and that number is expected to grow, according to Jackie Butcher, a spokesperson for FlightAware.com. Philadelphia International was most affected on Monday with 1,259 cancellations, followed by the three major New York City-area airports.
John F. Kennedy International, Newark Liberty International and LaGuardia remained open on Monday, but the Port Authority of New York & New Jersey discouraged travelers from even trying to get to the airports.The agency also began setting up cots for stranded passengers and placed sandbags at Newark Liberty. Photos showed flood waters from Hurricane Sandy approaching LaGuardia runways and taxiways on Monday afternoon.
The ripple effects are being felt across the country and even the world, as travelers trying to fly into the region to either get back home or make a connection are in limbo. Even Capt. Chesley B. "Sully" Sullenberger, the pilot made famous by the "Miracle on the Hudson" flight, tweeted that he was "stuck in PA" because of Sandy on Monday afternoon.
Hailey Walmsley was scheduled to return to Boston after attending a wedding in Atlanta, but she is stuck at the city's Hartsfield-Jackson International Airport – often dubbed "Hotel Hartsfield" when travelers in transit have nowhere to go – and told she won't be able to fly out until Thursday.

"My flight was actually canceled twice," she told Atlanta's NBC affiliate WXIA. "So now it's just kind of up in the air."
In Denver, where about 50 flights to the East Coast were canceled, Steve Houston was trying to get home to Belfast, Ireland.
"My biggest concern was that I would leave Denver, get to New York, and then get stranded in New York and be sitting there in the middle of the hurricane," Houston told Denver's NBC affiliate KUSA.
JetBlue closed its New York City operations Sunday night and proactively canceled more than 1,000 flights through Wednesday morning, said airline spokeswoman Sharon Jones.

"High winds are no bueno for flying machines, so we are sheltering our aircraft in other cities," the airline said on its blog.
American Airlines suspended operations Sunday night until Wednesday at nine airports in the Mid-Atlantic and Northeast, including Ronald Reagan Washington National, Dulles International, Baltimore/Washington International, Norfolk International, Philadelphia International, Newark Liberty International, John F. Kennedy International, LaGuardia and Bradley International.

"First flights into these cities will resume Wednesday. First flights out of these cities will take place after noon on Wednesday," said spokesman Kent Powell.
Delta Air Lines, which has cancelled about 2,500 flights, expects to resume limited operations at its LaGuardia and JFK hubs on Tuesday afternoon, with a full restart targeted for Wednesday. Operations at other East Coast airports are expected to resume by mid-morning Tuesday.  
Still, the good news is that the storm is hitting during a relatively slow travel period, FareCompare.com's Seaney said. Airlines also had plenty of notice to move planes to safer grounds and pre-cancel flights, he added.
"They'll be able to unwind (the backlog) in a day or two completely as long as there's no major damage to airports," Seaney said.
Related: Hurricane Sandy, by the numbers
All airlines now have hurricane-related travel waiver policies in effect, allowing passengers to change their reservations without a fee.
If you bought tickets through sites such as Expedia, Travelocity and Orbitz, call those companies and have them rebook, instead of calling airlines directly, because the carriers' phone lines may be jammed as everyone scrambles to change plans, advised Airfarewatchdog.com founder George Hobica.
Also keep in mind that if you are stuck at the airport, hurricanes are considered a "force majeure" event or an "act of God" by the airlines, which means that cancellations are viewed as out of the airlines' control and the only thing travelers are entitled to is a refund, Hobica said. In other words, you may not get a hotel voucher.
Here are some more tips if you have to fly into or out of the region this week:
Sign up for alerts from your airlines and follow them on Twitter to get the latest information on your flights;

Monitor the FAA's flight information map for any airport delays or closures;

Have items like medications, your hotel and airline phone numbers, a change of clothes and toiletries with you, Hobica advised. If they're kept in checked luggage and you're stranded, you're most likely out of luck;

For JetBlue travel waivers, click here;

For United travel waivers, click here;

For Delta travel waivers, click here;

For American travel waivers, click here;

For US Airways travel waivers, click here;

For Southwest travel waivers, click here.

Air travel isn't the only mode of transportation impacted by Hurricane Sandy. Amtrak cancelled nearly all service on the eastern seaboard on Monday, and public transit was suspended in New York City, Philadelphia and Baltimore.

It's not a good time to be a tourist either. In New York, the Statue of Liberty crown reopened to the public on Sunday, but the monument will be closed Monday and Tuesday because of the storm. All Broadway and off-Broadway shows have been canceled for Monday. 
More hurricane coverage from NBC News: