Oh, say can you sew?
Baltimore-area quilter Joan Zelinka is pleased to be part of a project kicking off Thursday, July 4 to recreate the 30 x 42 foot flag with "broad stripes and bright stars" that flew over Baltimore's Fort McHenry from the War of 1812 and inspired Francis Scott Key to write the words that later became our national anthem.
After all, "It's a rare day that I do not stitch," said Zelinka.
And she and others involved in the Maryland Historical Society events marking the bicentennial of the War of 1812 will have plenty of stitching to do, all by hand.
They'll sew anew the flag using the same tools, techniques, materials, and within the same 6 week timetable that local Baltimore flag maker Mary Pickersgill used to create the original flag during the summer of 1813.

Key spotted the huge flag on September 14, 1814 when U.S. soldiers at the fort raised it to signal a victory over British forces. The restored remains of that banner are now displayed under glass and in a special chamber at the Smithsonian's National Museum of American History in Washington, D.C.
The new version, on the other hand, will be a touchable piece of the fabric of history.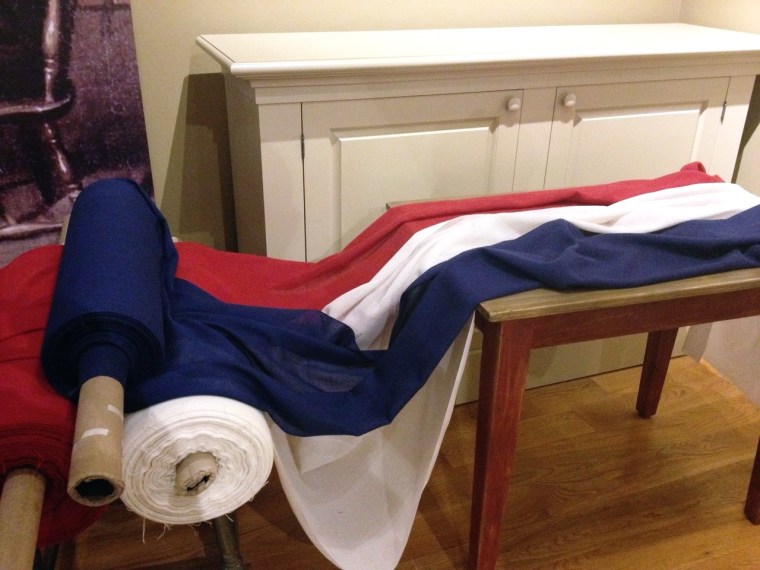 To recreate the flag, the historical society has recruited more than 100 experienced quilters to construct the majority of the flag beginning on July 4th at Baltimore's Fort McHenry National Monument and Historic Shrine. Members of the general public who sign up ahead of time will be able to add stitches to the flag as well in two afternoons of public stitching on Saturday, August 3 and Sunday, August 11.
One completed, the recreated Star Spangled Banner will fly over Fort McHenry National Monument and Historic Shrine. Then, along with Francis Scott Key's original Star-Spangled Manuscript, the new flag will be part of the 2014 Flag Day celebration at the Smithsonian's Museum of American History in Washington, D.C.
"I'm proud to be able to remind people that Baltimore is not just a football team," said Zalinka, "However few or many stitches I do, I'm proud I'll be part of something that lets people know about our nation's history and the role that Baltimore played in that history."
Find more by Harriet Baskas on StuckatTheAirport.com and follow her on Twitter at @hbaskas.