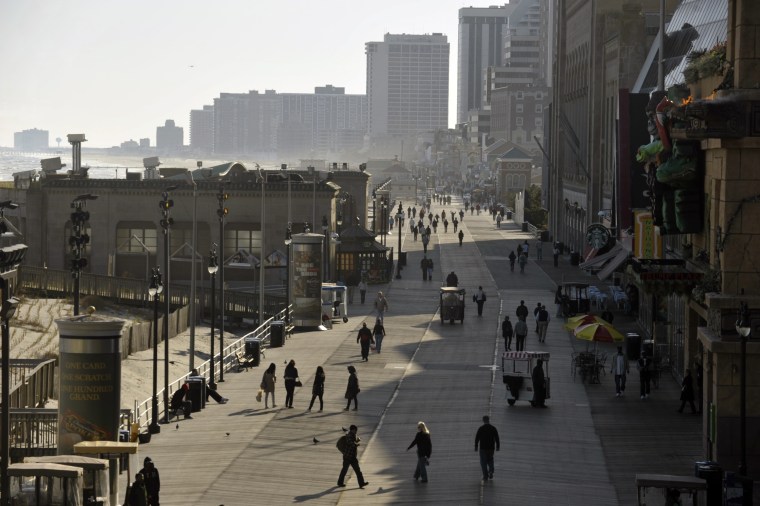 Half a year after Hurricane Sandy flooded Atlantic City homes and washed away much of its tourism, though barely any of its actual boardwalk or attractions, "America's Favorite Playground" is plowing millions of dollars into a revamp and upgrade it dearly hopes will lure back vacationers.
Atlantic City casinos were forced to shut their doors on Oct. 28 during the storm. Protected by the dunes, the infrastructure of Atlantic City's tourist district was barely harmed by Sandy, and the casinos reopened within a week. But national news footage had shown the city's iconic boardwalk engulfed in waves. Afterward, TV correspondents toured a 50-foot section that lay in splinters. However, media coverage missed that the portion of the boardwalk that suffered was in a residential neighborhood a half-mile away from the last casino on the boardwalk, and had been in disrepair for years.
Nonetheless, according to a November survey by Russel Research, 41 percent of Americans believed Atlantic City's boardwalk had been destroyed.
A 28 percent drop in gaming revenue followed, the largest monthly drop in 34 years, according to a study by the Tourism Economics research firm. Bookings for conventions, conferences and trade shows dissolved as well in the following months, although resort officials said those stabilized by January. According to travel booking site Kayak.com, Atlantic City has seen a 50 percent drop in Memorial Day hotel searches, and a 45 percent drop in travel searches for the period between May 27 and Sept. 2.

The city must attract travelers right now in order to cash in during the lucrative summer season.

Atlantic City Alliance, a gaming industry-backed group that promotes tourism to the city, is spending $20 million to relaunch the "Do AC" advertising campaign. A reprise of last year's effort, the ads showcase not just Atlantic City's gaming scene but also its dining, entertainment, shopping and spa offerings.
"Our heyday as a casino town is over," Ventor City mayor Mike Bagnell, whose municipality is a five-minute drive to the front door of the Tropicana Casino and Resort in Atlantic City, told NBC News.

Resorts Casino Hotel is betting on its new $35 million Margaritaville complex, opening May 24, to boost tourism. It will feature a Margaritaville restaurant, the year-round LandShark Bar & Grill -- the town's first beach restaurant -- and more. The facility held a job fair in mid-April where more than 2,000 applicants applied for 670 positions. "Even with the hurricane, that didn't even hinder our construction," said Mark Giannantonio, president and CEO of Resorts.
The Tropicana is also banking on new dining options, which will launch later this summer, including Philly cheesesteaks restaurant Tony Luke's, gourmet burger bar Broadway Burger Bar & Grill, and a Chickie's and Pete's sports bar.
"When we first opened, we didn't have every single amenity. We were still growing," said Darlene Monzo, vice president of marketing at Revel, an Atlantic City resort casino and hotel. But this year, they hope to draw the nightlife crowd with their new multifloor HQ Beach Club, opening in time for Memorial Day, featuring an adult-only playground with bars, pools, cabanas, and a DJ and dance floor.

One potential dampener on demand, and another reason for expanding entertainment options beyond the gambling, is the fact that the casinos' base draws largely from New Jersey and New York, where Sandy made landfall. "Our consumers come from areas where people lost their homes," said Monzo.
Atlantic City area homeowners alone have submitted more than 9,215 insurance claims and received a total of over $132 million in reimbursements from property losses due to Sandy, according to the New Jersey Department of Banking and Insurance. Some homes have been completely gutted due to flood damage, said Jim Fischer, interim executive director of the Atlantic County Habitat for Humanity. The agency is evaluating over 35 homes in the area whose owners have requested rebuilding help, and the number is expected to increase as more summertime residents return to inspect their properties and discover damage.
So resort executives have high hopes for their multimillion-dollar gambles on new dining and entertainment amenities, not just for their individual properties but for Atlantic City as a whole; one in 10 jobs in New Jersey depend on the tourism industry, and the tourism sector contributes almost $35 billion to the state's economy, according to data by Tourism Economics.
"It goes beyond Memorial Day," said Tony Rodio, president and CEO of Tropicana, of Atlantic City's big-ticket efforts. "If you look at the city at large, I think that there's been a number of initiatives that we've undertaken with the state and the regulators to help advance the city as we move forward and try to recover from Sandy."