If airlines were athletes, low-cost carriers would get the nod as fan favorites but traditional airlines are earning kudos as the most improved players on the field.
That's the gist of the latest J.D. Power and Associates North American Airlines Satisfaction Study. Released on Wednesday, the annual report shows overall satisfaction with the industry climbing to 695 (on a 1,000-point scale), an increase of 14 points over 2012.
"A lot of what's driving the gain has to do with technology, innovation and people," said study director Jessica McGregor. "Those are the areas where there's been a lot of strong performance."
The gain was also driven by traditional carriers, which posted a 16-point increase overall, to 663, over last year. Alaska Airlines topped the list for the sixth consecutive year, with a score of 717 (up 39 points), followed by Delta (682, up 23 points) and Air Canada (671, down 6 points).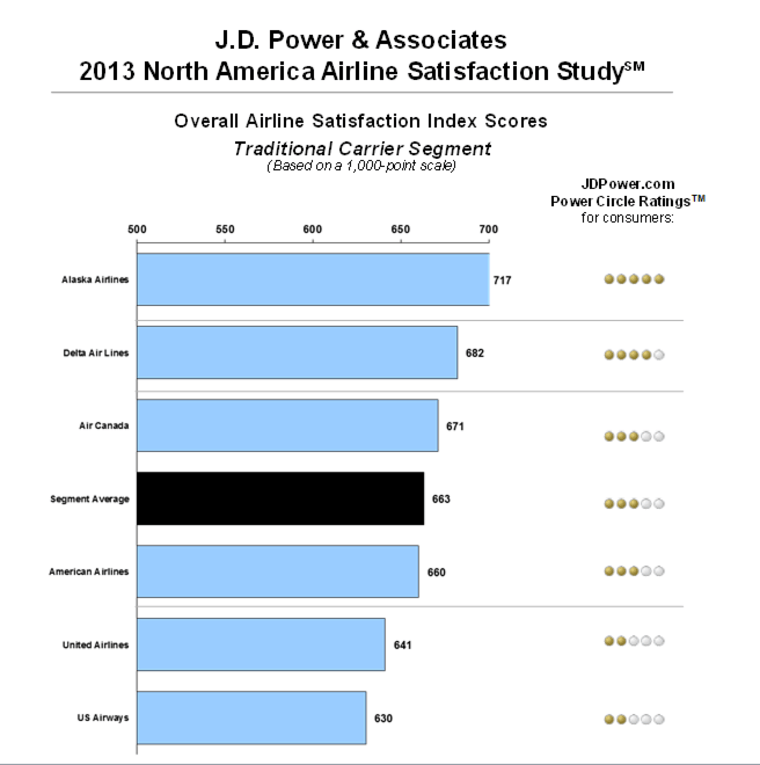 By comparison, overall satisfaction with low-cost carriers rose just 1 point, to 755. JetBlue took top honors for the eighth consecutive year with a score of 787, followed by Southwest (770) and WestJet (714).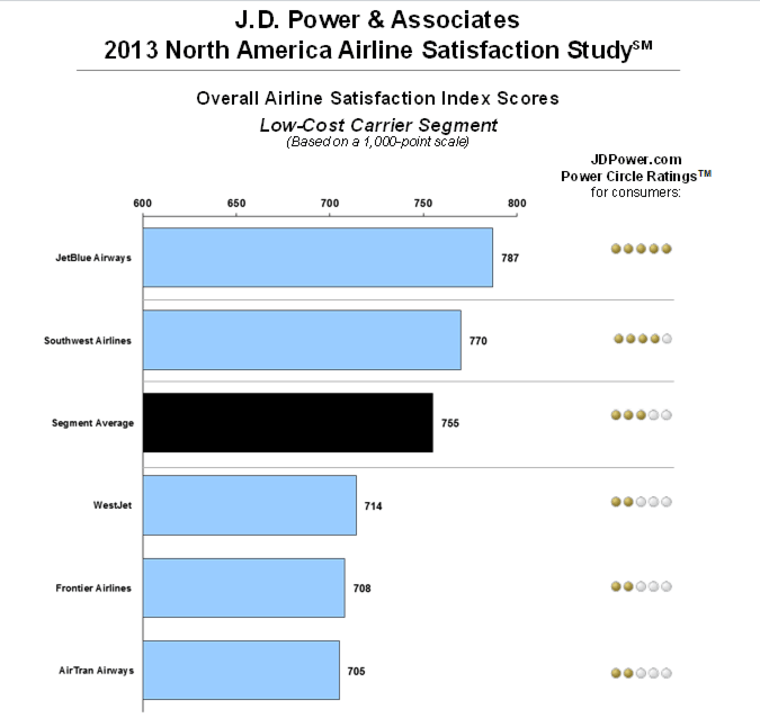 "They still have much higher performance levels than traditional carriers but the traditional carriers are beginning to close the gap," McGregor told NBC News.
The study measures passenger satisfaction based on carriers' performance in seven factors (in order of importance): cost and fees, in-flight services, boarding/deplaning/baggage, flight crew, aircraft, check-in and reservation.
According to McGregor, satisfaction improved across all seven factors, with the largest year-over-year increases occurring in the boarding/deplaning/baggage (up 17 points), check-in (up 15) and aircraft (up 15) factors.
Smile!Passengers like it
Improvements notwithstanding, bag fees remain a hot-button issue — scores for those who paid a fee were 63 points lower than for those who didn't — although even that shows signs of cooling off. Two years ago, the difference between the two groups was 100 points.

"Bag fees are still a point of contention for people," said McGregor. "There's no getting around that but we see (their dissatisfaction) becoming less pronounced. People have begun to expect it as part of the cost of air travel."
And airlines are unlikely to give them up. On Tuesday, the Department of Transportation announced that the 15 largest U.S. carriers collected $3.5 billion in bag fees last year, an increase of 3.8 percent over 2011.
As for other factors that posted significant improvements, such as check-in and aircraft, McGregor suggests the former saw a boost due to the proliferation of self-service options while the latter benefited from increased availability of Wi-Fi, more entertainment options and seating upgrades, even when those services entailed a fee.
"Self-service is appreciated as long as it makes the process more efficient such as during the reservation process and checking in," said McGregor. At the same time, she says, the accompanying decrease in personal interaction means that the fewer "touchpoints" passengers do have with employees take on added significance.
"The airlines have been performing well in terms of flight crews and gate staff being more courteous, smiling and making eye contact," she told NBC News. In fact, both carrier segments achieved an 8-year high for passenger satisfaction with flight crews in 2013.
And sometimes, all it takes is a smile. According to the study, satisfaction scores for passengers who were greeted with a smile by airline staff, even if only some of the time, were 105 points higher than among those who never received a smile and 211 points higher among passengers who were greeted with a smile consistently, compared with those who did not receive a smile at all.
"If employees are smiling and making sure people are having a pleasant trip, it leads to an instant improvement in satisfaction," said McGregor. "It's easy for airlines to incorporate — it doesn't cost millions and millions of dollars."
Rob Lovitt is a longtime travel writer who still believes the journey is as important as the destination. Follow him on Twitter.