"Tornado tourism" may sound strange or even distasteful in light of deadly twisters in the past few weeks, but it's a thriving travel niche, and business is booming.
Most people curse stormy weather during their vacation, but Jennifer Giordano seeks it out. When a giant tornado began spinning a short distance away from her recently in Kansas, she was thrilled.
"It was in the middle of the field and there was nobody around," Giordano, 36, told NBC News. "It just sat there, absolutely stunning."
Welcome to the world of tornado tourism, led by companies such as Extreme Tornado Tours, which promises customers an "exhilarating, life-changing" tornado chasing vacation.
"Some people just do it for the adrenaline rush and some people are kind of obsessed with weather," said Dave Holder, one of the tornado tour guides.
"It's the same kind of people who enjoy skydiving or mountain climbing," said Holder. "We all bond."
Some 100 thrill-seekers have booked a trip with Extreme Tornado Tours this storm season, almost double the number of last year's customers.
A week-long chase costs $2,600, plus the cost of meals and airfare, but neither the price nor the recent killer storms are scaring off clients. This season's tours are mostly sold out, as are some dates in 2014.
Giordano, a mental health counselor from Rotterdam, N.Y., is a repeat customer who recently returned from her second storm chasing tour.
"It's extremely humbling to stand there and witness just how powerful our universe is," Giordano said.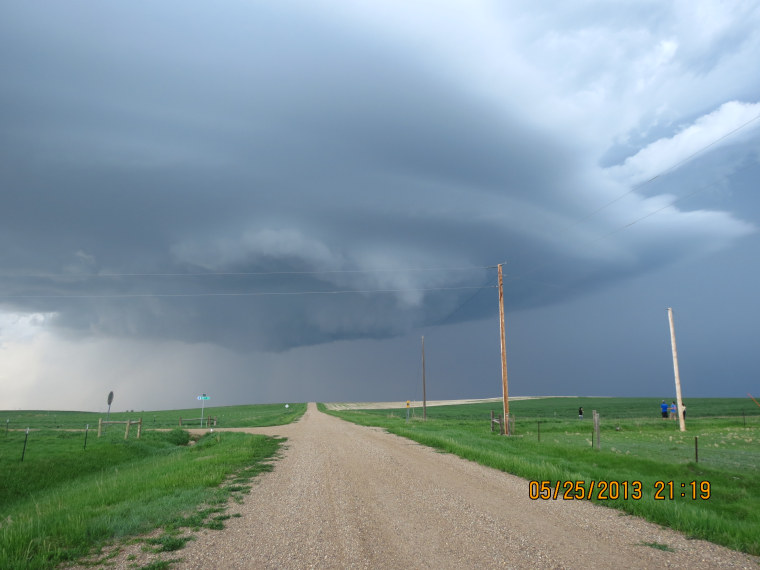 The tours run from mid-April to July, taking place mostly in the southern part of the country at the beginning of the season, and then gradually moving north to follow the jet stream.
The tornado tourists fly into a base city -- Oklahoma City, Denver or Calgary – and spend either seven or 10 days zipping around in two passenger vans in search of twisters. The caravan is led by meteorologists who examine weather models and map out a route with the best chances of spotting a tornado.
Some days, it takes only 10 minutes to find a tornado, Holder said. Typically the vans drive about 200 miles a day hunting storms.
"It's a lot of time in the van, but it's great," Giordano said. "We sing to each other, we laugh, we hang out... when we're getting ready to go on a chase, there's obviously a lot of energy in the van."
Giordano saw five tornadoes on her most recent trip, which ended on June 3 and took her through Colorado, South Dakota, Nebraska, Kansas, Oklahoma and Texas.
Extreme Tornado Tours can't guarantee its customers will spot a twister, but Holder estimated two-thirds of the tours do.
Holder said no one has been hurt on his tours. The degreed meteorologists who lead them can read the sky and know how storms act, so they can keep the travelers at a safe distance, he added.
Still, the recent tornadoes weigh heavy on Holder's mind. He was leading a tour near El Reno, Okla., when a monster twister struck on May 31.
It was "unreal" he said. "I can't get it out of my head."
The city was in a state of panic and the tour got into a "tricky situation" because of traffic, he recalled, so one of the big lessons the company learned is to be very careful about metro areas.
For those who find the tour's concept disturbing, Holder, who lives 10 minutes away from the area devastated by the Moore, Okla., tornado on May 20, says a twister, "is going to happen whether we're there or not."
"It's been rough… but we haven't had anyone say they don't want to come out now."