Southern Louisiana mom Shannon Hurst Lane says travel is not the "fun, exciting adventure" it used to be.
"It's the stressful, frustrating adventure."
Lane, who says she is "addicted to travel," has taken family trips over the years with her son and daughter - now 16 and 14, respectively: "We have gone through all the phases of travel, from infanthood all the way to putting the child on the plane by themselves."
But with airline cutbacks, complicated security processes and the added stress that comes with traveling as a family, Lane - creator of family travel blog TravelingMamas.com - said parents can feel "frustrated" with the whole travel experience.
And then there's low-cost airline AirAsia, which recently announced it will offer a baby-free "quiet zone" on long-haul flights for fliers ages 12 and above.
Business travelers might approve of the idea, but it would mean headaches for little ones and their parents kept out of the designated zone in the front of the plane.
"You don't want the person who's traveling with a child to feel like a third-class citizen," Lane said.
Traveling families might be left wondering what's in it for them.
RKS, a Southern Californian design consulting firm, may have the solution.
Airlines are losing ticket sales and opportunities because of the family-travel experience, says Ravi K. Sawhney, the founder and CEO of RKS.
"We came to the realization that people are not traveling with their children because of the stigma that comes with family travel," he told NBC News.
So, RKS' research and strategy director Harnish Jani says, they decided to focus on "some of the pain points," such as dirty diapers, hungry toddlers and bored kids.
RKS' concept, dubbed "cAir," (pronounced "care") involves family-friendly ideas such as lavatories that can fit a parent and child, configurable seats, aisle partitions that create a play zone for toddlers and even a sound curtain for parents to soothe their crying baby or breastfeed in private.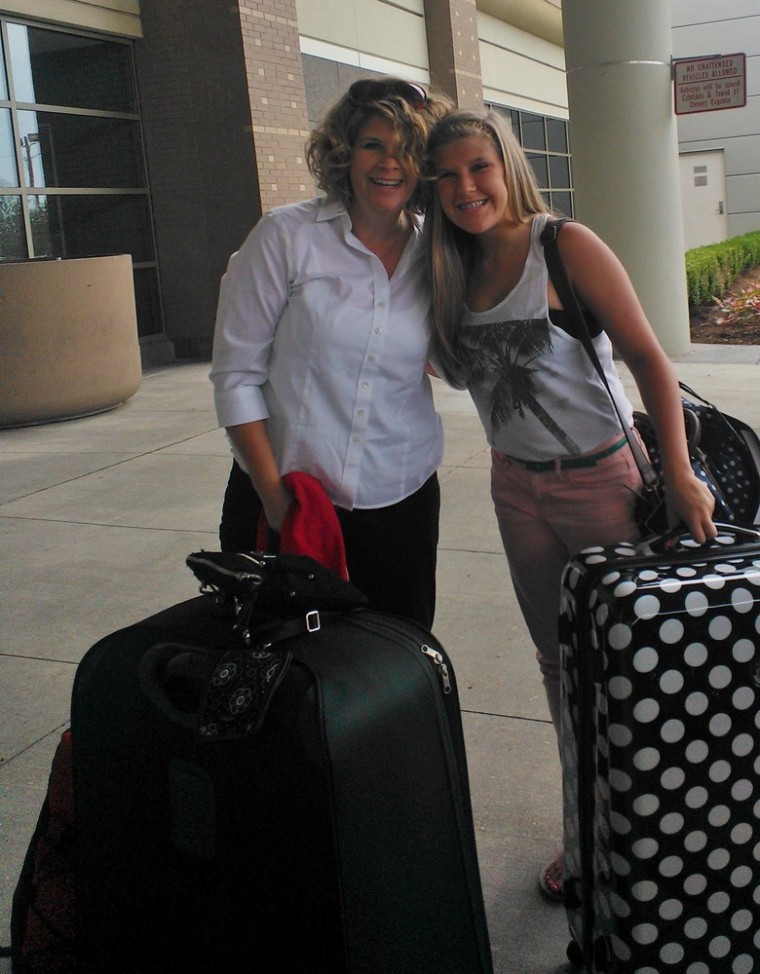 The design firm addressed "six key touchpoints of the in-flight experience": ambiance, entertainment, food, lavatory, seats and storage.
"It's those small nuances that people think could be improved by the airline," Jani said.
For example, packing for children poses problems for parents.
"I've had to check my child's bag two, three times to make sure they don't have a toy that might be considered a weapon or liquids," said Lane of TravelingMamas.com.
RKS' concept includes a rent-a-toy service, where kids can check out a toy and return it at the end of the trip or at arrival. Other ideas include USB bottle warmers and accessible storage - overhead and underneath the seat.
"In the early days of international travel, it was an incredibly positive experience," said Sawhney.
"You felt very special."
"I loved flying when I was a little kid," Lane said. "I just thought it just was the biggest adventure ever. That's probably why I still do this now because I always loved it."

Seattle mom Anne Taylor Hartzell, a blogger at HipTravelMama.com, said air travel is "sort of what holds your trip experience together.
"It's the bread … in the sandwich of travel," she told NBC News. She believes it's about focusing on the "simple touch points that make families feel like they're important and valued."
Hatrzell says her own kids call Virgin America "the first-class airline" because of their positive flying on it. They liked that the California-based airline has a TV and a "Jet Set Kid Pack," which includes "dolphin earbuds" for children.
"It made them feel comfortable and welcome and settled," Hartzell said.
"It's just those little things that help make the travel process easier - not necessarily big budget items for travel companies - that make our lives easier as parents and also as a family," she added.
Lane contends airlines should make flying fun.
"Airlines should be catering to their smallest passengers," she said. "It makes everybody on the plane happy when the littlest passengers are happy."