He didn't try to sneak shrieking eels past security or channel the menace of Dread Pirate Roberts, yet a recent flight turned into the Pit of Despair for a passenger with a fondness for "The Princess Bride."
Wynand Mullins was flying from Sydney, Australia, to Auckland, New Zealand, on Qantas Airways on Sunday when his T-shirt prompted concern among passengers and crew, he told New Zealand media.
Mullins was wearing a shirt adorned with the image of a giant name tag with the slogan: "Hello. My name is Inigo Montoya. You killed my father. Prepare to die."
Fans of the ever-quotable 1987 fantasy romance, "The Princess Bride," will recognize it as one of the best-known lines from the film, but travelers on board the flight apparently found it threatening, Mullins told Stuff, a news outlet in New Zealand.
"The flight attendant said to me: 'Are you able to remove it because some of the passengers are quite intimidated by it.' I thought it was all a bit silly. The person next to me was laughing, because they knew the movie," Mullins told the website.
He advised the flight attendant that he didn't have anything else to wear, so the crew member left to find another shirt but didn't come back and then avoided eye contact with Mullins for the rest of the flight, according to the report.
"I wouldn't be surprised if they had someone watching me the whole time," he told Stuff. "The whole experience was a bit over the top, but also a bit comical."
Mullins did not respond to repeated attempts to contact him, while Qantas said the incident appeared to have resolved itself.
"We have no record of an issue on this particular flight and it seems as though this was handled by the crew on board," the airline said in a statement to NBC News.
"Qantas does have dress standards for passengers travelling on our aircraft, particularly for slogans which other passengers may find offensive or threatening."
Related: Inconceivable! The irresistibly 'Princess Bride' turns 25
The T-shirt immediately went viral, to the delight of the man who said he sold it to Mullins during a sci-fi convention in Australia and has kept in touch with him via Facebook. Phil Callaghan -- the owner of Verboom, a tiny shop inside a mall in Wellington, New Zealand -- has sold more shirts than he ever could have imagined since the incident, he told NBC News.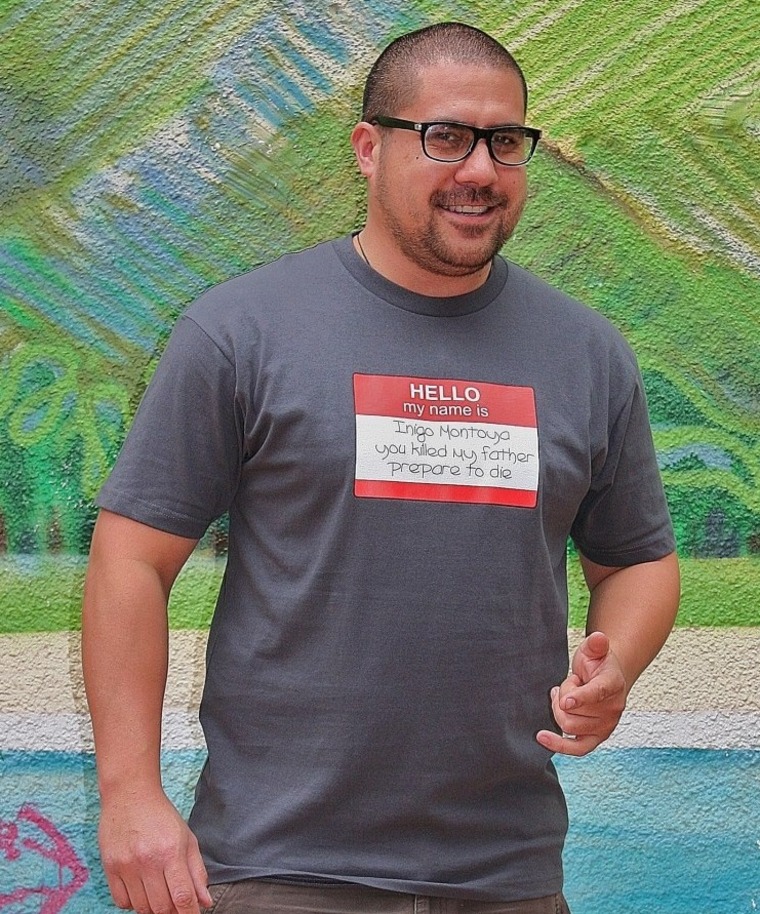 Callaghan tweeted a photo of Mullins in the shirt, which he said he created to satisfy his life-long habit of putting the phrase "Hello. My name is Inigo Montoya. You killed my father. Prepare to die" on name tags at conferences and other events.
"It's very fun. It's crazy, it's just weird," Callaghan said of the shirt's sudden notoriety, adding he was surprised the passengers and crew perceived the slogan as a threat.
"You think that that would happen ... in America. Usually, new Zealand and Australia are a lot more relaxed about that sort of thing."
It's far from inconceivable for a passenger's attire to draw airline scrutiny. 
Last year, for example:
A woman wearing a T-shirt that read "If I wanted the government in my womb, I'd f--- a senator" on an American Airlines flight was told to cover up;

Spirit Airlines booted a man off a flight at Chicago's O'Hare International Airport for being "verbally abusive" to flight attendants after they asked him to pull up his "excessively low" pants;

Southwest apologized to a passenger who said an airline employee told her she couldn't fly unless she covered up her cleavage.

Like Qantas, most carriers have clauses in their contract of carriage that address passenger attire. American Airlines, for example, warns that it may refuse to transport fliers "clothed in a manner that would cause discomfort or offense to other passengers." JetBlue may turn away passengers "whose clothing is lewd, obscene, or patently offensive."