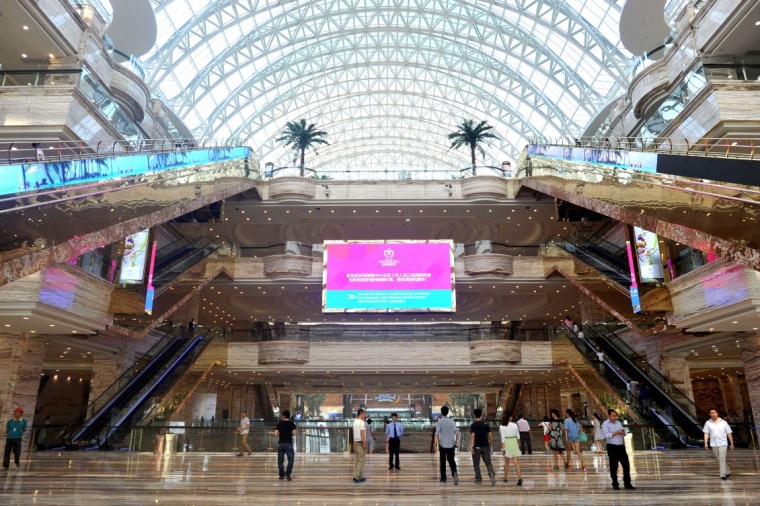 Though Dubai boasts the tallest building in the world, Chengdu in southwest China is now home to what Chinese officials are calling "the largest building in the world."

Situated in the capital city of Sichuan province, one of China's rapidly growing metropolises and home to over 14 million people, the New Century Global Center is a colossus of glass and steel. Opened on June 28 and developed by the Exhibition and Travel Group, the standalone building measures 500 meters long, 1640 feet wide and 328 feet high. It's large enough to hold 20 Sydney Opera Houses and, with about 5.5 million square feet of floor space, has three times the square footage of the Pentagon in Washington, D.C.
But what makes the New Century Global Center grandiose isn't just its size. The structure, whose construction began in 2010, will house not only offices and conference rooms but also southwest China's biggest shopping and entertainment mall, two 1,000-room five-star hotels, an ice-skating rink, a 14-screen IMAX theater, and an artificial beach.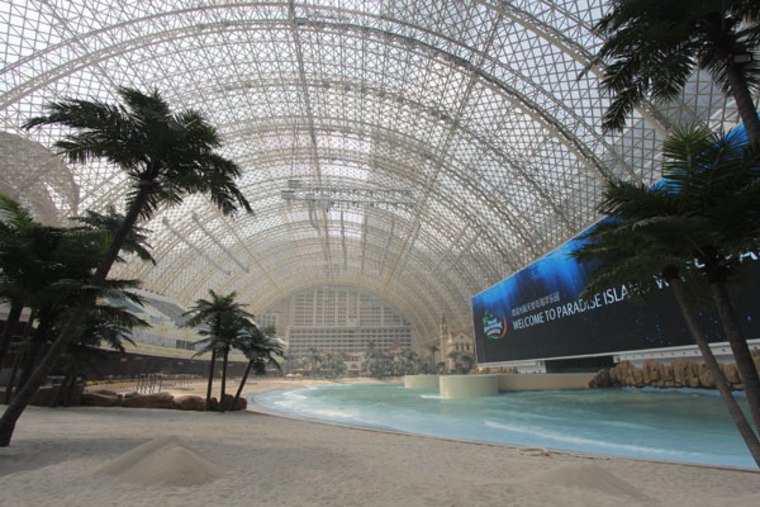 This faux seaside town offers 1,312 feet of "coastline," the world's largest artificial waves, and displays of sunrises and sunsets thanks to the world's largest LED screen--the 492 foot long and 131 foot tall backdrop of this ersatz resort. The artificial coastal area can accommodate 6,000 people and serves as the main attraction of the New Century Global Center.
Though mega-city Chengdu suffers from chronic smog, visitors to the center need not worry about the climate. "We have borrowed a Japanese technique," guide Liu Xun told the Sydney Morning Herald. "There will be an artificial sun that will shine 24 hours a day and allow for a comfortable temperature."
According to the promotional video distributed by GoChengdoo.com, the New Century Global Center is "themed with a comprehensive and profound oceanic culture and inspired by the design concept of sailing seagulls and undulating waves."
Said Liu of the expansive structure, "This is an ocean city built by man."
The closest actual beach is about 621 miles away. But the purpose of the New Century Global Center isn't just to court leisure travelers. With additional buildings slated to open up next to the mammoth complex--including Zaha Hadid's 656,000 square foot Chengdu Contemporary Arts Centre--the largest building in the world is just one step toward putting Sichuan's capital city on the map. Additional plans include expansion of the city's subway from two lines to ten by 2020, as well as a new airport.
The video boasts that the New Century Global Center is a success, "transforming Chengdu into a world-class, modern city of idyllic beauty."