Take a look at Google's Doodle Tuesday honoring Yosemite National Park — because that's as close as you'll get to one of the jewels of our national park system. The government shutdown has resulted in Yosemite — and hundreds of other parks — being temporarily shuttered.
While it may be Yosemite's 123rd birthday, there are no candles to blow out. Candles would be a bad idea, anyway, a reminder of the recent Rim Fire, which burned more than 257,000 acres in and around Yosemite in the Sierra Nevada of California, is 92 percent contained.
If you try to go to the National Park Service website for more information about Yosemite and other parks, you won't find any help there. The site, like others, is out of commission because of the government shutdown.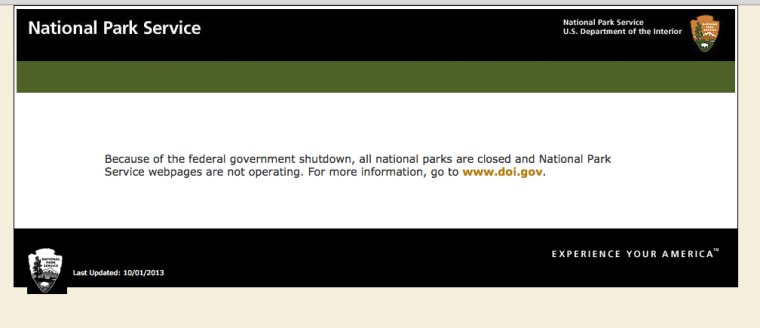 Travel agents, nature lovers and those literally on their way to the park took to Twitter to vent:
If you want a Yosemite fix, public safety technology expert Paul Doherty points to this site for interactive online visits to Yosemite and other primo national parks. It's as close as you can get — for now:

Check out Technology and TODAY Tech on Facebook, and on Twitter, follow Suzanne Choney.