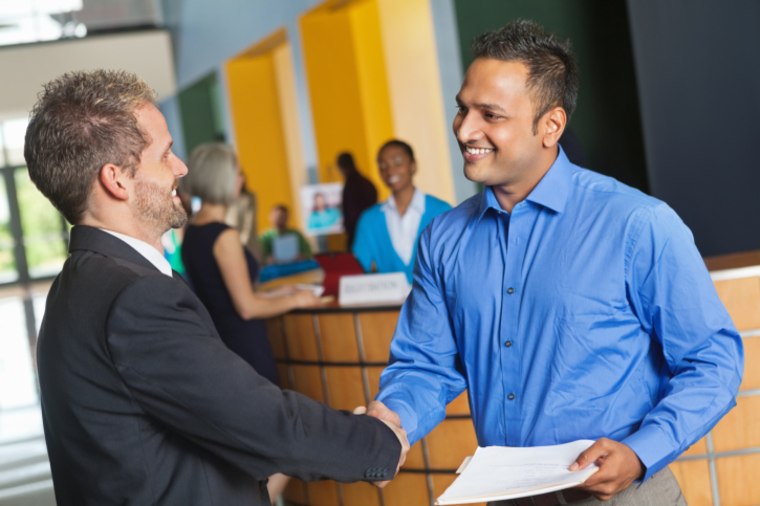 A whopping 80% of jobs are landed through networking. It's the best way to meet new people to learn about job leads and companies. No matter what career stage you're in, networking can help build relationships that last for years and increase your business value. Expanding your network is a professional skill that can lead to great career success. Follow these tips to learn how and where to build your network.
Step #1: Think about your existing network—yes, you already have one. Your network includes fellow veterans, as well as past and present colleagues, friends, relatives, and neighbors. It also includes any groups you may belong to: military groups (such as Veterans of Foreign Wars and American Legion), civic groups (including Rotary and Lions), and religious groups.
Step #2: Expand your network. The best ways to do so are by attending job fairs and social events, going on informational interviews, and meeting people at career centers. You can also join clubs and networking groups, as well as local veterans employment groups (visit www.dol.gov/vets for more information). You can also reconnect with old contacts and meet new ones through social media. Even telling friends and relatives about the opportunities you're looking for could yield valuable connections.
Step #3: Build a professional online brand. This is crucial because more companies are relying on social networks to find and research employees. A great place to start is LinkedIn, a social networking site for professionals that helps you search for and connect with co-workers, field experts, and people you'd like to work with. Create a profile that includes all your experience and skills, similar to a resume. Then, connect with people to build a network: classmates and former co-workers, experts in your field, and folks you'd like to work with. Join groups to view their job discussions, follow companies, and search for opportunities on the LinkedIn Job Board.
Aside from LinkedIn, monitor your online brand so that it's visible and respectable. Start by Googling yourself to see what comes up and what potential employers may find. Be aware of what you post, especially on Facebook and Twitter—remember that it stays on the internet forever. Adjust your privacy setting on social media sites to limit access.
Step #4: Reach out to people in your network. Start by introducing yourself. Share your background and experiences. Inquire about the other person's needs and interests, and ask if they'd be willing to meet you for coffee or have a 15-20 minute phone conversation. While your goal is to get their advice and learn about their company, job and experience, never ask for a job.
Once the person agrees to meet with you, research them and their company online and through LinkedIn. Prepare at least four to five questions in advance, focusing on what you hope to learn from him or her.
Step #5: Go on your informational interview. During it, ask your questions in a relevant order, but keep the conversation flowing naturally. See if there is a way you can reciprocate by offering to help them. Always be sure to thank the person, and ask if they could recommend more people for you to speak with.
After the meeting, send a personal thank you note. Follow up after a month to check in and say hello.
Step #6: Repeat the process and request additional informational interviews, if that person referred you to others.
Prepare Your Cover Letter
A cover letter can make the difference when it comes to landing an interview. Here are a few tips to keep in mind as you start writing.
Ace the Interview
Present yourself as a professional who is right for the position. Follow these do's and don'ts to leave a great lasting impression on your interviewer.