In his role as Captain Kirk on the 1960s television series "Star Trek," William Shatner visited star systems across the cosmos. Now Shatner has a hot ticket for a real-life mission to Earth's host star — the sun — and he'd like you to come along.
"Want to join NASA on a historic mission of discovery?" a smiling Shatner asks in a new video (see below).
Shatner made the brief video to promote NASA's Parker Solar Probe mission, which this summer will launch a spacecraft on an unprecedented journey to "touch the sun."
No one will actually be aboard the car-sized craft. But it will carry a microchip bearing Shatner's name and, as the actor says in the video, "the names of everyone who wants to join this mission of extreme discovery."
"This mission has really captured the imaginations of so many people," Patrick Hill, the mission's deputy program manager for instruments, told NBC News MACH in an email. "There's really no better way to bring along everyone who wants to understand more about our star."
More than 200,000 names have been submitted so far, Hill told CNN. If you'd like to send your name to the sun, be sure to do so before the April 27 deadline.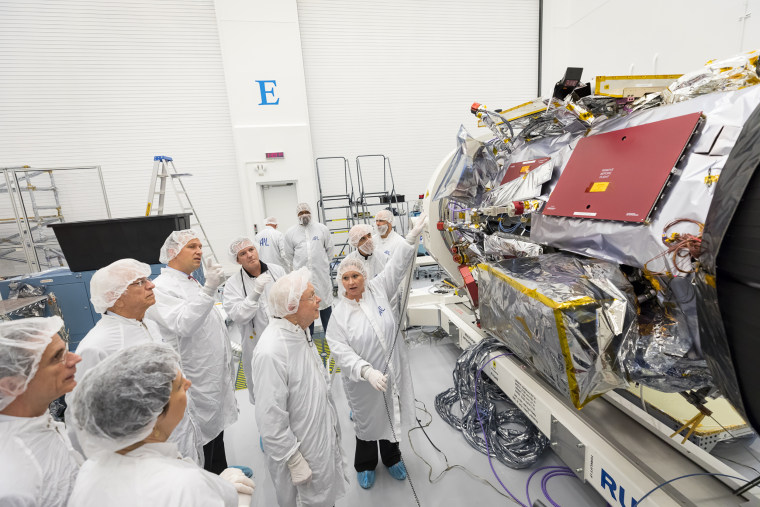 The mission's primary goal will be to obtain a better understanding of the solar wind — ionized gases that stream out from the sun at a million miles an hour — and to trace how energy and heat move through the sun's outermost layer, or corona, whose temperature is a searing 900,000 degrees Fahrenheit.
"This probe will journey to a region humanity has never explored before," Thomas Zurbuchen, associate administrator for the science mission directorate at NASA's Washington, D.C., headquarters, said in a written statement.
The probe, which is named for retired University of Chicago astrophysicist Eugene Parker, will launch from Kennedy Space Center in Florida between July 13 and August 19 and will make its first dip into the sun's atmosphere in November. The probe will complete 24 orbits of the sun over seven years, experiencing brutal heat and radiation as it comes as close as 3.9 million miles of the corona on its nearest approach.
NASA says the probe will reach speeds of 430,000 miles an hour as it approaches the sun. That's fast enough to travel from Philadelphia to Washington, D.C. in one second.
Again, if you'd like to send your name speeding to the sun, click here.