Three-dimensional printing has changed the way we make everything from dental appliances to jet engines, and soon it could be used to make low-cost houses for some of the world's 150 million homeless people.
At least that's the vision of the San Francisco-based nonprofit New Story, which has partnered with the construction company ICON, of Austin, Texas, to build 100 single-family houses in El Salvador next year. The partners selected El Salvador because New Story has already built homes there. If the initiative succeeds, New Story thinks 3D printing could be used in other countries — and perhaps to build habitats on other worlds. And they're not the first: other companies have also floated the idea of 3D printing the first moon colony.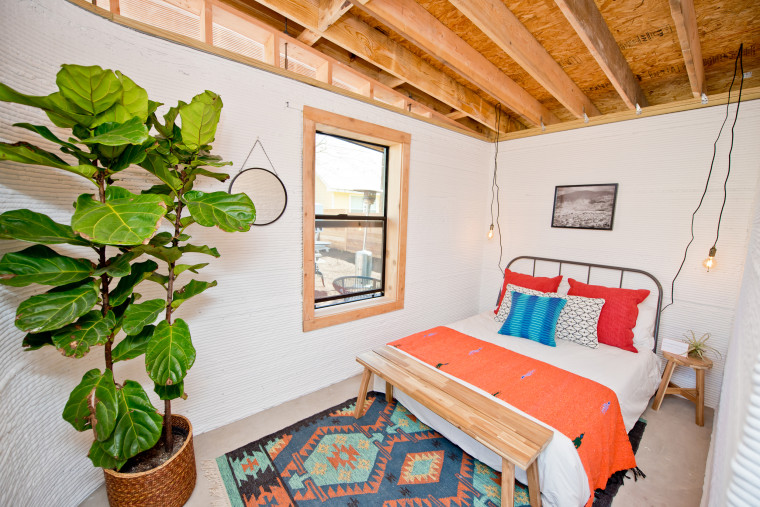 With conventional building techniques, erecting a simple home can take months and cost tens of thousands of dollars. But New Story co-founder Matthew Marshall told NBC News MACH in an email that with help from a giant 3D printer called "The Vulcan," a basic three-room, one-story concrete home can be built in a single day — and for a cost of only $4,000.
The printer applies concrete layer by layer until the walls are up, and then windows and the roof are added via conventional construction methods. Built out of lightweight aluminum, it includes a backup generator.
The Vulcan was designed specifically for the developing world, ICON co-founder Jason Ballard told NBC News MACH in an email. "The mobile printer fully prints on-site and does not require printing in an off-site location, nor does it need to piece together different portions," he said. "The entire home is printed seamlessly and is sustainable, produces nearly zero waste, and is resilient."
The technology sounds nifty, but could 3D printing really be part of a solution to the homelessness problem?
Robert Silverman, a professor of urban and regional planning at the University at Buffalo, called the home-building initiative a "good idea." But he's not completely sold on it; he wonders whether communities will be trained to use the technology and keep the printer to continue to build houses after the companies have moved on. This, he said, will determine "whether they're just providing housing to people or whether they're also providing skills or training."