Ever since Disney began the process of remaking its own animated movies under the auspices of doing them "live-action," critics and fans alike have been torn over whether this was a worthwhile endeavor. Other than the obvious benefit of resetting the copyright clocks on some of the House of Mouse's most significant franchise names, was there really a need to remake films that were perfect (or perfectly fine) the first time?
The studio, though, responded to those concerns by doubling down and, this year, released three in the last five months. It's had a clarifying effect.
Five years into Disney's "live action remake" phase, its latest film, "The Lion King," shows just how trite and uninspired the forces driving these films are.
Disney calls these films "live-action" but, from the beginning, that description has always edged on false advertising. The argument for it goes that, once upon a time, pen-and-ink animation was the only option if one wanted to have a candelabra lead a cast of housewares in a large-scale, Broadway-style song-and-dance showstopper in "Beauty and the Beast." Nowadays, though, one can remake the same story with real people and sets. However, the truth of the matter is that the magic is still animated: It's just computer-generated imagery which has been honed to the point where it is almost, but not entirely, indistinguishable from reality.
One can claim that live actors are far more involved with the process of making CGI animation than traditional animation. In several instances, these films have involved motion capture performances which then inform the animated characters. The director of "The Lion King," Jon Favreau, did just that in 2016's "The Jungle Book" for Baloo the Bear. This film, then, is simply another step along this virtual live-action wire act, using what is known as "photorealistic CGI" to create animals.
But unlike "The Lion King's" predecessors, there are no people to clutter the screen, and none of the actors did any motion capture work. Neither humans nor animals were harmed in the making of this film. It is a 100 percent straight photorealistic CGI animated film, attempting to fool the human eye into believing a lion cub just can't wait to be king. By rights, it should be a showcase for the art form.
There's just one problem: The eye isn't fooled.
CGI has come a very long way in 25 years, with fantasy films on both the big and small screens creating believable imaginary creatures such as dragons. However, other more realistic animals are a rare sight, because creating a creature which humans instinctively recognize as real is far harder than creating ones that don't exist. Even the smallest error will pull audiences out of the moment. "The Lion King" is Exhibit A in this department: When the movie gets the moments of animal motion right, this film suddenly becomes a bizarre version of BBC's "Planet Earth." (Though David Attenborough's voiceovers are sorely missing.) But one wrong move, an awkward flick of the ear — or worse, when they start talking, because animals' mouths aren't designed to form human language — and the illusion is shattered.
It might have been one thing if the production had been willing to forgo the realism for a dive into a fanciful naturalism. Animated animals have always been anthropomorphized; it's part of Disney's visual language that viewers have been trained to recognize. The refusal to lean into this universally accepted shorthand, one Disney itself was instrumental in teaching, is downright baffling. It leaves the film stuck uncomfortably in an attempt to force authentic animals to do fantastical things.
One need look no farther than comic relief characters Pumbaa and Timon to see the dissonance: Creatures who have brains the size of walnuts and eyes that show zero signs of intelligence are given the voices of Seth Rogan and Billy Eichner trading clever quips. Jarring does not begin to cover the experience of watching them.
The worst part is the cast is one for the ages and, in their vocal performances, everyone is giving their all. James Earl Jones, reprising his role as Mustafa, is as sonorous as ever. Chiwetel Ejiofor is mesmerizing as Scar. J.D. McCrary's Young Simba is as high spirited as Donald Glover's grown up version is insouciant. And there's Beyoncé as Nala. The casting coup of the film, her Beyhive may drive the box office buzz on sheer enthusiasm. Her added original song, "Spirit" — created to be able to qualify for the Best Original Song category at the Academy Awards — is a masterclass in Oscarbait, as well as how to seamlessly add a new piece of music to an already award-winning soundtrack.
And, of course, there's that Elton John/Tim Rice soundtrack. Despite the puzzling choice to butcher Scar's famous "Be Prepared," the rest remains largely untouched — including the arresting opener, "The Circle of Life," one of Disney's most perfect creations. And all of it wasted under tons of terribly conceived CGI.
That it's CGI is the most frustrating part of all. The dirty little secret of 1994's "The Lion King" is that it was the studio's first African fairy tale, based on the Mali people's story of Sundiata. But it made all the characters animals to be palatable to white executives and audiences. That might have been necessary in 1994, when racism was still being encoded into federal law under the dogwhistle monikers of "The Crime Bill" and "Welfare Reform." But this is 2019, where "Wakanda Forever" is not just a rallying cry, but worth billions in ticket sales. Hiding African American actors behind lions is no longer necessary.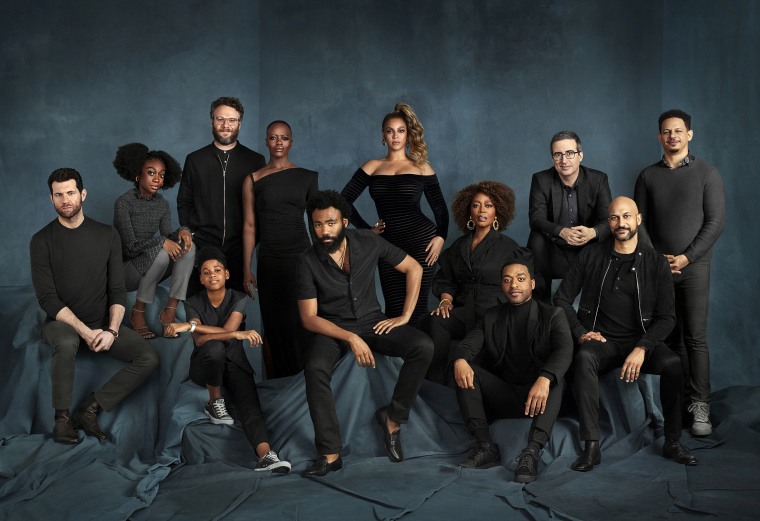 For those who might argue it would be untrue to the original to put human actors on screen, that is also nonsense. After all, there is already a live-action version of "The Lion King": It has been playing on Broadway since 1997, winning awards for the sheer scale of creativity in its use of puppetry to create "live action" animals on stage. It could have been used as the jumping off point to create something that put these talented artists on screen.
But Disney couldn't bring themselves to go there. Instead, it insisted on needing to make this new "The Lion King" as close to the original as possible. Perhaps it should not be surprising that a film conceived with such a lack of imagination is devoid of any. Call it the circle of life.