Hurricane Dorian made landfall in North Carolina early Friday morning, lashing the coast with rain and 90 miles per hour winds, knocking out the power and driving droves of residents to evacuation shelters to wait out the storm.
But it was the Bahamas where Dorian gave its most brutal beating. There, the death toll has reached 43, and destroyed as many as 13,000 homes. The United Nations said that at least 76,000 people are in need of urgent aid, but we are just beginning to understand the severity of the damage.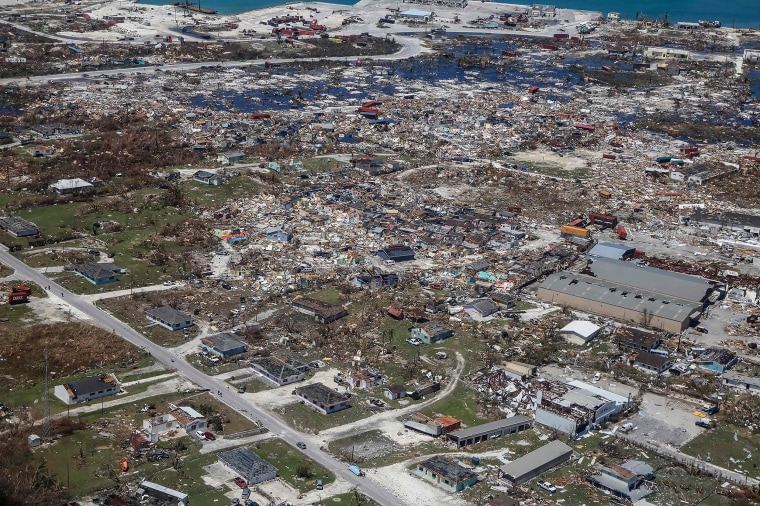 Right now, money is what is most needed
How can people help out those who lost everything? The number one way, Craig Cooper, a spokesperson for the American Red Cross says, is through monetary donations.
"People are so generous, and I know they rush to the [food] pantry and say 'what can I give?', but the best way to provide help is through financial donations."
You can make a donation online at RedCross.org or by calling 1-800-RED-CROSS. Givers also have the option of texting the word DORIAN to 90999, which will automatically donate $10 to Dorian relief efforts (the charge should appear on your phone bill, Cooper says).
Dozens of other charities are raising money to help aid the survivors of Hurricane Dorian, such as the Salvation Army, Americares, Mercy Corps, and the National Association of the Bahamas.
Chef and humanitarian José Andrés is currently on the ground in Bahamas with his charity World Central Kitchen and seeking donations to help serve thousands of meals to survivors.
The Humane Society has been regularly posting updates on social media of the work its doing to protect animals in the path of Dorian. On Friday, the Humane Society shared on Facebook that it had transferred approximately 100 dogs and cats from South Carolina to Chicago.
The Humane Society is asking for monetary gifts to support its Emergency Animal Rescue Fund. You can donate here.
The ASPCA has been in disaster response mode since last week, and has been working with Wings of Rescue to transport nearly 200 animals without homes to safe shelters. You can donate to the ASPCA, whose teams remain on standby, here.
When storms come through areas where blood drives are scheduled, those drives get canceled, so needs go unanswered.
Craig Cooper, a spokesperson for the American Red Cross
Donate blood
If you live near one a storm-affected area, another valuable way you can help right now is to donate blood.
"We need money, yes, but we also need blood donations," says Cooper. "When storms come through areas where blood drives are scheduled, those drives get canceled, so needs go unanswered. If you can take an hour out of your day to donate blood, that's a big help."
Plenty of other organizations are collecting funds, but donor beware
"Every time there is a major disaster, we see a sharp rise in charity scams due to the increase in media coverage and prospective donors looking to contribute their money to help others," says Michael Lai, CEO at Sitejabber, a consumer protection website. "We saw this happen with Hurricane Maria in Puerto Rico, the earthquake and tsunami in Indonesia last year and the recent wildfires in California."
Donors can dodge scammers by putting in the extra steps to vet charities online.
"Most reputable or established charity organizations are registered with the IRS as a 501(c)(3) and can be found here," says Lai.
Crowdfunding sites, unlike registered non-profits, can be much trickier to verify and sites such as GoFundMe have been abused by scammers.
To help, GoFundMe has set up a page of verified fundraising campaigns from individuals and companies involved in the Bahamian relief effort.
Your best bet when donating to a crowdfunding platform is to check the online profiles of the campaign manager on Facebook and LinkedIn, says Lai.
"Prospective donors should also reach out to the campaign manager directly to assess the credibility of the charity," he adds. "Secondly, make sure to check the refund policies of the platform you're using to donate. Most platforms will refund your money if a campaign doesn't reach its goals or is shut down for any reason. For example, GoFundMe offers a $1000 guarantee for campaigns that are found to be fraudulent."
Donors should always use Paypal or a credit card when making online donations, as these "offer a certain degree of fraud protection," says Lai. "You can further protect yourself by never paying via wire transfer like Western Union or MoneyGram."
Prospective donors should also be wary when encountered by people claiming to be raising money for a charitable cause.
"It's important to be extra careful with anyone soliciting money of behalf of a charity." Lai says. "Always find out which charity they are representing and never feel pressured to donate over the phone. All reputable charities should allow for donations through a website. Lastly, never give out your social security number, home address or any personal information to callers soliciting a donation, as this is a common tactic for identity theft."
Want more tips like these? NBC News BETTER is obsessed with finding easier, healthier and smarter ways to live. Sign up for our newsletter and follow us on Facebook, Twitter and Instagram.