Friday the 13th is a good day to be on the lookout for ghoulish behavior, and Democrats on the House Judiciary Committee delivered. On a straight party line vote of 23-17, the committee approved two articles of impeachment against President Donald Trump.
The first article, about abuse of power, is a judgment call and I'm not going to litigate it here. The second article about "obstruction of Congress," however, is absurd.
There are many echoes of Watergate in this impeachment effort — but they generally showcase just how short this effort is of that one.
In undertaking the impeachment inquiry, the House Democratic leadership wanted to interview many White House officials, but they refused on the grounds of executive privilege. Now, the second article charges that Trump should be impeached because he "has directed the unprecedented, categorical, and indiscriminate defiance of subpoenas issued by the House of Representatives."
If you are the leadership of the House of Representatives and you face a claim of executive privilege from the president that is making your impeachment inquiry harder, here's what you need to do instead of jumping straight to impeachment: You take that claim to court. And then, very likely the courts agree with you and, together, you literally check Trump's privilege by compelling the testimony that you seek.
If at that point the president continues to press the matter, without any legal basis, THEN you add it as an article of impeachment. Practically all reasonable people (including this conservative analyst) will agree with you. That's how you build the popular and political support to actually remove the president.
It is confounding that Congress skipped this necessary step, especially given that former National security adviser John Bolton was practically begging them to force the subpoena issue. He had a great deal of information and an ax to grind with the Trump administration over foreign policy. He hinted that he was willing to spill the beans so long as he wasn't seen as enthusiastically cooperating with the Democrats in Congress. Yet the Democrats decided to pass up the opportunity in their quest for speedy proceedings so that impeachment doesn't muddle their 2020 political agenda.
This is a particularly boneheaded move because the country would really benefit from understanding the limits of "executive privilege" — what the executive branch believes it's entitled to keep out of the hands of Congress.
Under normal circumstances, Congress can and should exercise oversight of the executive branch but can pry only so far into the inner workings of the White House and the administration. Congress' prying can be limited because the executive and the legislative branches are co-equal branches of government. If the president thinks that Congress is reaching too deep and threatening his ability to get honest counsel and do his job, he may claim executive privilege.
It's a murky concept not mentioned in the Constitution, but it has been recognized to some extent by the courts as legitimate and arising from the nature of America's divided government. Yet, as University of Texas law professor and THINK contributor Steve Vladeck noted, "The Supreme Court has decided exactly one case involving the privilege, and even that decision — in the Watergate tapes case, United States v. Nixon — raised as many questions as it answered."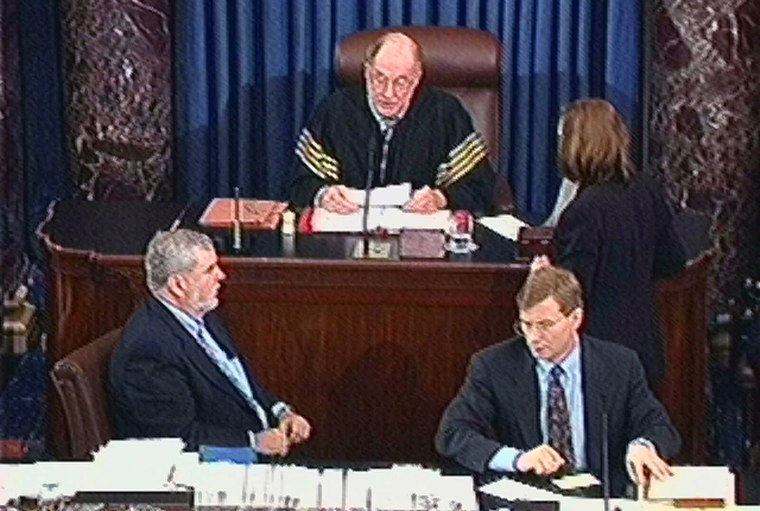 Impeachment is a political act, but it's one that has a legal character, and the Constitution foresaw that the courts can and should be involved in the impeachment and removal process, as they were in the Watergate case.
Moreover, Article 1, Section 3 specifies that "When the President of the United States is tried, the Chief Justice shall preside." (It even rhymes!) That's why many of us can remember the late Chief Justice William Rehnquist wearing that robe with silly yellow stripes on the sleeves at the Senate trial for President Bill Clinton, and why Chief Justice John Roberts may preside over a Senate trial of Trump (hopefully without the yellow stripes).
What we've seen so far from Congress does not give us much to look forward to in that trial. The day before Friday's party-line vote, the Judiciary Committee had featured about 14 hours of heated debate that failed to culminate in a vote. This incensed Republican member Doug Collins, who fumed, "You've just blown up schedules for everyone. This is the kangaroo court that we're talking about."
Some folks will remember that "kangaroo court" was one of the insults President Richard Nixon leveled at his partisan opponents during the Watergate impeachment inquiries. They were very partisan (one staffer advising the committee was a young Hillary Rodham, later Clinton), but no one bought his characterization.
Indeed, the inquiry had something pretty juicy to fasten onto, and the American people could see that clearly and voted accordingly after Nixon resigned in disgrace in August of 1974. Just two years earlier, Nixon had been re-elected in a 49-state romp. A few months after his departure, the GOP was destroyed in the House of Representatives: They lost 49 seats (one for each state that Nixon had won), and Democrats gained a supermajority.
There are many other echoes of Watergate in this impeachment effort — but they generally showcase just how short this effort is of that one.
They would do well to send this poorly rendered obstruction of Congress charge back to committee to die of embarrassment.
For instance, one argument in favor of the current flawed impeachment article is that those being readied in the Nixon impeachment included obstruction of justice. Well, yes, but "justice" first and "Congress" only as an afterthought. In the matter of Watergate, there was a clear underlying crime, a cover-up, the firing of several members of the Justice Department and litigation. That's how we got the White House tapes released. Defiance of subpoenas was the weakest part of the Nixon impeachment team's case and never subjected to a vote of the full House.
It seems to me that many Democratic members expect a replay of that impeach-and-vanquish dynamic this time around. Yet, some of their colleagues in their own party, such as Minnesota Rep. Collin Peterson and New Jersey's Jeff Van Drew, are having a hard time swallowing this as impeachment goes to a vote to the full House next week. They would do well to send this poorly rendered obstruction of Congress charge back to committee to die of embarrassment.