Focus on the judiciary. This was my answer when, throughout the natural disaster known as the 2016 U.S. election, people would ask why they should even bother voting for "the lesser of two evils." This is also my answer now, when people become so bogged down by the onslaught of perplexing and scandalous news coming out of President Donald Trump's administration they find it hard to sift through what's important and what's not.
One can hardly be blamed for focusing elsewhere. Each day brings many Americans a new cause for concern — we have collectively agonized over proposals dealing with taxes, healthcare, immigration, climate change, education and a myriad of other issues with less than a year of this president's term under our belts. This is to say nothing of the ongoing saga of indictments and plea agreements coming out of the Russia investigation.
But we need to shift focus to an often-overlooked branch: the judiciary. Particularly now, when we may increase the number of federal judges who hear cases on topics ranging from criminal justice, environmental regulations, intellectual property, immigration, securities, and of course, the Constitution.
This could be the biggest change to the federal judiciary in almost 40 years, dating back to when Congress created the United States Court of Appeals for the Eleventh Circuit in 1980. Along with the record number of judicial vacancies that Trump has to fill, enlarging the judiciary would help the president continue to shape the legal precedents for at least half a century.
This could be the biggest change to the federal judiciary in almost 40 years.
Many Americans by now know the name Merrick Garland. Judge Garland was President Barack Obama's nominee to fill the Supreme Court vacancy created by Justice Antonin Scalia's death in 2016. Senate Republicans, with Senate Majority Leader Mitch McConnell leading the charge, successfully prevented Judge Garland from receiving a confirmation hearing. We can leave for another day the unparalleled inappropriateness of blocking a president's nominee from obtaining a hearing.
Judge Garland's experience is the most-publicized example of the ability of Senate Republicans to block Obama's judicial nominees, but it is hardly unique. Senate Republicans engineered an unprecedented slowdown of Obama's nominees to every level of the federal judiciary. In large part because of this effort, approximately 15 percent of federal judgments are vacant.
This is unprecedented and provides Trump with an extraordinary opportunity to reshape the entire judicial branch of government.
And let's remember why the makeup of the federal judiciary is so important. Federal judges are appointed for life and hear a myriad of cases dealing with federal statutes and the Constitution. So if one turns out to be racist, or sexist, or incompetent there's almost no way to get rid of him. A federal judge can only be removed from office if he is first impeached by the House of Representatives and then convicted by the Senate.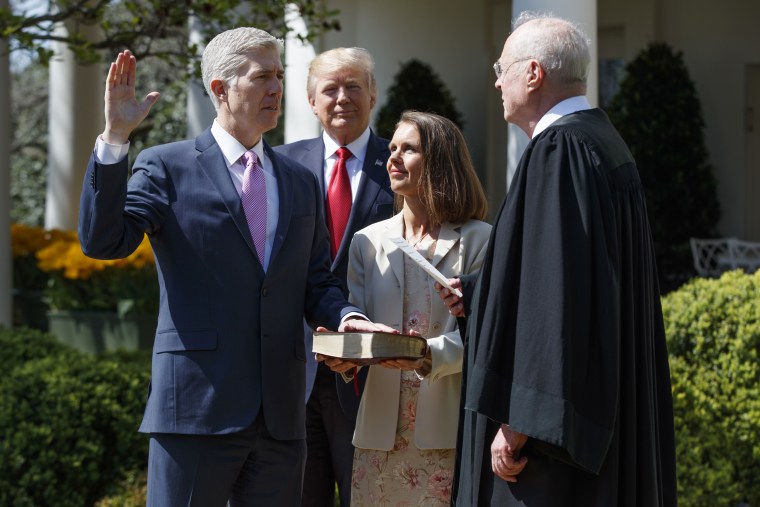 As you may have guessed, this almost never happens. Here is but one example. Blissfully, many of us are beginning to forget Supreme Court Justice James Clark McReynolds, who served on the United States Supreme Court from 1914 to 1941. He is perhaps best known for his opposition to President Franklin D. Roosevelt's New Deal Legislation and his open anti-Semitism. Justice McReynolds famously refused to speak to fellow justices Louis Brandeis and Benjamin Cardozo, both Jews, for years after joining the court. In addition, he is reported to have left the room when Justice Brandeis began to speak and refused to sign opinions authored by Justice Brandeis. He remained on the bench until he voluntarily retired.
Not surprisingly, Supreme Court judges tend to get all of the glory. In only the last few years, the Supreme Court's decisions on the Affordable Care Act, which affects how and if millions of Americans obtain healthcare, same-sex marriage and the lesser known decision to declare unconstitutional part of Congress' 1965 landmark piece of civil rights legislation, the Voting Rights Act, have all been hugely consequential.
But not all of the action happens in the Supreme Court. Far from it. More than 90 percent of federal court cases are handled by lower federal courts. A district court judge in California permanently blocked one of Trump's executive orders which would have cut off federal funds to so-called "sanctuary cities." Another federal district court judge from the District of Columbia at least temporarily blocked another one of President Trumps' executive orders, which would have prohibited openly transgender individuals from serving in the military.
And while the Supreme Court briefly and preliminary weighed in, it is mainly lower federal judges who have blocked all or part of Trump's controversial travel bans from being put in place.
A federal judge can only be removed from office if he is impeached by the House and convicted by the Senate.
Republicans, aware of their control of Senate as well as the power of the judiciary, are currently thinking about how they can increase this influence. Now comes word of a new proposal from a well-known conservative legal scholar, Steven Calabresi, a professor at Northwestern's Pritzker School of Law. Professor Calabresi chairs the Federalist Society, the organization which Trump has relied upon for help in picking his judicial nominees.
Calabresi's proposal includes a call for Congress to pass a law increasing the number of federal judgeships throughout the country. The proposal drips with irony. Conservatives are now claiming the shortage of judges in this country constitutes an emergency. But of course conservatives actively held open numerous judicial vacancies, hoping that the next president would appoint more conservatives. Given the current political climate and Professor Calebresi's leadership position in the powerful Federalist Society, there's at least some reason to believe this proposal carries more weight than the typical musings of those from the ivory tower.
If this proposal to enlarge the judiciary does go into effect, it would mean that Trump isn't merely satisfied with packing the federal judiciary with young, ultraconservative jurists who will craft the laws affecting our daily lives for decades to come. It would also mean that roughly half of the members of the judicial branch would be appointed by President Trump while the other half were appointed by nine past presidents.
Expanding the number of judges on the federal bench would ensure that rulings by President Trump's judicial nominees reverberate for decades to come. It would also make undoing this judicial revolution all but impossible for at least another generation.
Jessica A. Levinson is a professor at Loyola Law School, Los Angeles, and is the president of the Los Angeles Ethics Commission.