My default side dish on any night of the week is roasted vegetables. Roasting brings out the vegetables' natural sugars and a deep flavor.
The key to perfectly roasted vegetables is to ensure that each vegetable is caramelized. Caramelizing makes the veggie tender on the inside, crisp on the outside, and most important, brings out the natural sweetness. Here are some of my best tips for making perfectly roasted veggies every time. Once you've mastered the technique, I recommend making big batches each time and saving them for different dishes throughout the week: frittatas, quick lunches, simple salads, and grain bowls.
Choose a pan. When choosing a pan for roasting vegetables, go for a rimmed baking sheet. The rim prevents vegetables from sliding off the edge while it is low enough that the heat will circulate around the vegetables.
Cut uniform slices. Make sure that all the pieces are all cut to approximately the same size so that they will roast evenly and be finished at the same time. If you are roasting different kinds of vegetables on the same pan, make sure they have similar cooking times and oven temperatures.
Use two tablespoons of oil per sheet. Make sure the vegetables are coated well in the proper oil. You want each vegetable to have a light coating of oil (the oil keeps some moisture in for that interior tenderness), and not pools of oil left on the pan. Too much oil does not result in more crispy vegetables; it actually does just the opposite. A good rule of thumb is about 2 tablespoons of oil per baking sheet; toss the cut veggies with the oil.
Arrange in one layer. Once the vegetables are properly coated with oil, spread them out evenly across your baking sheet in one layer. If the vegetables are arranged too closely together or are on top of one another, they will steam, making them mushy rather than caramelized.
Always sprinkle with S & P. Next, season with salt and pepper. This is a key step and can really make a difference in the final flavor. It is hard to give an exact measurement since saltiness really is a personal preference and can vary from vegetable to vegetable, but as a rule of thumb I like to use around 1/2 to 3/4 teaspoon of salt per baking sheet and a few grinds of black pepper. You can always taste the vegetables when they have finished cooking and add more.
Center your pans. If using only one sheet pan, the center of your oven is usually a good place to put it. When using multiple pans, always go side by side if the oven allows. If you have to roast veggies on two different racks, make sure you put the top rack in the upper third of the oven and the lower rack in the bottom third of the oven. This will allow the heat and air to circulate better to help get the vegetables tender and caramelized. If the baking sheets are only an inch or two apart, the bottom vegetables will steam.
Rotate halfway through. Another tip when using multiple pans is to rotate the pans halfway through to ensure that all veggies are getting equal exposure to the heat and have an equal chance at getting crispy and caramelized. In my experience, almost every oven has hot spots, so rotating the pans is never a bad idea.
Consider convection. If you are using multiple pans, another option is to bake on convection, a setting where the heat is circulating via a fan and can produce a better allover heat. This can be very helpful when you are roasting multiple vegetables at once. However, this setting is also more drying and cooks more quickly, so a good rule of thumb is to reduce the oven temperature by 25°F when using a convection setting.
Add a pop of flavor. Lastly, you can add fresh herbs, such as rosemary or thyme, to the pan for a little extra flavor. You can also toss most vegetables with a little ground turmeric for an anti-inflammatory boost. Don't forget to taste the vegetables before serving. You can always finish them with a sprinkle of flaky sea salt and more freshly ground black pepper.
Store them in the fridge. Roasted vegetables can be stored in the refrigerator for 3 to 4 days. They do not freeze well.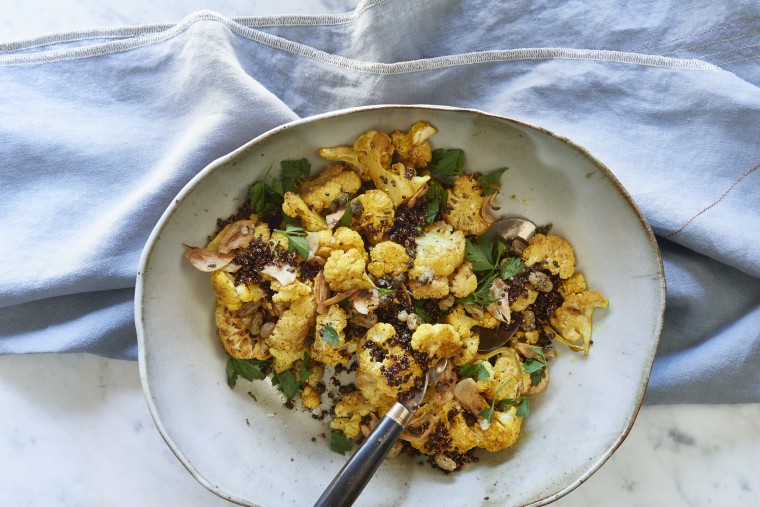 Ready to put the steps to work? Give one of these tasty side dishes a try this week:
Turmeric Roasted Cauliflower with Raisins, Capers and Crispy Quinoa
Roasted Broccoli and Lemon with Feta, Pickled Shallots, and Pine Nuts
Excerpted from Kitchen Matters: More than 100 Recipes and Tips to Transform the Way You Cook and Eat—Wholesome, Nourishing, Unforgettable by Pamela Salzman. Copyright © 2017. Available from Da Capo Lifelong Books, an imprint of Perseus Books, LLC, a subsidiary of Hachette Book Group, Inc.