Tahini is a wonderful ingredient, a thick sauce or paste made from sesame seeds. It's used often in Middle Eastern cooking to add richness and nuttiness to different dishes, and it's one of the core ingredients in hummus. Here it adds terrific flavor to a substantial dressing that also boasts lemony-ness, a touch of heat from the harissa (a North African chili pepper paste, which also makes appearances in other cuisines, such as Israeli food), and a little bit of sweetness from the honey.
The chickpeas add protein and texture, the cucumbers offer fresh crunch, and the red onions provide color and a spicy bite. The sesame seeds are optional, but they add a toasty layer of flavor and are really easy to make — and make the salad feel very polished.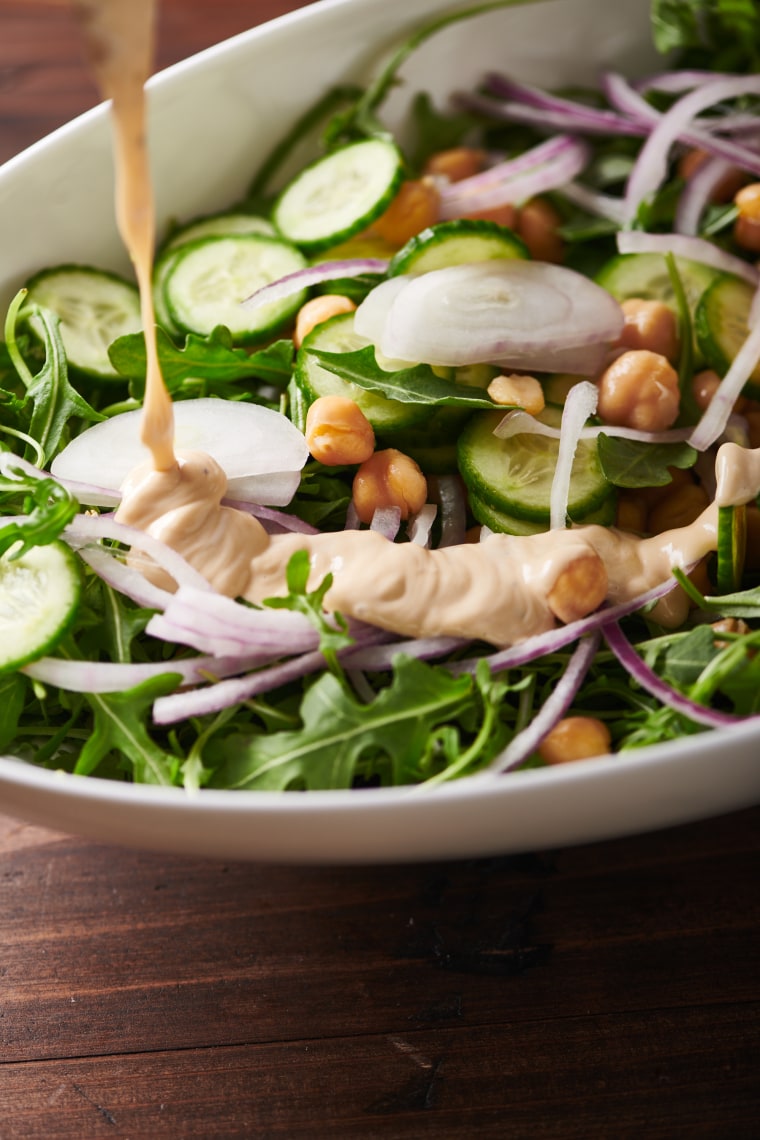 Spicy Tahini Dressing
1/2 cup tahini
½ cup water
¼ cup olive oil
1 tablespoon lemon juice
1 tablespoon honey
1 teaspoon harissa, or more to taste
1 clove minced garlic
Kosher salt and freshly ground pepper to taste
Salad
4 cups baby arugula
4 cups baby spinach
1 (15-ounce) can chickpeas, rinsed and drained
1 small red onion, halved and thinly sliced
1 cup sliced cucumbers
Toasted sesame seeds (optional; see note)
Make the dressing: Place the tahini, water, olive oil, lemon juice, honey, harissa, garlic and salt and pepper into a food processor or blender and process until smooth.
In a large bowl, place the arugula, spinach, chickpeas, red onion and cucumbers. Drizzle over the dressing and toss to combine well.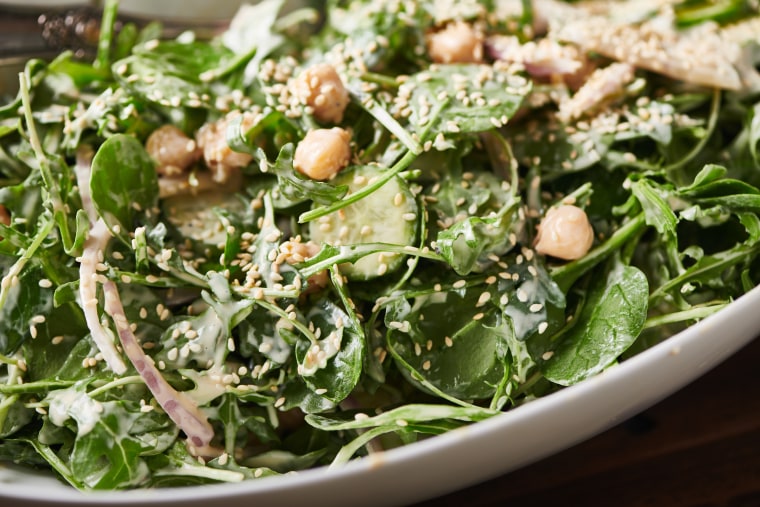 Note
Heat a dry skillet over medium heat. Add a couple of tablespoons of raw sesame seeds and cook stirring or shaking the pan occasionally, for 3 to 5 minutes until they start to turn a deeper golden brown and smell nutty. Watch carefully as sesame seeds go from toasted to burned fairly quickly. Take them off the heat as soon as you get them to the color you like, and remove them from the pan.
More Salad Ideas
Want more tips like these? NBC News BETTER is obsessed with finding easier, healthier and smarter ways to live. Sign up for our newsletter and follow us on Facebook, Twitter and Instagram.