A lot of us have enjoyed corned beef without really knowing what exactly it is. The word "corned" refers to the meat being cured with salt, which was the way meat (and other foods) were preserved before refrigeration was prevalent. The story goes that the salt granules used to preserve the meat were sizable, roughly the size of corn kernels, and so the term "corned" was born. Sometimes other spices and sugar are used in the preparation of corned beef.
Beef was considered a luxury in Ireland in the 19th century, with pork being the more commonly available meat for most people. However, when the Irish started immigrating to America, beef was more readily available and affordable, so corned beef became the cornerstone of special occasion meals, St. Patrick's Day in particular. Cabbage was very familiar to the Irish, and was also cheap and plentiful, and so that became the traditional vegetable side to corned beef. Boiled potatoes are also very traditional.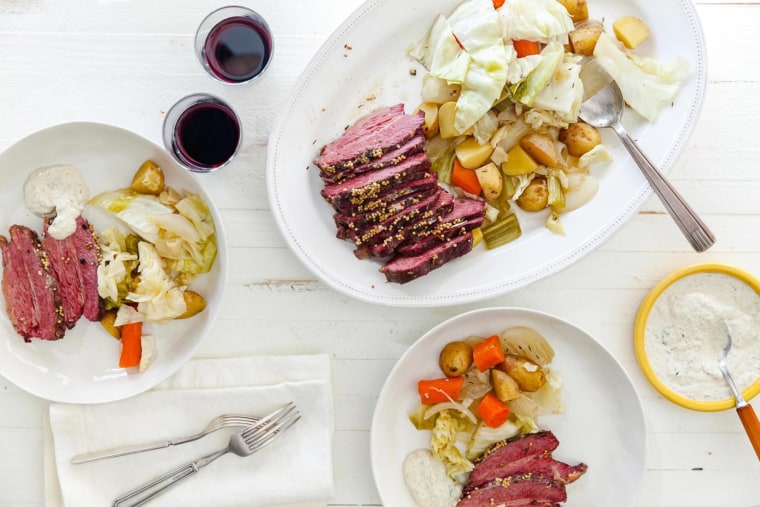 The cut of meat most commonly used to make corned beef is brisket. Whole briskets are quite large, and are comprised of two sections: the first cut, also called the flat cut, and the second cut, sometimes called the point cut. The first cut is leaner and the second cut fattier, and some people prefer one over the other. Both types are brisket are usually cut into smaller pieces, usually 3 to 6 pounds, before being sold (this is true of regular brisket, and corned beef brisket).
Most corned beef sold comes already brined with a pouch of spices for cooking. The packet has a blend of spices, such pepper seeds, dill seeds, mustard seeds, bay leaves, and other whole spices which give the meat a warm, earthy, tangy flavor. You can also buy uncooked brisket and brine it yourself, then braise or slow cook it, but it will take about a week to brine. You can also find corned beef in cans, but it won't be as good as corned beef you cook yourself.
Plan on about ¾ pound per person — or buy a bigger piece if you're looking for leftovers, which make excellent sandwiches.
The meat is fully cooked when it is tender, but it won't be totally fall-apart tender like many brisket and pot roast recipes. When a skewer or a sharp knife slides in easily, it's done. Let it sit for at least 10 minutes before cutting it to get the cleanest, neatest slices.
In traditional preparations, corned beef is usually braised on the stove, though the oven is also an option. It usually takes between 2 ½ to 3 ½ hours. But the slow cooker is also a great option, and makes super tender corned beef with a very satisfying texture. Sometimes the vegetables are cooked all the way though with the meat, which results (as you would imagine) in very well-cooked vegetables, but sometimes they are added later or cooked separately so they retain more flavor and texture.
In this slow cooker corned beef and cabbage recipe the cabbage is added at the end for only the last hour of cooking. What is different and delicious about that is that while the cabbage definitely softens and becomes tender, it still retains some texture and its pretty pale green color. Potatoes, carrots and onion and celery are the other vegetables in the mix, but I prefer to let those get nice and soft with the meat.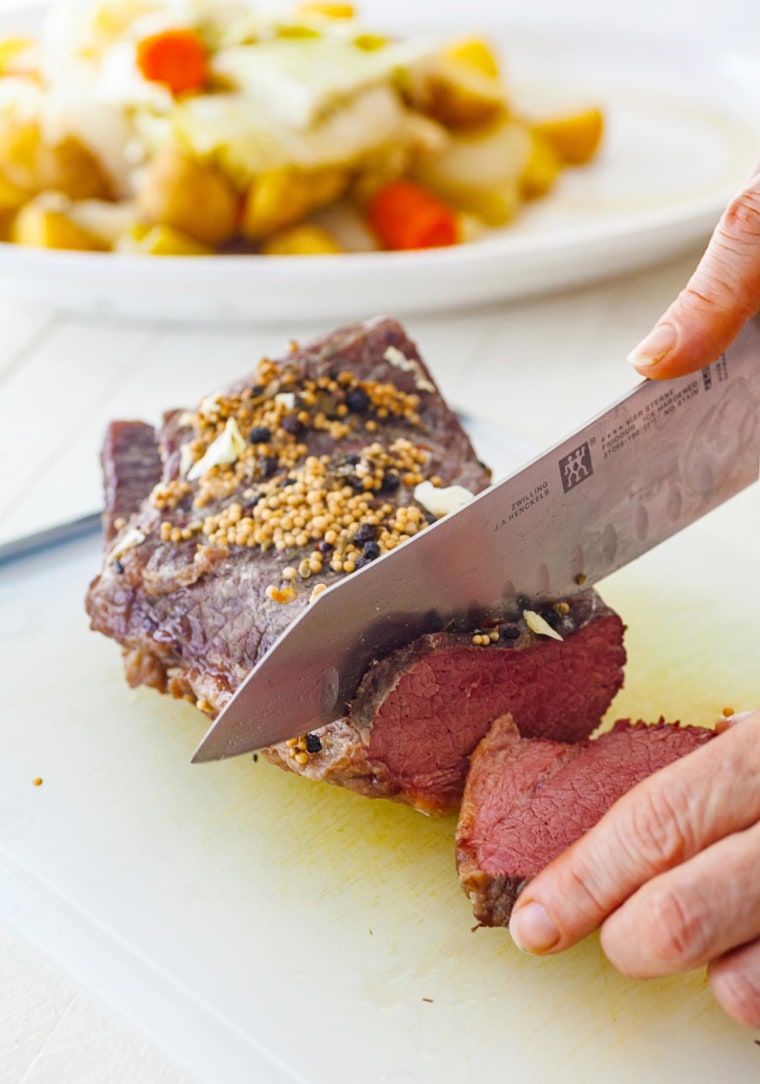 I like to slice my corned beef pretty thin — very thin if I'm using it in sandwiches. Make sure to cut the corned beef against the grain, for the meat to be at its most tender. Spoon over a bit of the cooking liquid if desired. This recipe also includes a lush little horseradish sauce which is downright delicious with the meat.
Some corned beef can be mushy or salty or not all that interesting. But properly made, it's not any of these things, but rather a comforting, soul-satisfying one pot meal.
Or try these two stew recipes for St. Patrick's Day:
Want more tips like these? NBC News BETTER is obsessed with finding easier, healthier and smarter ways to live. Sign up for our newsletter and follow us on Facebook, Twitter and Instagram.