Have you ever been so engrossed in an activity that you forget the time, ignore distractions and feel both calm as well as challenged? Perhaps you were playing a sport, practicing an instrument, crafting or even cooking.
It's called the "state of flow," a psychology term popularized by psychologists Mihaly Csikszentmihalyi and Jeanne Nakamura and studied by many researchers around the world.
"There's this focus that, once it becomes intense, leads to a sense of ecstasy, a sense of clarity: you know exactly what you want to do from one moment to the other; you get immediate feedback," Csikszentmihalyi said in a 2004 TED Talk. "You know that what you need to do is possible to do, even though difficult, and sense of time disappears, you forget yourself, you feel part of something larger. And once the conditions are present, what you are doing becomes worth doing for its own sake."
Turns out, activating the state of flow, or being in the zone, has a range of mental health benefits.
Think of it as meditation for fidgety people
Brit Morin, who's made a living out being creative as the founder of Brit + Co, a media and commerce company, says that pursuing that state of flow works works better for her than more traditional relaxation techniques.
"I find that creativity puts me in that state of flow," Morin told BETTER. "I tried to meditate and I'm not a great sitting meditator. I'm more of a moving meditator … if I'm cooking, if I'm sewing, if I'm waiting or if I'm running, I hit that same state in my head."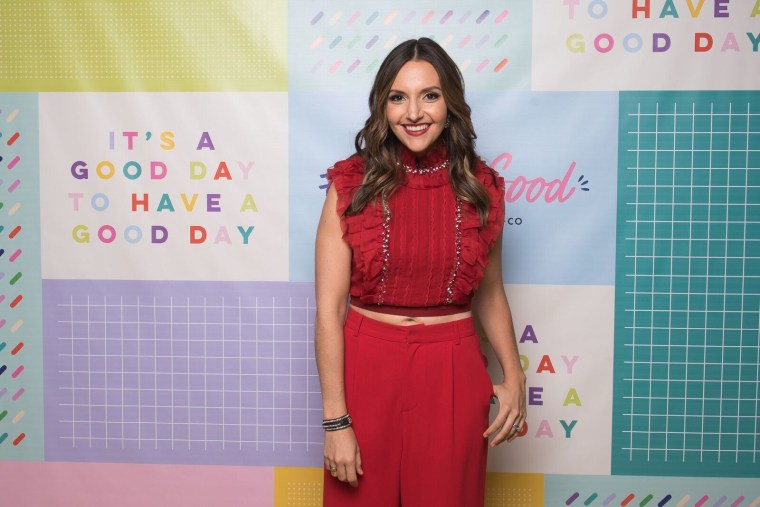 Her experience of achieving flow while doing something lines up with what researchers have found. You're more likely to be in the state of flow while working, driving or doing a challenging, engaging activity. It's less common while people are relaxing or watching TV, according to experts.
"This is sort of random and very specific, but cake decorating like puts me in that state, I don't know why, but when you're piping and decorating a cake you can't really mess up, it's hard to scrape it off and re-do it when it's an entire cake and then the reward is that I get to give it to somebody," Morin said in an interview at her company's #CreateGood event in New York.
Being (and getting creative) has some major benefits
Research shows that being creative boosts your mood, both in the short and in the long term when practiced routinely. For example, adults who are part of a choir group saw their moods lifted hours after singing. Adults who routinely engage in a hobby report long term improvements to their mental health. Being creative can be especially helpful for people dealing with difficult emotions, anxiety, depression and even trauma.
The results can be physical too. Multiple studies, for example, have found that adults with heart-related conditions saw improvements to their health (like reduced heart rate and cortisol levels) after participating in music therapy.
Regardless of how creative (or not creative) you feel, trying something fun, creative or picking up a hobby is worth it.
"I fundamentally believe if you're a human, you're creative because our ancestors all had to make and create to survive. You probably make food every day, you probably dress yourself every day, you probably have done some sort of interior decorating with your home, we all use creativity to problem solve and transform our lives," Morin said.
"So A) stop saying you're not creative. B) if you want to try a new creative skill, there are so many online communities," she added.
I fundamentally believe if you're a human, you're creative because our ancestors all had to make and create to survive.
You can find creative online classes on YouTube, Instagram, YouTube, Instagram and Brit + Co, Morin noted.
"At the end of the day, creativity is for fun, it's for meditation, it isn't something you have to show off to a million people on the internet, so like stop judging yourself so hard and just use it as a creative pastime, a hobby, entertainment."
MORE TIPS FOR A BETTER DAY
Want more tips like these? NBC News BETTER is obsessed with finding easier, healthier and smarter ways to live. Sign up for our newsletter and follow us on Facebook, Twitter and Instagram.