Kevin Spacey may have been the star of "House of Cards," Netflix' first original prestige drama series, but Robin Wright has always been the most valuable player. Now that Spacey has been fired after numerous accusations of sexual harassment and assault, Wright will lead the show's final season. And that is exactly as it should be: Claire Underwood should always have been the star.
Even in fiction, women can be trusted to clean up a man's mess.
"House of Cards" will resume production on its final season in early 2018, according to a Monday Netflix announcement, and without Spacey and thus without South Carolina Congressman-turned-President Frank Underwood. The news was cause for celebration for fans of Wright and her character Claire, an icy Lady MacBeth who was always too good for her husband. It's also a victory for anyone who has followed the allegations against Spacey and wondered whether the show's cast and crew would also suffer for his misbehavior.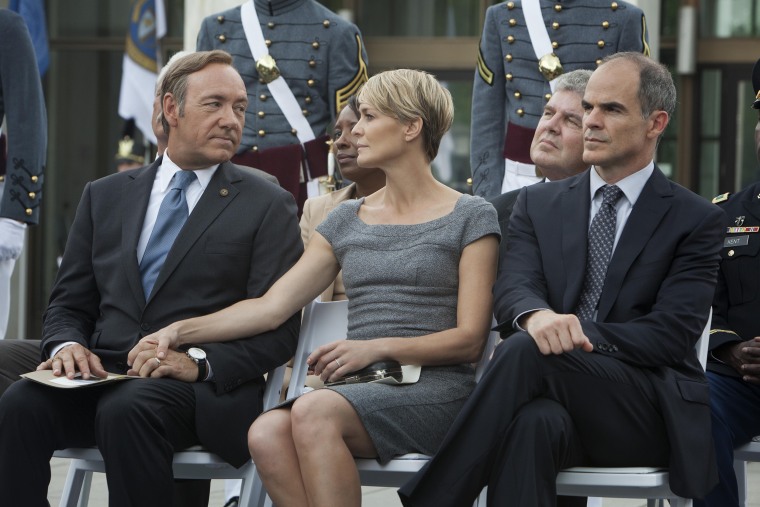 Yes, the decision to resume production on a shortened final season is good business for Netflix — the show may be a plot mess, but it's still one of the streaming service's biggest series — but Wright has been the most compelling actor on the show since episode one, and it's genuinely exciting to imagine her character finally getting the respect and power she deserves.
Spacey's overwrought Southern accent and comments through the fourth wall set the tone for "House of Cards," but it was Wright's performance that left viewers wondering what lay ahead for the couple. On a show that was supposedly about the hollow pursuit of political power by a man, it was the story of a formidable woman forced into an unholy alliance with said risible man that rang clearest. That's why it's so gratifying to imagine a version of the show that does away with the predatory, cynical black hole of a main character — probably by killing him off — and taking viewers with Claire as she solidifies her hold on Frank's now-former office and wraps up loose ends.
That this is such a noteworthy move by Netflix is just more dispiriting proof that our cultural systems aren't set up to encourage anyone who isn't a white man to succeed. If Beau Willimon, the "House of Cards" creator, had pitched the show with a woman in the lead, it would never have been made. Claire Underwood spent five seasons acting as a behind-the-scenes partner in schemes and political machinations; she survived sexual assault; she had three abortions; having been made vice president in service of her husband's ambitions at the beginning of season five, she took over as president after her husband resigned at its end.
Of course it's time for women to take over; clearly it already was, given how season five ended. But the constant stream of sexual harassment and assault reports that started in October (and show no sign of stopping) has left women exhausted, discouraged, and ready to shut everything down and start again without men at the helm. Christiane Amanpour is already taking over for Charlie Rose; the question is no longer whether women are going to take over for the men forced by their own behavior to step back from public life, but which women we can look forward to seeing replace them.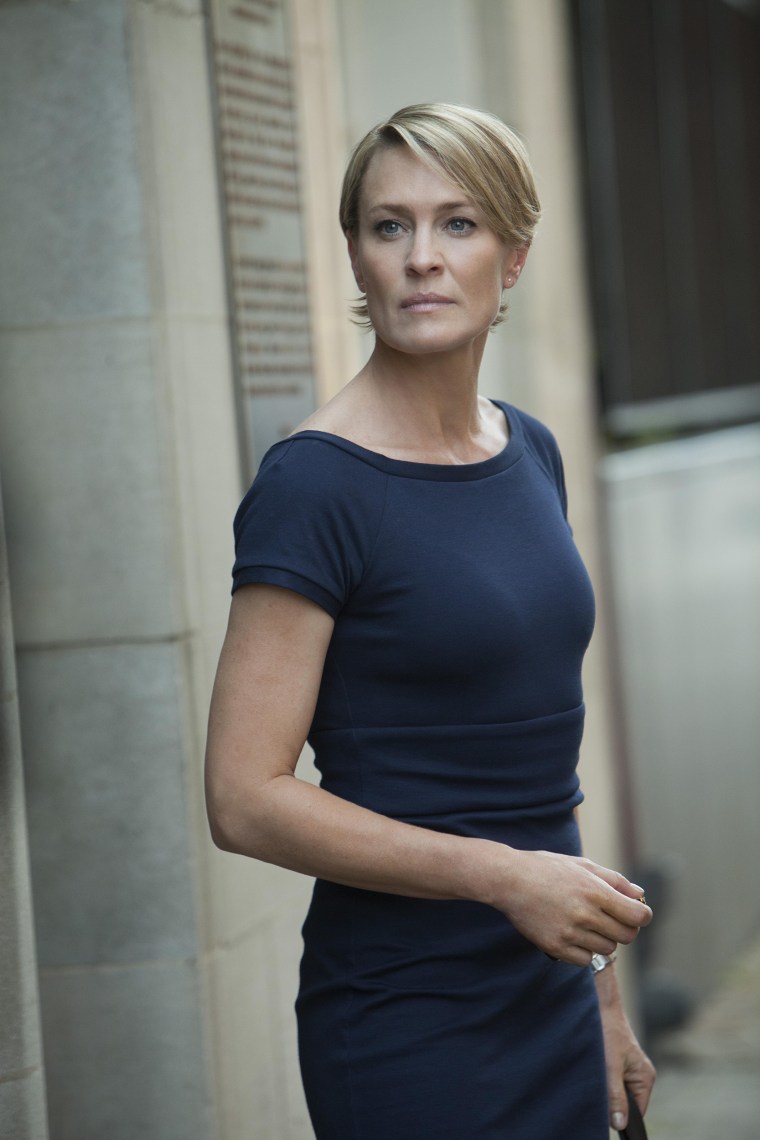 And there are infinite possibilities for replacing terrible men. R. Kelly? Play Beyoncé every time someone requests "Ignition (Remix)". Can't see Brand New because they had to cancel their tour? Cue Kesha (who also survived Dr. Luke). Harvey Weinstein? May the ascendance of Ava DuVernay, Oprah Winfrey and Shonda Rhimes continue apace. Think you'll miss Brett Ratner's action movies? We have Patty Jenkins now. There's no need for James Toback in a world where Greta Gerwig can make "Lady Bird." Roy Moore? Try literally anyone who hasn't trolled Alabama shopping malls for an adolescent paramour while old enough to drink. President Trump? Well... we tried. We really did.
It will be many months until we actually get to see how House of Cards actually wraps up its sixth and final season and the ghost of Frank Underwood (and Kevin Spacey) will loom over production and its release, but that doesn't have to be a bad thing. If the producers are smart, they'll use these last eight episodes to bring some much needed catharsis to the women and men who are worn out from saying, day after day, "yes, it really is this bad, and yes, it has always been like this."
It's not the wish fulfillment we want — there's no time machine to take the world back to a time before Harvey Weinstein or Kevin Spacey first preyed on someone with less power — but it's a start.
Meredith Clark is a freelance writer and editor in New York City.