I'm too busy. I'm not a morning person. I'm travelling.
When it comes to excuses to skip the gym, we're full of them.
But whether it's not having time, not knowing what exercise to do or simply not being able to find the motivation to exercise: there's an app for that.
Since we so often rely on our phones to entertain us, teach us and distract us from the real world, why not look to them for a little help when it comes to getting your fitness back on track? When you need that extra push to get off the couch, consider downloading one of these apps designed to combat the workout excuses that plague us.
Download one or download them all, either way, a killer workout is just a click away.
Excuse #1: I'm constantly on the go; I can't commit to a gym
App: Aaptiv
Price: One-month free trial; $8.33/month
It can be hard to keep up with a fitness routine when you're constantly away from home. Instead of letting every work trip or vacation put a dent in your stride — and struggling to get back on the bandwagon when you get home — give Aaptiv a spot on your home screen. The app will allow you to keep up with your workouts wherever you are: whether you have a hotel gym at your disposal or need to squeeze in a workout in your room. The app boasts over 2,500 workouts audio classes led by an expert trainer with an accompanying soundtrack, with new classes added every week. You can filter workouts based on fitness level, workout duration and type — so no, only having ten minutes and no equipment isn't an excuse.
Excuse #2: I don't have time to workout
App: 7-Minute Workout
Price: $2.99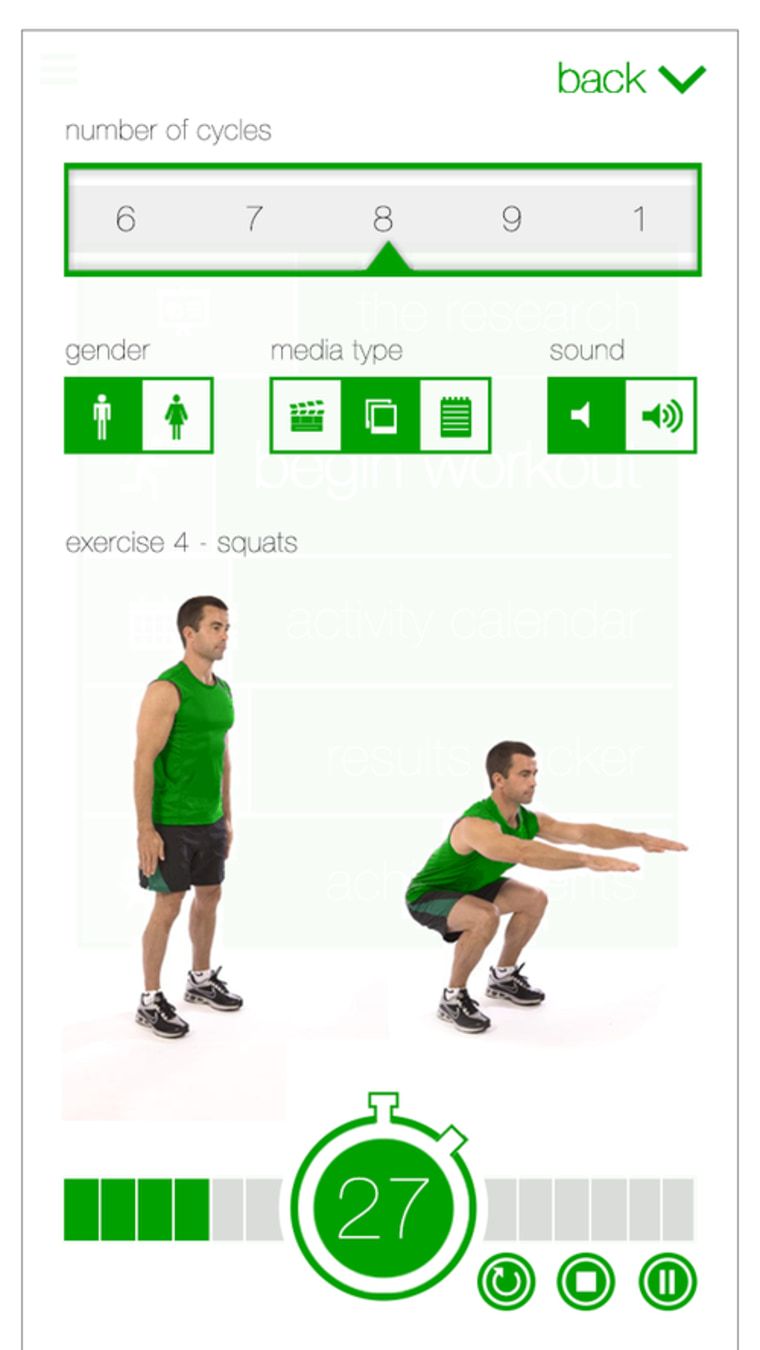 Finding time may be the biggest obstacle to committing to a workout routine. As much as we would all love to take an hour to de-stress in a yoga class or take a long walk in the park, sometimes (okay, most of the time) busy schedules just won't allow it. For those jam-packed days, the 7-Minute Workout app is there to help you squeeze in some exercise. The app leads you through 12 high-intensity exercises that can be performed in just seven minutes, creating a workout that gets your heart rate up enough to make a real impact on your waistline (but not your schedule). The only catch? "I don't have time" is no longer a viable excuse.
Excuse #3: I'm completely lost in the weight room
App: FitBod
Price: Free; upgrade to elite member for $7.99/month
We know that strength training is a critical component of any effective fitness routine, but not everyone feels at home in the weight room. By going into her workouts with a plan, Wilhelmina model, personal trainer, and NYSC Lab Master Instructor, Bianca Paige tells NBC News BETTER that she avoids the chance of getting distracted or losing time trying to figure out a workout on the spot. (And one look at her killer body says it's safe to say that her method works.) "I write everything down; especially when it comes to lifting," says Paige. "It's the easiest way to see your progress and how far you've come." We're not all professional trainers, but we do all have access to FitBod, a workout app that creates custom strength-training workouts based on your ability and goals. Gone are the days where you avoid certain machines or stand clueless in front of a weight rack: The app takes the guesswork out of sets, reps and which weight to use, and even provides animated GIFs demonstrating each exercise.
Excuse #4: I need a personal trainer, but I can't afford it
App: Fitplan
Price: 7-day free trial; $9.99/month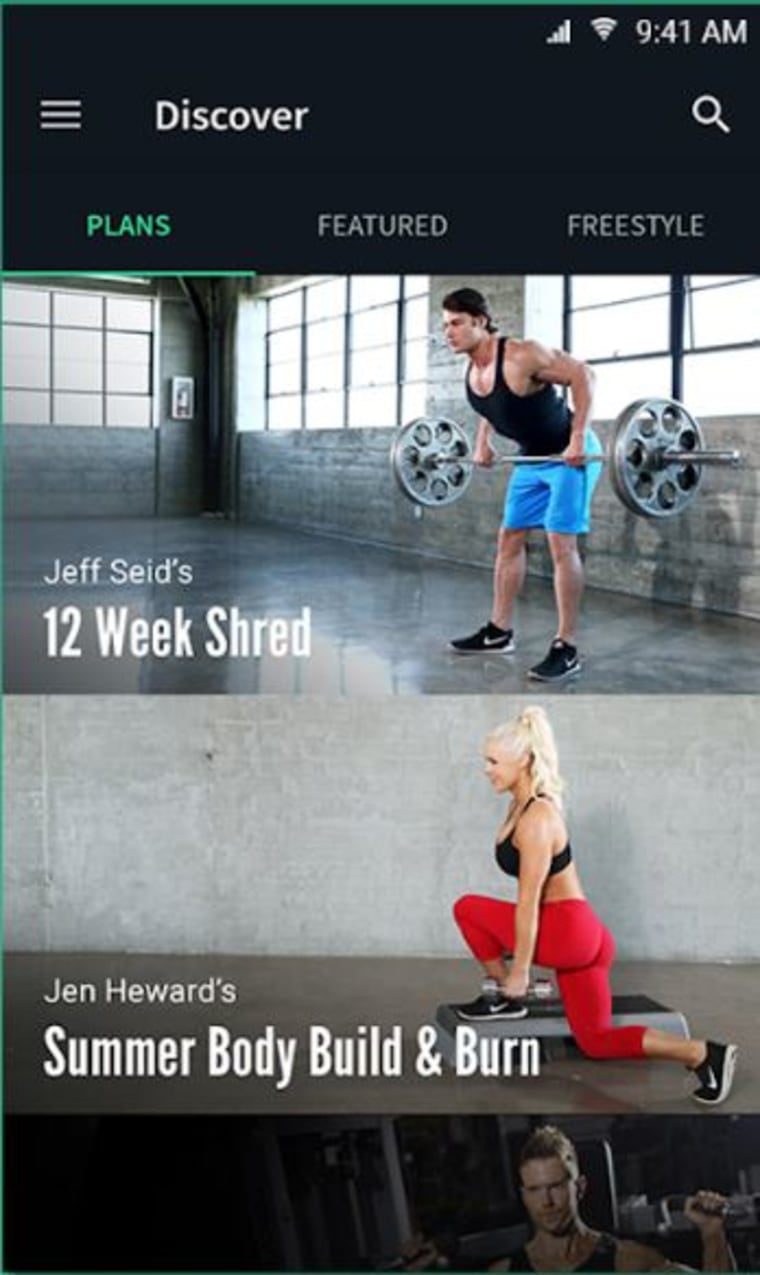 Whether you're brand new to working out or you want to work towards a specific goal, having a pro by your side can be a huge help. Not only are professionals able to guide your form and enhance effectiveness of a workout, but they're able to provide some much needed motivation, too. If you find yourself at a loss for where to start and don't have access to a pro IRL, look to Fitplan, an app that provides users with thorough workout plans with world-class fitness trainers. The app offers 3-12 week workout plans organized by goal – like fat burn, building muscle, bikini body or postpartum for new moms. A trainer guides you through each plan, providing videos, routines and a place to record your weights, reps and personal bests. And for the same price as two lattes, it's a whole lot more affordable than hiring an in-person trainer.
Excuse #5: I can't stay motivated to stick to a routine
App: 30 Day Fitness App
Price: free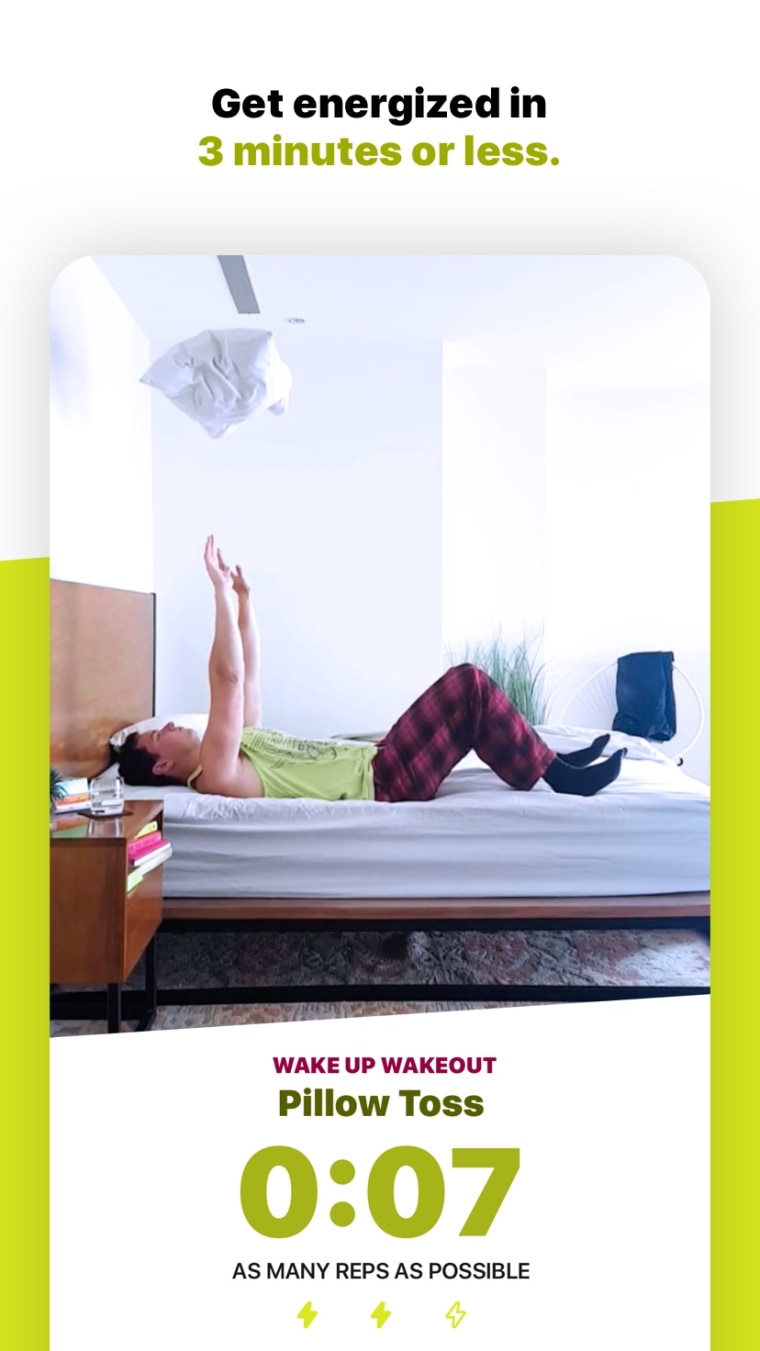 If you're someone who jumps in with both feet and then falls off the bandwagon a week later, setting a concrete fitness goal you can work towards can help keep you motivated. The 30-Day Fitness App allows you to set a 30-day goal, whether it be a full-body tone up, or a specific target like your abs or glutes. You will ease into it the first couple of days and then the app will gradually increase your reps per set as you progress through the 30 days. Even the most unmotivated among us will find satisfaction in the check mark that appears on the calendar each day you complete your workout. With bathing suit season in full affect, a 30-day commitment may be just the push you need to get off the lounge chair and back in the gym.
Excuse #6: I press snooze so many times that I sleep through my workout
App: Wakeout
Price: free; $7.49/month for Wakeout Pro
Those who have mastered the morning workout make a pretty convincing case to give it a try. Not only does it ensure that a hectic schedule doesn't get in the way of fitting in fitness, but it will get you up and moving before work, which can increase your productivity. But when that alarm sounds — and your bed is just oh-so-cozy — it becomes easier said than done. The Wakeout fitness app can help get the ball rolling and lessen the chance that you skip your workout. Featuring over 250 simple workouts — incorporating everything from pillows and your bed, to your desk chair and a coffee cup — the app allows you to make a small, 3-minute step towards becoming a morning person. (Bonus: It also provides exercises to perform at other sleepy times of the day, like at your desk during that midday slump at work.) Chances are, once you're up and moving for a few minutes (even if it's just tossing your pillow around in bed), you'll be awake enough to get up for a longer workout.
Excuse #7: My mind isn't in the right place to make exercise a priority
App: EveryBODY with Iskra
Price: 7-day free trial; $24.99/month
Physical fitness is just one cornerstone of a healthy lifestyle; it'll only get you so far if you aren't dedicating time to your mental health as well. And when you've gotten out of shape, the battle to get back in the gym can be as much mental as it is physical. If you're stuck in a place where you're constantly comparing yourself to others or worrying about being judged in the gym, EveryBODY with Iskra can help you work on rebuilding your confidence and focusing on self-care, instead of fixating on the extra pounds you're trying to lose. Designed by self-care advocate, Iskra Lawrence, the app offers a combo of HIIT, boxing and yoga workouts, plus it's chock-full of recipes, guided meditations, lifestyle tips and a constant support system to help you tackle each one of your wellness and self-care goals.
Excuse #8: My playlist doesn't motivate me
App: FIT Radio
Price: Free; $3.99/month for Premium Subscription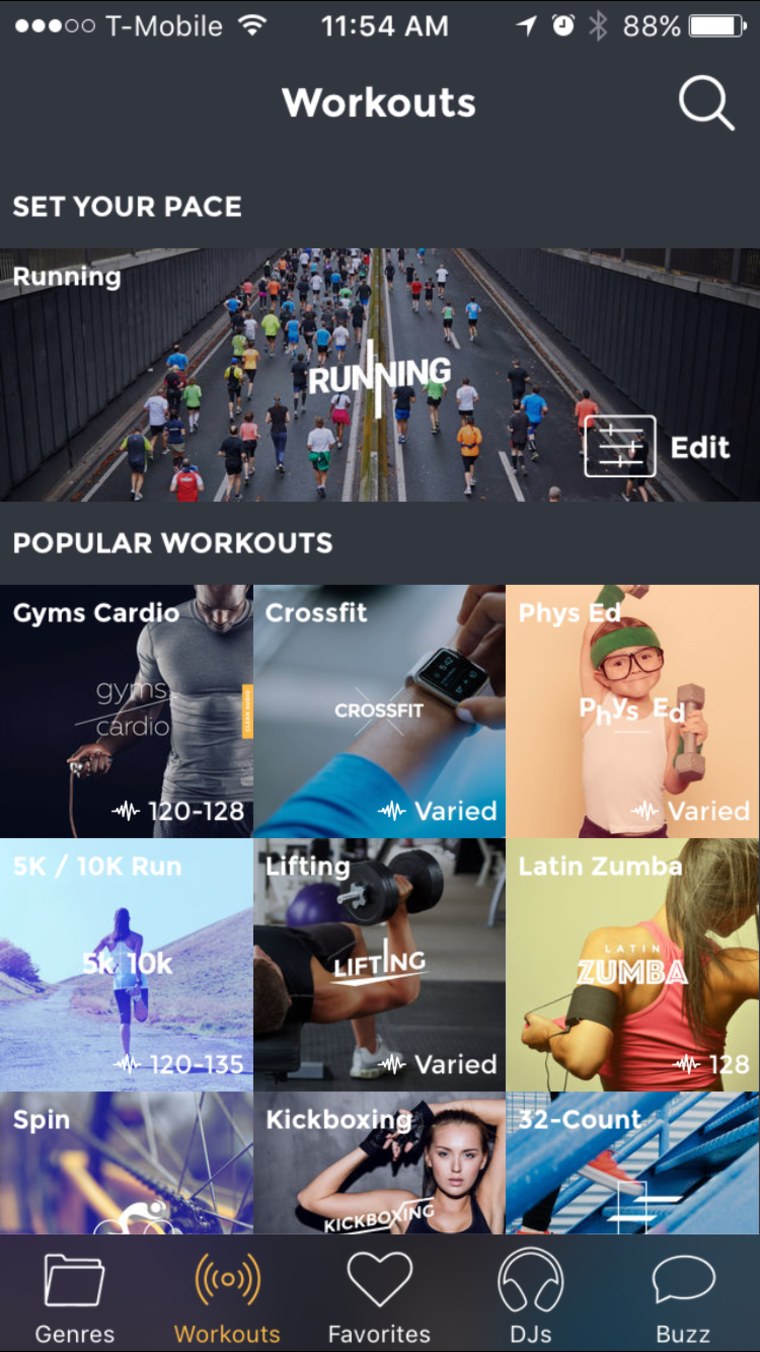 Let's be real: sometimes the only thing pushing you through that run is the tunes blasting in your ears. Especially on those days when you feel less than motivated, the right playlist can make all the difference. Enter: FIT Radio. The app provides users with playlists curated by real-life DJs, with 40 different music genres, designed to fuel all your favorite workouts. Whether you're climbing stairs, doing yoga, kickboxing or walking, FIT Radio will provide the tunes that will motivate you to push yourself to your limits. The app also has a running tab that syncs the playlist with your pace, helping you to stabilize or increase your speed if you're training for a race.
Excuse #9: I want to run a race, but I'm too out of shape
App: C25K
Price: Free; upgrade to pro $4.99/month
It's summer which means your social media feeds are peppered with friends posting their training runs for fall marathons and pictures of them holding 5k medals on the beach. Having some major FOMO? That's where C25K comes into play. After just ten months, the founder of C25K went from a couch-ridden smoker to an inspirational athlete running his first marathon. The secret to the program is all in the gentle introduction to running that starts with alternating between walking and running small distances to help build strength before gradually transitioning into distance runs. Designed for people who are brand new to running, the app can get anyone up off the couch and running a 5k in just nine weeks — you'll have your own Instagram-worthy moment to post in just a few short months!
TRY THESE FITNESS ROUTINES
Want more tips like these? NBC News BETTER is obsessed with finding easier, healthier and smarter ways to live. Sign up for our newsletter and follow us on Facebook, Twitter and Instagram.