UPDATE (Sept. 20, 2019, 4:25 p.m. ET): This piece has been updated throughout to reflect the news that Antonio Brown was released by the New England Patriots on Friday. The team noted in a statement that "we feel that it is best to move in a different direction at this time."
The last few weeks, without question, have been the fortnights of NFL star Antonio Brown. The former Steelers (briefly Raiders) and now former Patriots wide receiver has captivated NFL audiences with a series of incredibly odd activities and decisions. Amusing or mildly irritating, depending on your mindset, Brown's behavior was entertaining right up until, suddenly, it wasn't.
But Brown's not the first professional player to combine massive talent with massive red flags. Chris Henry was one of the most incredible wide receivers I ever watched play. He was everything you wanted a wide receiver to be: Fast, tall, lithe and wiry, with soft hands that could catch anything in his remote vicinity. He looked like the future of football. He, like Brown, was also a huge pain for every team that employed him, in ways that were both ill-considered and relatively harmless — even amusing.
Brown's not the first professional player to combine massive talent with massive red flags. Chris Henry was one of the most incredible wide receivers I ever watched play.
Henry would be late for practice and sometimes forget to go all together, and he was constantly getting unsportsmanlike conduct penalties. His college coach at West Virginia, Rich Rodriguez, said he was "an embarrassment to himself and the program." When the Cincinnati Bengals drafted Henry to the NFL in 2005, the receiver was quickly suspended for eight games following a stunning four arrests in a 14-month period. These alleged crimes were not particularly malicious offenses; he gave alcohol to a minor, he carried a concealed weapon without a license, he had some marijuana on his possession, he blew too high on a breathalyzer and got a DUI. The rapid succession of the arrests was, frankly, amusing: It is difficult for an NFL player to be arrested for times in 14 months, even if he was trying. Henry even became a bit of a cult hero for his antics on HBO's "Hard Knocks." It was sort of all in good fun. It was entertaining.
Until, suddenly, it wasn't. A year after a broken arm ended his career, Henry was killed when he jumped off the back of a moving truck while having an argument with his girlfriend. When doctors did an autopsy, they discovered Henry suffered from a severe form of CTE (a degenerative brain disease found in people who have a history of repetitive brain trauma), making him the first player to have died with the disease while still active in the league. This, despite the fact that he had never been diagnosed with a concussion in his career.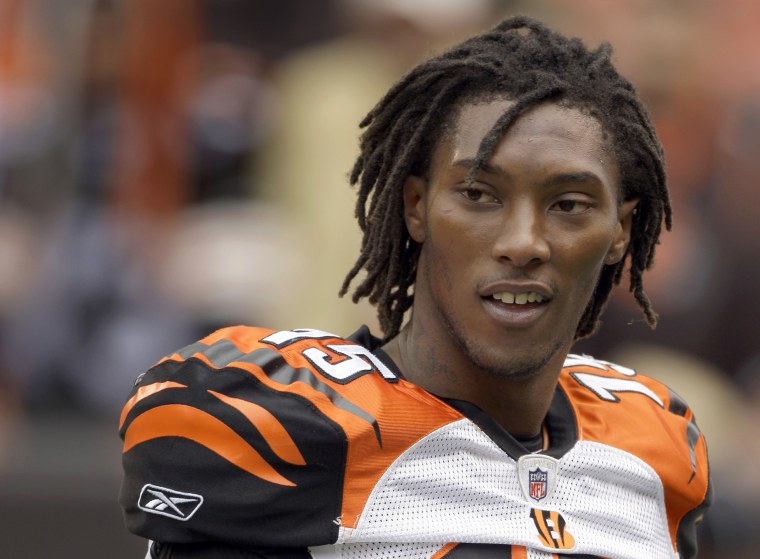 Suddenly, all those funny, even endearing Chris Henry missteps and miscues weren't so funny anymore. What we saw as an eccentric personality may have simply been a man suffering from a serious brain injury. Since Henry's death in 2009, we have learned more about CTE and the effects it can have on those who may have it, and their loved ones. But I'm not sure we've learned that much more about the entertainment part of it.
After demanding a trade from Pittsburgh after last season — the team he made seven Pro Bowl teams playing for — Antonio Brown showed up at Raiders training camp with a frostbite injury on his feet because of a botched cryogenic session and subsequently began demanding he be allowed to use his old helmet, which the NFL had banned for being unsafe in combatting concussions. (It is worth noting that most medical experts argue that no helmet is truly effective at decreasing concussions. But no matter.) When he stopped showing up to practices he was fined by his team, only to respond by posting the letters about his fines on Instagram.
The next day, Brown reportedly attempted to attack Raiders general manager Mike Mayock, called Mayock a "cracker" and punted a football while storming away, screaming, "fine me for that!" He apologized, but then a day after that, he demanded the Raiders release him and posted audio of a phone call with Raiders coach Jon Gruden to his Instagram account. The Raiders did in fact release him, costing him tens of millions of dollars in guaranteed salary. Even, it seemed like the outspoken wide receiver would have the last laugh after perennial champions the New England Patriots signed him within two days.
It is worth noting that the entire sports world was riveted by every twist and turn of this story. Why did he not want the new "safer" helmet? Why does he have frostbite? Why is he secretly recording his coach's phone calls? Why is he putting all this guaranteed money at risk? Why is this all happening on Instagram? You couldn't turn on a single sports television program without Brown's latest wild mood swing dominating the conversation. We loved it. It was incredibly entertaining.
Until, suddenly, it wasn't. Shortly after he signed with the Patriots, Brown was served with a lawsuit accusing him of raping his former trainer, a woman he met in Bible study at Central Michigan University, where he went to school. The details of the accusations are deeply disturbing, even before you get to the actual description of the alleged rape. Included are emails and texts sent by Brown to the woman that are not only harrowing but also incredibly disjointed and erratic — exactly the sort of strangeness that we were all so obsessed with just a few days earlier.
Then another woman stepped forward, claiming that Brown had exposed himself to her while she worked on a mural in his home. Sports Illustrated reported that after it reported the accusations, Brown sent his accuser intimidating texts. Then on Friday, the Patriots cut their controversial star.
We do not know that Brown is suffering from CTE: One of the many cruelties of the disease is that is it undiagnosable until you look at the brain after death. But there his undeniable peculiarities should at least have given us some pause. Now, after Brown has gotten involved in a situation that is truly disturbing and horrible, everyone is putting their hands in the air, not wanting anything to do with Brown and his antics anymore. But just one week ago we couldn't get enough of them. It's all in good fun. Until it's not. Maybe it never should be in the first place.