Donald Trump was never supposed to become president. He wasn't even supposed to win the Republican Party's presidential nomination. He had no deep roots in the GOP, and his support within the class of Republican political professionals, elected officials and seasoned policy hands was initially all but non-existent. As a result, the shallow pool of talent from which Trump could draw on in those early days meant he had little choice but to surround himself with cronies, lickspittles and hangers-on. Two years into the improbable Trump presidency, we tend to forget all this. But in fact, Trump's earliest supporters have encumbered his presidency from day one.
This week, the president's personal attorney Michael Cohen surrendered to the FBI, pleaded guilty to bank fraud, tax fraud and campaign finance violations, and testified in court that he committed some of those crimes "in coordination and at the direction of" the president. This should not come as much of a surprise. And the outcome is the result of a painfully stupid effort to cover up Trump's alleged affairs.
As the Wall Street Journal revealed, Cohen founded a limited liability corporation in Delaware in October of 2016 with the intention of using it to funnel $130,000 to adult film actress Stormy Daniels to purchase her silence. When he incorporated this shell company, however, Cohen took the unusual step of using his own name on the documents — something the state of Delaware does not require. The New York Times later revealed that Cohen used that same shell company to solicit payments from firms seeking "consulting" services from an attorney with ready access to the president of the United States.
Trump denied knowing anything about the payout to Daniels, but Cohen later produced a September 2016 audio recording of the president directing the disbursement of hush money to another mistress, former Playboy model Karen McDougal. The FBI had seized this and other recordings during a raid on Cohen's office and residence earlier this year. In concert with Trump's admission that he made undisclosed reimbursements to Cohen for these hush money payments, the tapes implicate the president in conspiracy to violate campaign finance law.
"Michael Cohen's an idiot," Sen. Lindsey Graham declared upon hearing the tapes. Maybe so, but Cohen is in good company.
The Trump administration has been laboring under the shadow of investigations stemming from its conduct during the 2016 campaign almost from the minute the president took the oath of office. The investigation that began with the FBI and was later taken over by special counsel Robert Mueller is a direct outgrowth of the fact that almost no seasoned Republican foreign policy professional would dare associate themselves with the Trump campaign.
In March of 2016, with Trump's campaign appearing increasingly unstoppable, 122 Republican foreign policy professionals signed an open letter pledging to oppose Trump's election to the presidency. The talent pool from which Trump could draw on for foreign policy expertise being rather limited, he was obliged to fill his roster of advisors with knaves and nobodies. Among them were two now infamous names: Carter Page and George Papadopoulos.
One of the few qualifications that credentialed Papadopoulos as an American presidential candidate's foreign policy advisor was his stint at a model United Nations conference in 2012. Not surprisingly, Papadopoulos' first taste of real authority seems to have gone directly to his head. In April of 2016, he drunkenly bragged to an Australian official in his capacity as a Trump campaign advisor that the Russians were in possession of Hillary Clinton's most embarrassing emails. That information was later conveyed to the FBI and, thus, the FBI's counterintelligence investigation into the Trump campaign began.
Page was already on the FBI's radar after being swept up in a probe targeting Americans who were the target of Russian recruitment efforts in 2013. His "deep ties" to the Russian state-owned gas company Gazprom were described as suspect by anyone willing to look into his history. Eventually, his Trump campaign-sanctioned trip to Moscow in August of 2016, where he allegedly met with ranking Russian governmental officials, rendered him the second Trump campaign official to be surveilled by the Department of Justice.
Michael Flynn was perhaps less obscure when Trump tapped him as his first national security advisor, but he was known as much for his checkered history as for any professional accomplishments. Flynn was dismissed from President Barack Obama's Defense Intelligence Agency over managerial and temperamental issues, which could be dismissed as bureaucratic resistance to a reformer. What could not be dismissed so easily, however, was the 2015 trip Flynn took to Moscow, where he was seated next to Russian President Vladimir Putin during an event celebrating the Russian-funded TV network RT, where Flynn was a commentator.
Nor should anyone have neglected the fact that Flynn was likely reimbursed by Moscow for his contributions to the propaganda network and did not disclose those payments when he renewed his security clearance in 2016. Nor could Flynn's services on behalf of autocratic Turkish President Recep Tayyip Erdoğan's — services rendered without registering as a paid foreign agent — be overlooked. At least, they couldn't be overlooked by Robert Mueller, who accepted a guilty plea from Flynn in exchange for cooperation in December of last year.
Paul Manafort hadn't worked on a presidential-level campaign for 20 years when he joined the Trump team. His experience in politics was limited to consulting for controversial foreign potentates; the Putin-backed former president of Ukraine, Viktor Yanukovych, and former Philippine dictator Ferdinand Marcos most notably among them. Former French Prime Minister Edouard Balladur, who was implicated in the illegal sale of French submarine plans to Pakistan in the 1990s, was counted among Manafort's sterling clients. So, too, was former Bahamian Prime Minister Lynden Pindling, who was suspected by President George H. W. Bush's Justice Department of drug smuggling.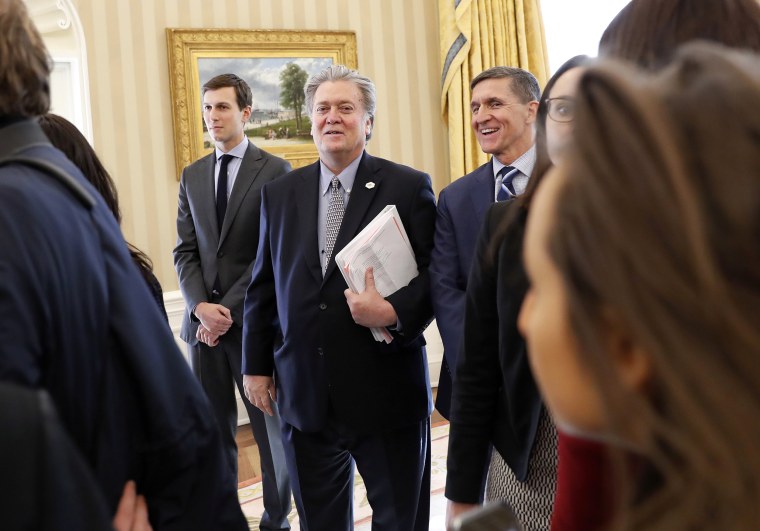 Before he joined the Trump campaign, Manafort was arguably best known in America for his 1989 testimony before Congress where he was grilled over a deal in which he secured a subsidized Department of Housing and Urban Development loan for a client, took a commission on that deal and proceeded to buy a 20 percent stake in the project receiving the subsidy. "We worked the system as it existed," Manafort explained. It surely must have come as a shock only to the people in Trump's orbit when Manafort was convicted of eight counts of bank and tax fraud in a federal court on Tuesday.
Trump owes much of his legitimacy among Republicans to the few lawmakers who dared to break ranks with their peers to endorse him. Rep. Chris Collins, a Republican House member from New York, was the first. Earlier in August, he was charged with insider trading.
California Rep. Duncan Hunter was next. On Tuesday, Hunter and his wife were charged with misusing campaign funds to pay for lavish personal expenses. Meanwhile Jeff Sessions, Trump's attorney general and the first sitting senator to back Trump, has become an endless source of frustration for this White House stemming from his recusal from overseeing the Justice Department's investigations into the Trump campaign. That recusal was a result of Sessions' conspicuous failure to remember a variety of conversations he had with Russian officials, the discovery of which contradicted sworn testimony he delivered before Congress.
Trump's B team has not only failed to protect him from his and their legal improprieties. They've also executed some spectacularly inept policy failures. For example, Steve Bannon was among those responsible for crafting Trump's first initiative, an executive order banning travel from seven majority-Muslim nations into the United States. That order resulted in mass protests in the streets and airports, polarized Democrats in Congress against the new president, and, on top of all that, could not survive judicial scrutiny because it had not been reviewed by the White House Office of Legal Counsel.
Donald Trump surely attracted a certain type of booster in the earliest days of his campaign. Corey Lewandowski, Trump's first campaign manager before he was fired for assaulting a female reporter, called them Trump's "originals." As it turns out, these early adopters have been nothing but trouble for the president. In the end, it was Trump who surrounded himself with this kind of talent. Which means for so many of the political and legal problems that plague this White House, the president only has himself to blame.
Noah Rothman is the associate editor of Commentary Magazine.