I could live without almost every piece of baby gear — all except for my Doona stroller and car seat. I recommend it to every single expecting parent, even pregnant strangers I meet on the street.
I've had the Doona since my first child was born nearly six years ago. The company sent it to me to test out and I have used it faithfully ever since. All three of my kids have come home from the hospital in it. Since 2017, our Doona has traveled with us to 15 states, seven national parks and four countries.
After our second daughter was born, I gave it away, assuming I was finished with having babies. When I found out an unexpected third was on the way, I begged my friend for it back.
SKIP AHEAD Why we like it | Our experience with the Doona | Other products to consider
The Doona is a car seat and stroller in one — with just the click of a button it transitions from one mode to the other making it the ultimate multifunctional baby accessory that takes you from the street to your car easily. It comes with an infant insert and head support for newborns and is available in seven colors.
Its materials are free of hazardous chemicals, and are breathable, removable and washable. (Washability is key, in my opinion since strollers get positively filthy.) The Doona also has two layers of durable, impact-absorbing plastic that is reinforced with foam layers to provide enhanced impact protection, which protects your baby in case of an accident, according to the brand.
There are a variety of other accompanying accessories you can purchase to make the stroller even more of a vital part of your everyday parenting routine. I immediately added on the $60 essentials bag that connects to the stroller's push handle; it's especially useful since the Doona doesn't have extra storage space like a lot of large strollers.
Why we like it
When transitioning from the street or house to your car, you don't need to detach the car seat and then fold up a bulky stroller. You press a button on the back of the Doona and the wheels fold up neatly inside of it. The transition is so smooth you won't even wake a sleeping baby.
Additionally, there is a car seat base attachment for your vehicle so you can easily click the seat in and out. Separately, it is also easy to hook the Doona into almost any car using a seatbelt. As someone who lives in the heart of Philadelphia and often travels with my kids, I love this function because it means I can take my baby out for long walks and then take a taxi home. At 17.2 pounds, I find the Doona is easy to lift and maneuver in and out of cars.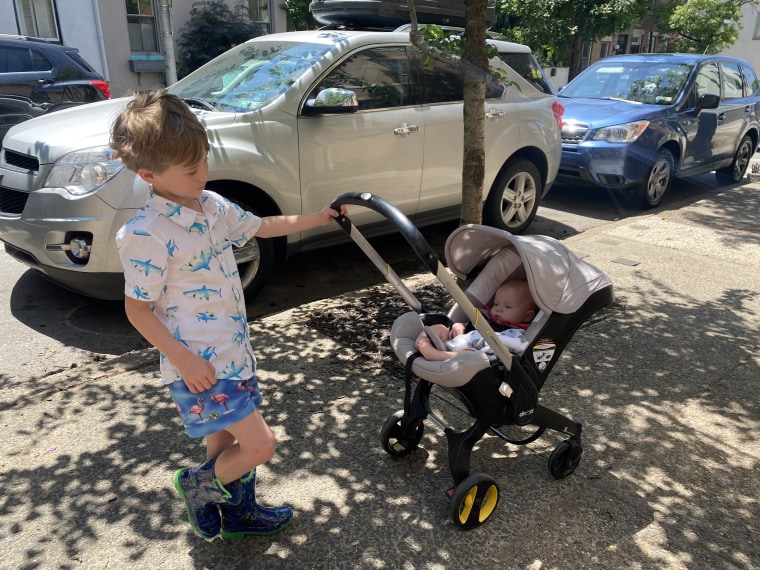 As a car seat, the Doona met all of my expectations for safety. It has a five-point harness to protect the child in case of an accident, while the stroller handle doubles as an anti-rebound bar that helps prevent it from flipping back toward the rear of the car in a crash, according to the brand's website.
The Doona also comes fully assembled in the box. This may not seem like such a huge benefit, but when you are an expecting or new parent every second counts, and the fact that the stroller is ready to go within seconds of arriving truly matters.
Our experience with the Doona
I have carried the Doona onto boats, trolleys and trains and brought it onto plenty of beaches with the accompanying $40 sunshade. I once took it on a gondola up to the top of a mountain. When parents walk into restaurants, hosts and waiters often frown at the sight of any stroller. When I show them how the Doona folds up and tucks away so seamlessly, their eyes often light up with delight.
And don't forget airplanes. If you're willing to pay for a seat, the Doona is aircraft approved and fits neatly into a standard airplane seat (without the base). In the event you want to save money and sit the baby on your lap, it is as easy to check at the gate as any stroller I've tried. I also purchased the $50 travel bag that you can wear like a backpack when traveling. The stroller fits right inside the water-repellant bag that also folds down into an integrated pouch when not in use.
The Doona isn't limited by age, but there is a weight limit of 35 pounds. For my babies, this was around 18 months, though none of my kids wanted to abandon the Doona. My three and a half year old still tries to climb into it.
Few product decisions are as fraught for an expecting parent as which stroller to purchase. Every parent you meet has an opinion about what they love and what they hate. Strollers inspire both devotion and ire in equal measure. My ultimate praise for the Doona can be boiled down into a single sentence: It is one of those objects that simply makes life as a parent easier.
Other products to consider
While I am extremely loyal to the Doona because it doubles as my stroller and car seat for the first year and a half of my childrens' lives and is so easy to travel with, there are other highly rated stroller/car seat combos that offer similar features. The below options are all considered "travel systems," which means you can use their various components as both a car seat and stroller.
The Grow and Go Sprint has eight seating configurations including parent- and outward-facing positions, for growing kids. It has an infant car seat that attaches (and detaches) to the stroller frame as you move in and out of your car. And unlike the Doona, it offers a large storage basket, plus a canopy tray with cup holders for parents. It can accommodate children up to 50 pounds and comes with a step-up bar that'll help kids climb into their seat as they get older, according to the brand.
This highly rated stroller and car seat system offers six different modes of use and can hold children up to 50 pounds. The multiple configurations include: carriage mode (which lets your baby recline and stretch out), toddler mode, or a frame stroller with infant car seat, according to the brand. Additionally, it has a three panel canopy to provide your baby with shade and privacy as you walk.
Why trust Select?
Jo Piazza is an award-winning journalist with over twenty years experience in the field. She is a mother of three children and has used the Doona for all three of them while traveling around the world.
Catch up on Select's in-depth coverage of personal finance, tech and tools, wellness and more, and follow us on Facebook, Instagram and Twitter to stay up to date.