Have a cool $9 million burning a hole in your pocket and a need for speed? Check out the new Bugatti Centodieci, the brand's most powerful car yet, at the biennial Frankfurt Motor Show this week.
The German car show, which alternates every year with Paris, is one of the world's most important automotive events and will kick off the 2020 model-year in style, bringing the debut of dozens of new models covering just about every possible new car niche.
This year's Frankfurt Motor Show includes the launch of a number of new battery cars, including the Honda E and Mini Cooper SE, as well as plenty of products for those on a budget. But it also features an assortment of offerings for those with deeper pockets, like the Porsche 911 GT3 and Lamborghini Sian.
Here's a look at some of the high-performance, exotic and frightfully expensive new cars, crossovers and concept vehicles making their debut in Germany:
Production Models
Alpina BMW X7: Most performance fans know BMW's vaunted M performance brand, but the Bavarian automaker also has a long-standing relationship with independent "tuner" Alpina, and they're cooperating on a special version of the BMW new SUV flagship, the X7. Like other Alpina-modified models, the crossover will get an array of new luxury features — along with lots more power. Likely to be dubbed the XB7, it's expected to share the same, twin-turbo 4.4-liter V-8 used in the Alpina-tuned 7-Series sedan. That should mean around 600 horsepower, 0-60 times of 3.5 seconds and a 200+ mph top speed.
Audi RS Q8: Just months after officially launching its new SUV flagship, the Q8, Audi will amp it up in the form of the RS, a designation reserved for its most powerful models. This super-high-performance take on the Q8 crossover pumps up performance by borrowing the same 4.0-liter twin-turbo engine used in the Lamborghini Urus, albeit detuned to a still-impressive 600 or so horsepower.
Byton M-Byte: The most eye-catching feature on this all-electric crossover is the 48-inch video instrument panel, but there are plenty of other reasons why the debut of the production version of the Byton M-Byte is grabbing so much attention. By mounting batteries and motors below the floor, the compact crossover yields a nearly full-size interior. And, depending on the battery pack option, it can deliver up to 402 miles of range. The Chinese-owned company plans to start production next year and enter the U.S. market in 2021. The M-Byte will likely start at $45,000.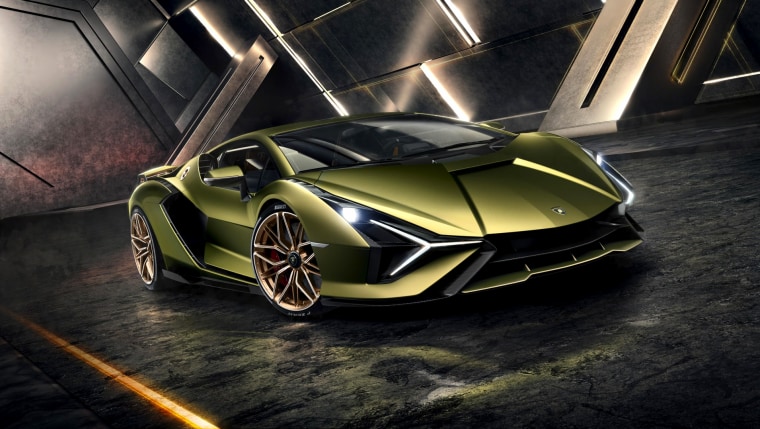 Lamborghini Sian: Supercars traditionally rely on large-displacement V-8s and V-12 engines, but there's a rapid transformation underway as they turn to battery power for their exotics. Lamborghini is taking its first step into "electrification" with the new Sian, a sleek two-seater that pairs a 6.5-liter V-12 with a 48-volt "mild" hybrid system to create its most powerful model ever, at a combined 808 horsepower. While Lambo isn't the first supercar company to use hybrid power, the Sian delivers one breakthrough: Instead of using a lithium-ion battery pack, it opts for a lightweight ultracapacitor.
Land Rover Defender: Possibly the most eagerly awaited debut scheduled in Frankfurt brings the new version of the British marque's classic off-roader, the Defender. It's the most capable of offerings from a brand known for its go-anywhere products. Expect to see Defender in the next James Bond adventure, one of three products from Jaguar Land Rover. And, when it hits showrooms next year, it will become the first Defender to reach the U.S. since 1997.
Porsche 911 GT3: The German automaker is fond of offering an array of different variants, and of the 24 different versions of the brand icon, the Porsche 911 GT3 is the one to take most seriously. While not much has been said about the 2020 model, reports from Germany have suggested it will be powered by a naturally aspirated (as in non-turbo) engine making 520 horsepower. And, along with a massive rear wing, it is expected to rely on active aerodynamic features to keep it planted on the ground at high speeds. Look for a new 911 Turbo Cabrio also to debut in Frankfurt.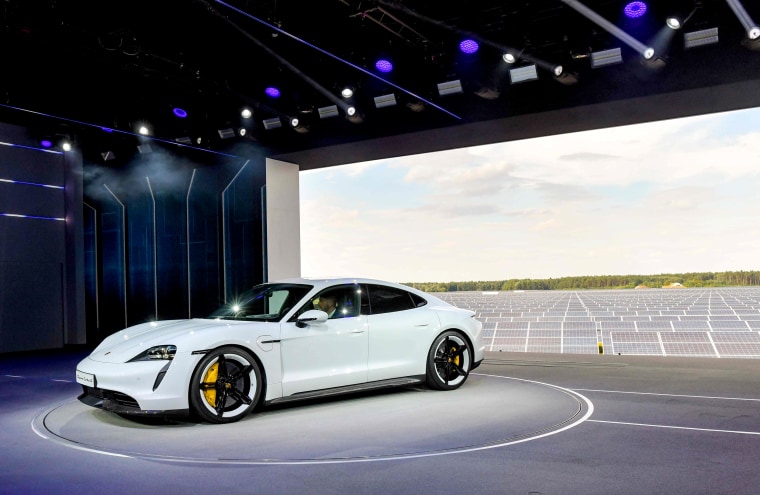 Porsche Taycan: As with the 911, Porsche will offer multiple variants of the Taycan, including the Turbo and Turbo S. The latter will make 750 hp and enough torque to bury passengers in their seats, with a 2.6-second 0-60 launch and a top speed of 161 mph. With its groundbreaking 800-volt electrical system, meanwhile, Taycan gets an 80 percent charge in just over 20 minutes. The four-seater will start at $150,000, the Turbo S jumping to $180,000.
Concept Cars
Audi AI: Trail Quattro: An "electrically driven off-roader of the future," the AI:Trail is the final entry in a series of four concept cars that Audi started rolling out in 2017. With its short, blunt nose, flat roof and "suicide" style doors, you certainly won't confuse the show car with Audi's current SUVs, such as the Q8. It's expected to use battery power and likely will use the latest in AI technology to allow drivers to opt between manual and autonomous driving modes.
BMW M Next Vision: The latest BMW concept "provides a glimpse into the future of sporty driving," explains the brand's design chief, Adrian van Hooydonk. Inspired by the i8 plug-in hybrid sports car, M Next adopts a more low-slung, wedge-shaped profile, though some of the most dramatic updates can be found inside with such technologies as an Augmented Reality Head-Up Display. Its updated, 592-hp drivetrain can hit 60 in 3.0 seconds. And it offers a choice of manual or autonomous driving modes.
Mercedes-Benz EQ Concept: Mercedes is investing billions in battery power and will show off an array of electrified models in Frankfurt. That includes the EQ Concept, which is widely believed to be a disguised version of a battery-powered complement to the brand's current flagship, the S-Class sedan. What would likely be named the Mercedes EQS will use twin motors, one on each axle, to provide an electric all-wheel-drive system, making just over 400 hp, enough to hit 60 in less than 5 seconds. Of course, it also will feature the lavish touches one would expect of a regular S-Class sedan.