Tesla CEO Elon Musk on Monday sent out a tweet revealing plans to unveil an "unexpected" new product on October 17. Speculation runs from a new battery sports car to an electric pickup truck — but, whatever Musk has under his hood, analysts are beginning to question whether the cash-strapped car maker will be able to remain in the fast lane amid a European assault.
Daimler chairman and CEO Dieter Zetsche has already declared his goal to overtake Tesla Motors as the world's biggest seller of luxury electric vehicles. BMW and Volkswagen are also targeting Tesla and could overwhelm the Silicon Valley maker with a flood of new products.
VW alone is promising 30 pure battery-electric models over the next decade, and Mercedes-Benz just unveiled its new Generation EQ concept vehicle, which features a high-performance electric drive system that could not only launch it from 0 to 60 in "under five seconds," but deliver up to 325 miles per charge.
A production version will be ready within three years, said Zetsche, adding that it will be just the first in a wave of pure battery-electric vehicles, or BEVs, that the maker will bring to market over the next decade. They will collectively be sold through the new Mercedes-EQ sub-brand.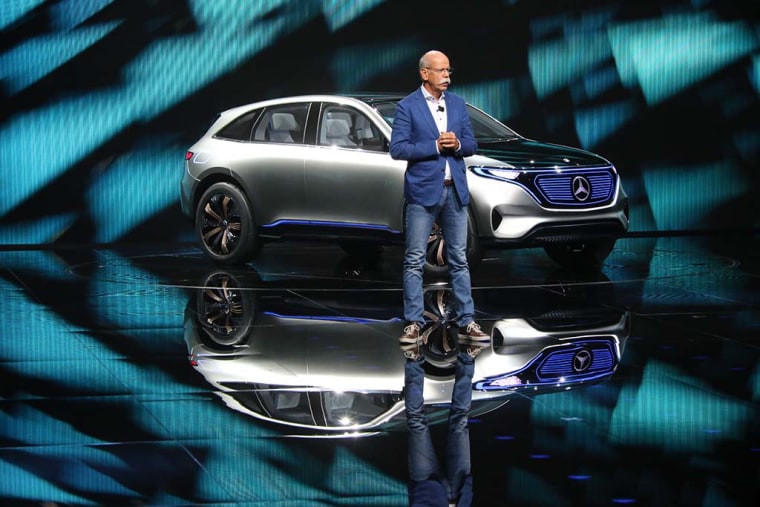 "The emission-free automobile is the future," said Zetsche, a message echoed throughout the halls of last week's Paris car show.
European makers were long reluctant to embrace battery power, citing the traditional weaknesses: limited range, long charging times, and high costs. They also were happy to stick with relatively high-mileage diesel engines that wouldn't require major new investments and the tear-up of existing factories.
Tough new rules
Diesels, however, have come under increasing assault. Parisian government officials have said they want to ban the sale of the engines in the next few years. The image of diesels has been further hurt by the emissions testing scandal that has already cost Volkswagen AG almost $20 billion — and rising — to resolve.
Tough new emissions and mileage rules put in place in most major global markets, meanwhile, will simply demand yet more efficient solutions. On the plus side, battery costs are falling rapidly — from about $1,000 per kilowatt-hour at the beginning of the decade, to around $200 today, a major improvement considering the latest BEVs are using anywhere from 50 to 100 kWh of lithium-ion cells. Meanwhile, range is rising rapidly — in some cases to 300 miles or more, even as charging times tumble.
Luxury manufacturers like Mercedes are changing their tunes especially fast, in part because they need to offset the gas-guzzling nature of their larger and higher-powered models with zero-emission vehicles.
And Mercedes isn't alone in carving out a unique sub-brand to represent its electrified vehicles. BMW was first, several years ago introducing the "i" brand to handle products like the fully electric i3 city car and the i8 plug-in hybrid sports car. During the Bavarian maker's Paris news conference, global marketing chief Ian Robertson revealed plans for several new "i" models over the next several years, including an open-top i8, and a battery supercar based on the BMW Next concept vehicle.
The battery power transformation, however, can be seen across the European spectrum. France's Renault was a pioneer, along with Japanese alliance partner Nissan. It brought to the Paris show a new version of its Zoe electric vehicles that is doubling the car's range, to 400 kilometers, or 250 miles, per charge.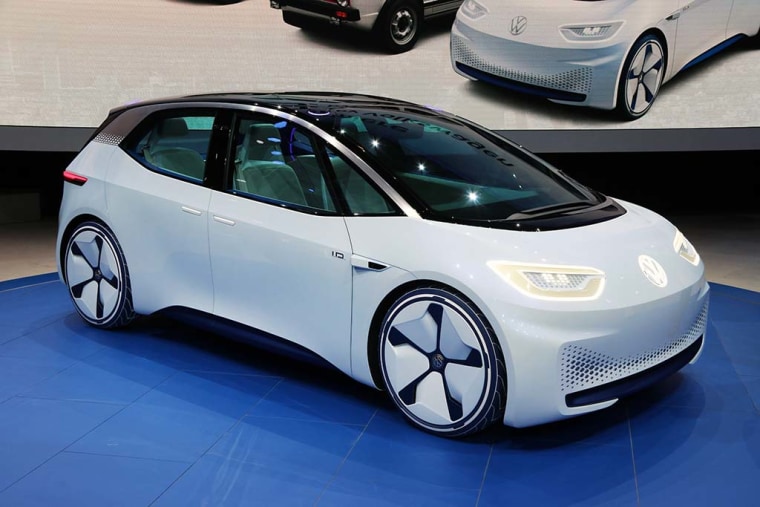 But perhaps no European maker is making a deeper plunge than Volkswagen. It insists the transformation was already underway even before it got caught up in the diesel emissions scandal last year, but that clearly has added momentum.
During a media preview, VW unveiled its own pure electric concept, the I.D., which will reach production by 2020. It will be the first of as many as 30 new electric models planned to go on sale by 2020. "Our future is electric," said Volkswagen brand boss Herbert Diess.
But the I.D. may offer even more miles per charge than the Mercedes Generation EQ, up to as much as 375.
"A range of 300km (or just under 200 miles) appears to be the magic number to be surpassed," in the bid to take electric vehicles mainstream, an analysis of the trend released Friday by consulting firm IHS Automotive said. "The question now is whether this step up will mean that more customers will make the switch than already have done."
Ask again in 10 years
European automakers can only hope so. Right now, battery-electric vehicles account for less than 1 percent of the continental market, and not much more elsewhere. But Diess said VW is hoping to sell more than 1 million of its pure electric models by 2025. Daimler is betting electric will account for a double-digit share of its own sales. Renault is equally optimistic.
There are plenty of battery proponents who hope to see the market grow even larger — and faster. And, after years of falling short of expectations, Renault-Nissan Alliance CEO Carlos Ghosn is betting that will happen as battery cars get better, faster and, in mainstream segments, more affordable.
Worldwide, it will take at least a decade, if not longer, for BEVs to outsell cars powered by gas or diesel, he cautioned last week. But the pace is quickening, especially where governments back the push. In smoggy China, he said, "I can see this happening in the next three to four years."