MOSCOW — Regular Russians are caught in a perfect economic storm as their salaries drop while rent and food prices are on the rise. Even taxes look set to jump.
The main reason for the ongoing hardship is the price of the country's main export, oil, which has fallen from a year-average of $97 per barrel in 2014 to around $30. Meanwhile, Russia's ruble currency has lost almost 60 percent of its value against the dollar since 2013.
How are volatile global stock markets hitting Russians in the wallet? NBC News takes a look.
1. Income
Average monthly incomes fell by 10 percent to 30,000 rubles ($380) between January and December last year, according to government statistics. That leaves them at about half of what they were in 2013 in dollars.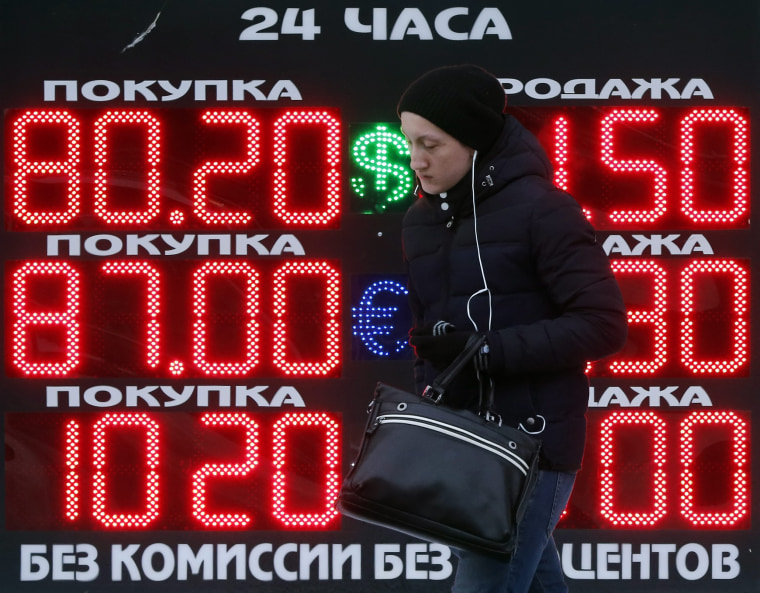 "Paychecks are down, and employers are not willing to pay what they used to a year ago," Vsevolod Kanishchev, a 33-year-old graphic designer, told NBC News.
This hits the middle class and poor especially hard, according to Andrei Movchan, an economist at Carnegie Moscow Center think tank.
Meanwhile, the number of people below the poverty line swelled 16 percent to 23 million from January to April 2015 — the latest period for which figures are available.
The country's wealthy are least-affected because most of their savings are usually held in foreign currencies, Movchan said.
2. Food
While no one really goes hungry in Russia, people are eating worse than they were just a couple years ago amid rising prices, according to independent economic analyst Sergey Shelin.
"People are switching to cheap stores and 'surrogate food'," he said, referring to additives being used to bulk up regular foodstuffs.
Related: Russia's Sanctions War Against the West Explained
For example, 80 percent of cheese in Russia has been illegally boosted with vegetable fat, according to a check conducted in October by the Federal Service for Veterinary and Phytosanitary Supervision, an agriculture watchdog.
Official figures state that food prices rose by 14 percent during 2015. Experts and many ordinary Russians estimate the real increase was at least 30 percent.
The situation worsened after the Kremlin slapped a ban on many Western food imports in 2014 during the height of tensions over Moscow's annexation of Ukraine's Crimea peninsula and alleged meddling in Ukraine's civil war.
3. Taxes
Russians are about to be reminded of the idiom that nothing is certain in life except death and taxes. As the government struggles to close budget gaps, it is focusing on taxing ordinary citizens while preserving spending on the army and the security services — the backbone of President Vladimir Putin's regime, said Movchan of Carnegie.
The government has already introduced traffic tolls, including a new transport levy that led to nationwide protests by truck drivers.
An increase in the retirement age and new, higher taxes on pension and healthcare are now also on the cards. Movchan added that he expects further big tax hikes by 2017.
4. Gadgets
Smartphones, laptops and tablets are a staple of modern consumption but in these times of crisis, Russians will have to stick to low-end models.
A 64GB iPhone 6S — a late-model, high-end version of the popular smartphone — now costs the equivalent of two months' average salary while a MacBook Pro will set back a Russian consumer up to four months' wages.
"I'm giving up gadget-surfing on eBay," said Artemiy Pushkarev, 31, who works as a history researcher at the Russian Academy of Sciences. "It just doesn't match the budget."
5. Cars
Private cars were a luxury in Soviet times, but the post-U.S.S.R. Russian economy allowed millions to buy a cheap, locally-produced Lada, Kia or Hyundai — the three most popular makes in 2015.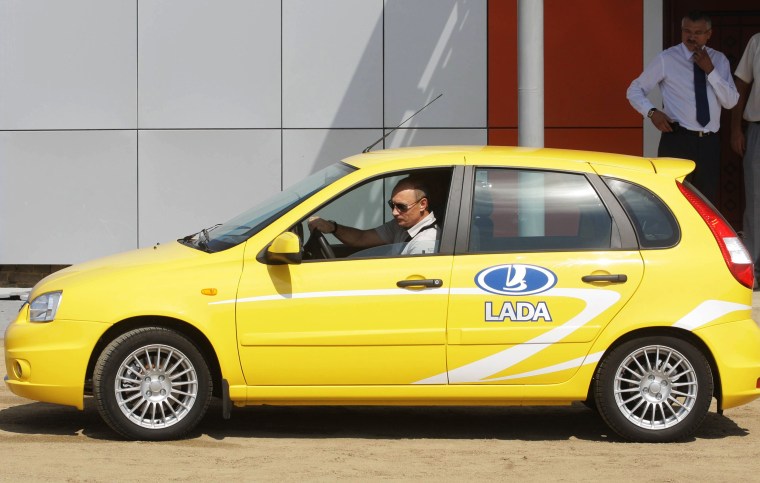 However, car sales fell 35 percent in 2015, according to the Association of European Businesses, as rising costs such as parking and toll roads hit home.
6. Housing
The Russian real-estate bubble of the 2000s has burst. Moscow house prices fell to a 10-year low in dollars, business news website RBC.ru reported earlier this month.
However, it's still not cheap to live in the country's capital. To buy a modest one-bedroom apartment, the average Muscovite would need to save their entire income for 10 whole years.
7. Travel
Post-Soviet Russia gave its citizens the right to travel after decades of Soviet restrictions, but even this freedom is out of reach for many.
The number of ruble-earning Russians visiting other countries fell by 7 million year-on-year between January and September 2015, the latest time frame for which figures from the State Statistics Service are available.
Since then, Russia has banned all tourism to Turkey and Egypt over political tensions.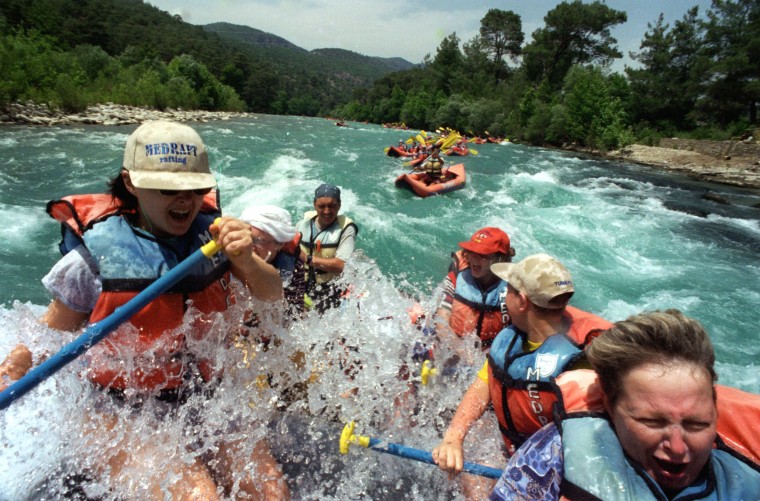 Some are trying to continue to enjoy some kind of tourism while they still can.
"We use every opportunity to get out of the country because we seriously cannot rule out that they'll ban foreign travel altogether," said Pushkarev, the historian.