A blue shirt might be responsible for some red faces at Apple, after a thief dressed as a store employee walked off with $16,000 worth of iPhones from a back room at Apple's SoHo location in New York City.
According tolocal news site DNAInfo, last week a man dressed "similarly" to uniformed Apple employees walked into the SoHo store — and walked back out with 19 untagged iPhones from an unsecured drawer. He then handed the packages to an accomplice, and the pair exited the store, according to the report.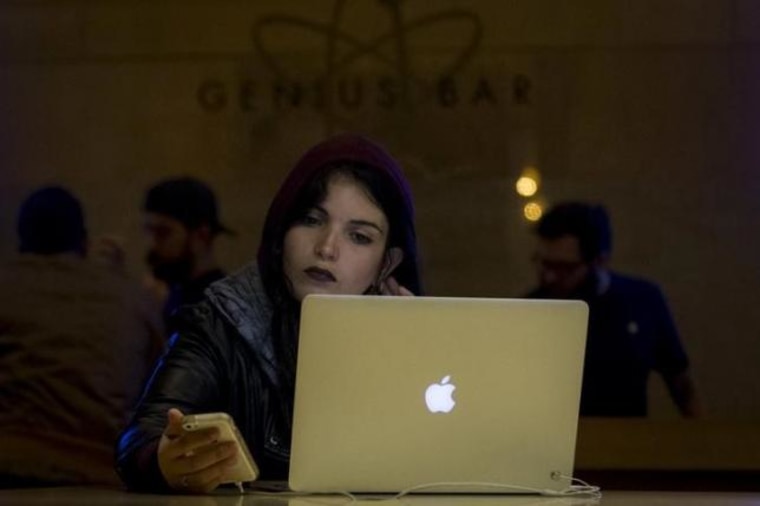 And it's not the first time the high-tech company has been the subject of a low-tech heist. With revenue that outranks Tiffany per square foot, Apple stores are a magnet for thieves, brazen or not. Earlier this year, the Apple store on the Upper West Side of Manhattan was targeted — twice — by thieves impersonating employees, who made off with a total of 67 iPhones.
Since most Apple stores average 100 employees, it's possible no one realized the thieves were not part of the retail team. Adding to the confusion, perhaps, is Apple's "exciting change" to the standard uniform: Last year the company nixed the one standard shirt that changed seasonally, giving employees instead a choice of royal blue long sleeve, short sleeve crew neck or polo shirts.
The internet — and Hollywood — has long made an art form out of impersonating employees simply by donning similar clothing. (Ocean's Eleven, anyone?) A Google search for "Apple store prank" returns quite a few examples of jokesters faking their way around the Genius bar, doing everything from maligning the company's products to asking customers if they have syphilis.
When contacted by NBC, Apple said, "We don't comment on matters of security."