Auto sales in the U.S. for September came in at their highest monthly level since 2005 according to Autodata, displaying strength in a major consumer category. Yet according to new survey, the rise in popularity of ride-sharing app Uber is already having a significant impact on customer attitudes towards the purchase of new cars.
The survey, conducted by research-based consulting firm Magid Advisors and shared exclusively with CNBC, found that among 2,400 respondents, Uber usage has grown from 4 percent in 2014 to 17 percent in 2015.
The car sharing service was the third most commonly used "new company" on the survey's list — beating out businesses like Shazam,Fitbit, Square, Airbnb and Periscope by a wide margin.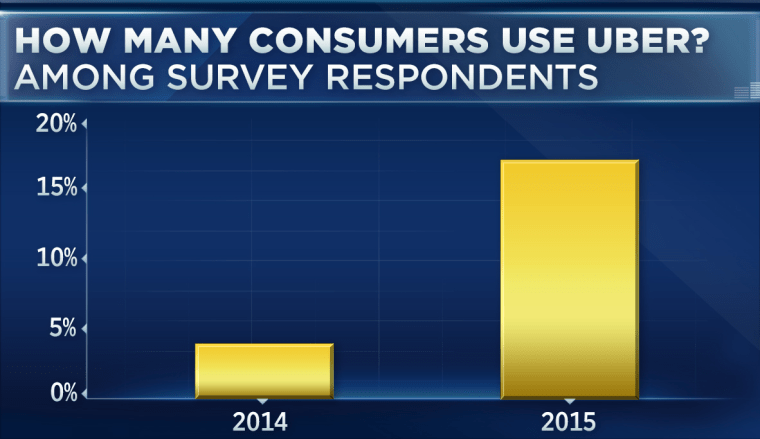 The real potential challenge to auto sales came from the survey's second question, which asked whether Uber users would reconsider the purchase of a car specifically because they use Uber.
According to the survey, 22 percent of Uber users aged 18 to 64, who have used the service in the past 6 months, said they were delaying or holding off buying a new car for that very reason.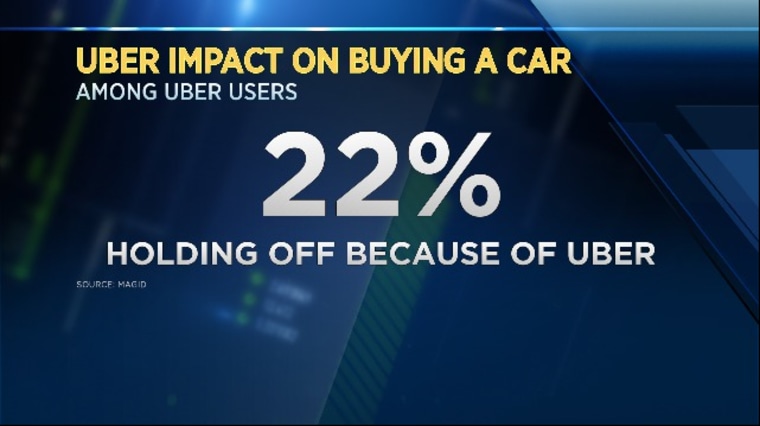 Uber is a like a "Mack Truck just rolling down the street gaining speed," said Magid Advisors President Mike Vorhaus on CNBC's "Fast Money" this week. "So I do think we're eventually going to see this in the numbers of auto sales."
The car sharing service, of course, is itself a source of demand for new auto sales, which may counterbalance the effect seen in the Magid survey. One Texas-based Toyota dealership even offers buyers who are Uber drivers a discount on a new vehicle.
However, Vorhaus estimated that his survey findings translate to approximately 3 to 4 million people who may hold off on buying a new car because of Uber.
Read More From CNBC: Uber CEO Says He's Sacrificing Profit for This
"That's a lot of cars in an industry that sells 15 to 20 (million) a year," Vorhaus said.
The survey underscores the disruptive power of new technologies found in a separate report that Magid produced last month. That survey showed a 95 percent increase over 2011 in consumers who said they were "extremely likely" to cancel their pay TV service — a phenomenon known as cord cutting — in the next 12 months.
If Uber does indeed pose a similar disruptive concern for auto sales as cord-cutting does for cable TV, Stifel Nicolaus auto analyst James Albertine says it hasn't become evident just yet.
"At this time, we have not seen any data to support the claim that increased use of Uber is negatively impacting U.S. auto sales," Albertine told CNBC.
"But as GM [General Motors] management mentioned at their Global Business Conference on Thursday, we agree there are likely incremental opportunities for brands to connect with consumers that would otherwise not have been in the market for a vehicle."
General Motors was among the big winners in September, clocking a 12 percent gain in sales versus last year.