The Federal Aviation Administration on Tuesday ordered an immediate fix to the latest version of the Boeing 747-8 airliner, saying a software glitch could cause it to lose thrust when close to landing and fly into the ground.
The FAA's so-called airworthiness directive covers Boeing's 747-8 and 747-8F planes fitted with certain General Electric engines. It calls for replacing defective software with a new, improved version.
The rule, the fourth such directive involving the 747-8, directly affects seven airplanes in the United States, the FAA said. If adopted internationally, the rule would cover a larger number.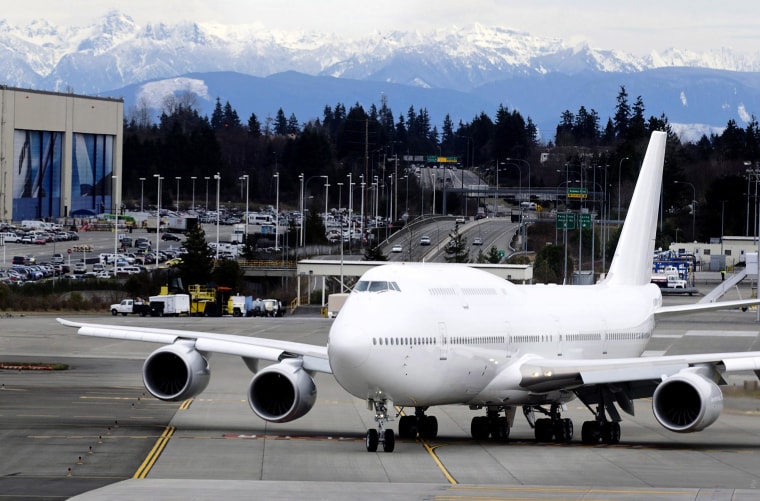 Boeing's website said it had delivered 66 of the four-engine jets, the company's largest, to customers worldwide since the model was introduced in October 2011. The problem never caused a problem in flight, Boeing said.
Unidentified business jet/VIP customers own the eight passenger models of the aircraft in the United States, according to Boeing's website. Air cargo company Atlas Air is the largest U.S. commercial owner of the jet, with a fleet of eight 747-8F freighters.
Among passenger carriers, Germany's Lufthansa is the largest operator, with 11. An airline spokesman said it had been informed of the directive and was checking to what extent its fleet of 747-8s was affected.
China's Cathay Pacific has 13 freighters and Cargolux, based in Luxembourg, has nine. Korean Airlines, Nippon Cargo Airlines and Volga-Dnepr UK Ltd also own 787-8F freighters, according to Boeing's website.
Because of the seriousness of the safety issues, the directive takes effect April 9, skipping the usual comment period, although comments can still be submitted, the FAA said.
Boeing said data analysis indicated a potential problem, and it advised customers last year to update the software. It said it believed the majority of operators had already done so. The risk of failure was "extremely remote," Boeing said.
— Reuters