Unbeknownst to some, the third Sunday of July is National Ice Cream Day — a holiday declared by President Ronald Reagan back in 1984 to promote the economic well-being of the U.S. dairy industry. It was a nod to the fact that the frozen treat is produced using nearly ten percent of U.S. dairy farmers' milk supply.
Reagan's proclamation also called on the people of the United States to do their duty and pay tribute to ice-cream with "appropriate ceremonies and activities." So who are we to argue?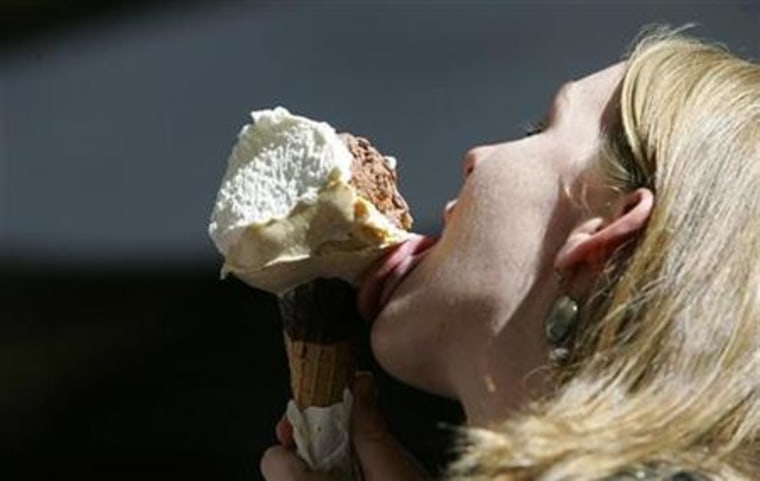 Here are some of the events and activities for people — and pets — taking place this year on Sunday.
At Carvel Ice Cream franchisees around the country, customers who buy one cup or cone (of any size) will get one free on National Ice Cream Day. The soft-serve ice-cream company also has a promotion underway for buy one, get one free sundaes each Wednesday.
Pets get to participate in the ice cream-palooza this year, thanks to PetSmart, which is giving away doggie ice cream sundaes at all of its PetSmart PetsHotel locations in the U.S. and Canada on Sunday. The sundaes, which are made with dog-safe vanilla soft serve and have dog biscuits sprinkled on top, are usually an add-on service treat.
At Your Pie pizza chain locations around the country, Ice Cream Day will instead be Free Gelato Day. Your Pie is also having a contest to give away free gelato twice a week for the rest of the year. To enter, just snap a photo of yourself enjoying your free gelato, post it to Instagram, Twitter or Facebook, and add a #ypfreegelato tag.
Some places are celebrating the occasion by doing something a little different.
In Arlington, Virginia, the New District Brewing Company is hosting a beer and ice-cream tasting that pairs four beers with four appropriately-matched flavors of Ben & Jerry's ice-cream. Tickets are $20.50 (plus a ticket fee).
In New York City, Haagen-Dazs will be giving away free ice cream on July 17, at the weekly curated market, Grand Bazaar NYC. Also, the market is hosting an Ice Cream Blizzard on Sunday, July 31 with many of the city's best artisanal ice cream makers scheduled to be site.
Read More From CNBC: Vanilla Shortage Threatens Ice Cream Prices
This Sunday, Baskin-Robbins shops will be donating 75 cents from every ice cream float sold to the USO in honor of its 75th anniversary. And on July 31, as part a year-long "Celebrate 31" promotion that kicks in during months with 31 days, participating Baskin Robbins' will be offering regular and kid-sized scoops of ice-cream for $1.31 each.
If that's not enough ice cream for you, then consider two of the extravagant ice-cream dishes available at New York's Bagatelle restaurant — and be prepared to pay top dollar for them.
The $65 Mega Sundae arrives in an oversized martini glass with ice cream, brownies, popcorn, granola, caramel sauce and Chantilly. Meanwhile, the new-for-July version of the restaurant's $1,000 Sundae includes oversized scoops of vanilla ice cream and Dom Perignon Rose sorbet. The confection is topped with chocolate truffles, macarons, whipped cream, chocolate vodka sauce, "gilded" brownies, a sprinkling of gold leaf and for the coup de grace, an 18k gold Carolina Bucci Lucky Bracelet.