The shuttering of all ITT Technical Institute locations is leaving its 43,000 students with an unexpected lesson in harsh realities and unanswered questions about what will happen to their credits and tuition fees.
The closure of 137 campuses in 39 states comes after the career-oriented school has been the subject of several state and federal investigations.
In a 2014 lawsuit filed against ITT Tech's parent company, the Consumer Financial Protection Bureau alleged that "Federal aid, mostly loans taken out by consumers, comprises the overwhelming majority of ITT's revenue" and when that funding wasn't enough to cover the full cost of tuition, the CFPB accused the company of "Pushing students into expensive, high-risk loans that ITT knew were likely to default."
The lawsuit further said that "ITT credits were typically not transferable to other post-secondary institutions."
In April, ITT Tech's accrediting agency said the school hadn't shown itself to be in compliance with all its standards.
Last week, the Department of Education announced it was no longer allowing ITT Tec to enroll students receiving financial aid. This week ITT Tech announced it would be shutting down, saying, "The actions of and sanctions from the U.S. Department of Education have forced us to cease operations ... and we will not be offering our September quarter."
Students in a bind
Anthony Carrube, a 30-year-old former Coast Guard petty officer was one semester short of graduating from ITT Tech with an associate's degree in computer networking when he got the news.
He's worried about whether any schools will take his 12 credit hours for his classes which he took three nights a week at ITT Tech's location in Wilmington, Massachusetts. Classes were on the second floor of a rented office building in converted meeting rooms. He paid for them using the GI Bill.
"It was stuff you could have done by yourself at home," he said of the classroom experience. "You go to class, bring your books, and they tell you to do your work out of the books."
Teachers, he said, were largely there to "babysit" and answer the occasional question. Sometimes the classes were "overbooked," he said, and there would be a second class of 30 students and their teacher sharing the same space.
"I'm scrambling to find something to do with these credits," Carrube told NBC News by phone. "I don't want to waste two years of school."
The Department of Education published a blog post detailing options for former ITT Tech students and a landing page at studentaid.gov/ITT for forthcoming information.
"The school's decisions have put its students and millions of dollars in taxpayer-funded federal student aid at risk," it read. "One possible outcome of oversight actions is that a school may choose to close rather than take corrective actions, which can cause disruption and disappointment for current students."
The post outlined the two options students have: Apply for a discharge and possibly get some of your money back, or transfer your credits to another "comparable" school.
A tough lesson
But there's a catch.
If you transfer your credits, you're not eligible for a discharge. And it's not clear how many credits a reputable school will accept, if any.
Advocates say students should just try to cash out and start over or otherwise move on with their lives.
"It's best for folks to cut their losses," Alexis Goldstein, a senior policy analyst at Americans for Financial Reform, told NBC News in a phone interview. She said students have had a lot of problems getting good schools to accept ITT Tech credits.
"Get that debt canceled and get that weight lifted," said Goldstein. "Otherwise you might not be able to transfer that many credits — and still have to pay tens of thousands of dollars in loans to a school that no longer exists."
How to get your debt discharged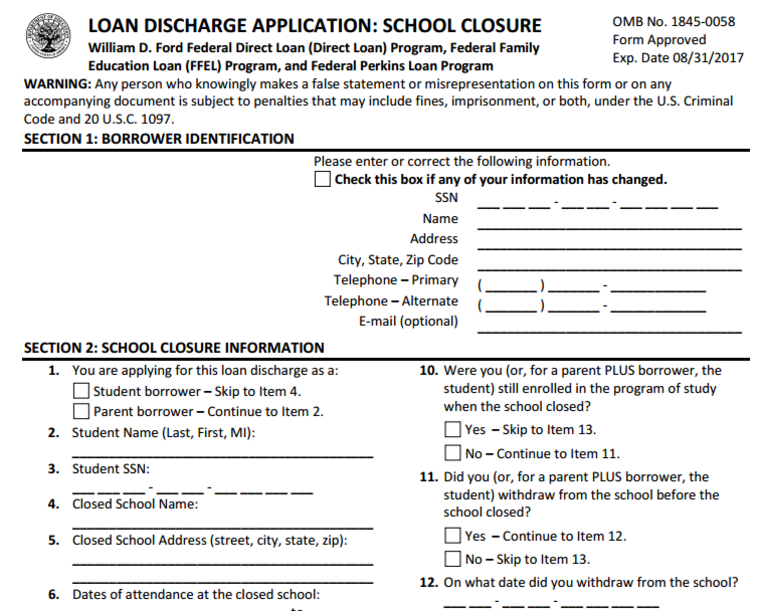 To get your debt canceled, call up your loan service and ask for a "closed school discharge," said Goldstein. She recommended having a copy of this discharge form handy as a printout or loaded on your smartphone when you call for easy reference.
If you have any problem with your loan servicer, the government encourages students to fill out a complaint at studentaid.gov/feedback.
In addition, you can find your state's attorney general office and call them up.
"Some states have very generous tuition restitution programs that you might also qualify for," if you call, said Christine Lindstrom, director of higher education programs for US PIRG, a non-profit advocacy group. "In addition to loan discharge, you might get some of the loan back."
If you want to try to continue your education, Lindstrom recommends students should call community college, state and non-profit education institutions in your region, some of which might have online classes as well.
Even if only a few of the credits transfer, she said, "It's better to start off behind than have started the ITT Tech program and have a worthless program."
ITT Tech didn't immediately respond to an NBC News request for comment. The Department of Education didn't respond to an NBC News request to specify which institutions fell on its list of comparable schools.