After expanding across the country to reach a high-water mark of 6,100 branches six years ago, Bank of America continues to pare back that footprint today. In its quarterly report Wednesday, the bank said it closed 267 branches (and added 33) over the past year, leaving a total of 4,789, a decline of more than 20 percent from its 2009 total.
That mirrors a national downsizing trend among banks. In 2014, the FDIC tallied 94,715 offices of commercial banks and savings institutions it insured across the U.S., the lowest number since 2007.
Bank of America, the nation's second-largest bank by assets behind J.P. Morgan Chase, said the fact that more customers today use their phones to bank is a big reason behind its shuttering of brick-and-mortar branches, pointing to its 17.6 million monthly mobile users and the 13 percent of deposit transactions that are conducted via mobile. The bank said people deposit 200,000 checks a day using their phones.
It's also a cost-saving move.
"They're doing it for financial reasons," said banking analyst Ken Thomas. "It's so much cheaper to do something online than through a branch."
Bank of America acquired and expanded aggressively prior to the financial crisis, which left it saddled with losses and litigation from its acquisitions of Countrywide and Merrill Lynch. Those costs, and the large number of new branches it acquired — including many in small towns and rural areas — also help explain its slimming program, analysts say.
BofA spokeswoman Tara Burke said the bank is just responding to the way people conduct transactions these days. "It really reflects our customers' behavior and how they bank," she said. People come into branches for more complex transactions — say, to apply for a loan or roll over an IRA — rather than routine business. "Not as many people are coming into make a deposit through a teller or get cash through a teller," Burke said, adding that BofA has advanced ATMs that can do things like cash a check.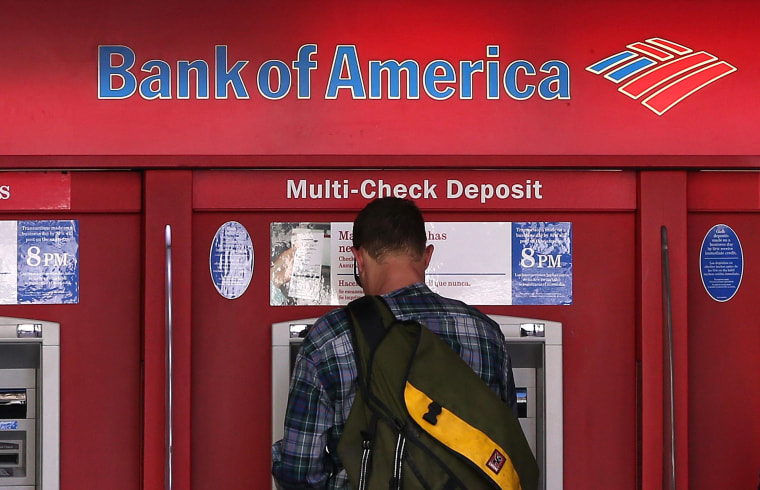 On the downside, bank customers who aren't tech-savvy or don't want to rely on a computer or mobile device could be inconvenienced by branch closures, although Burke said some in rural locations wind up being sold to local banks rather than closed outright.
Although the $175 million in litigation costs it reported for the second quarter were lower than a year ago, analysts say Bank of America is still fighting expensive legal battles that contribute to the branch cuts.
"BofA had more problems and more integration activities to deal with than some of the others," said banking analyst Bert Ely. Now, he said, the bank is finally getting through the last of those issues, and shedding branches in smaller towns where it's not making enough money.
Of course, Bank of America isn't the only bank contending with cost pressures.
Continued low interest rates make it harder for banks to make money lending to customers and each other, and it's not as easy for banks to make money off regular Americans the way they used to. Regulatory curbs on cash cows like credit card interest-rate hikes and overdraft fees have limited earnings through those channels.
Like other big banks, BofA is responding by wooing affluent consumers with higher-margin services and products like lending and retirement accounts. Even as it cut the number of employees by more than 6,600 in the past year, it added sales specialists.
"They're constantly experimenting with how to do more cross-selling inside the branches," Ely said. "There's a broad range of products that are for the middle class, upper middle class… They're the folks that have more disposable income and more needs in that regard."