Amid fears that the U.S. could be joining a global slowdown, the economy added a better-than-expected 242,000 jobs in February while the unemployment rate held steady at 4.9 percent. Economists were expecting 190,000 new positions and no change in the jobless figure.
Despite the strong headline number, the closely watched average hourly wages actually declined for the month, falling 3 cents and equating to a 2.2 percent annualized jump, down from 2.5 percent in January. Fed policymakers are looking at wages for evidence of inflation. The average hourly work week also declined 0.2 hours to 34.4.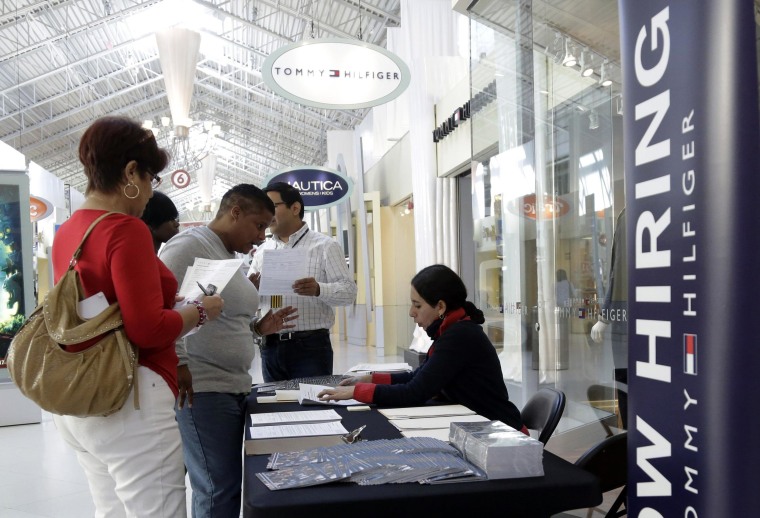 The bulk of the job gains came from health care, retail and bars and restaurants, which added 57,000, 55,000 and 40,000 new positions, respectively. Construction added 19,000 but mining-related industries lost 19,000 jobs.
Job quality was titled toward part time, which the household survey indicated grew by 489,000, while full-time positions increased by just 65,000.
A separate unemployment gauge that includes those not actively looking for a job or at work part-time for economic reasons fell to 9.7 percent, the lowest reading since May 2008. A declining labor force participation rate had played a big role in the decline of the headline jobless number, but the gauge rose in February to 62.9 percent, its highest level since January 2015, as the civilian labor force increased by 555,000.
Revision to previous months added 30,000 jobs, with December going from 262,000 to 271,000 and January pushed up to 172,000 from 151,000.
"The report says that we have a healthy economy and it's beginning to get people back into the market. But it's not pressuring wages yet," said William E. Spriggs, chief economist at the AFL-CIO. "We need everyone to be aware that our wages have not rebounded, so we still have a ways to go before the labor market is really tight."