United Technologies CEO Greg Hayes said there's a cost to keeping Carrier's Indiana plant open in a deal with President-elect Donald Trump, but he expected that the move will pay off in the long-term.
"I was born at night, but it wasn't last night," Hayes told "Mad Money" host Jim Cramer on Monday. "I also know that about 10 percent of our revenue comes from the U.S. government."
CNBC: Hayes Says There Was 'No Quid Pro Quo'
Hayes said that a Trump administration could potentially bring a "better" regulatory environment and a lower tax rate, which could help United Technologies in the long run.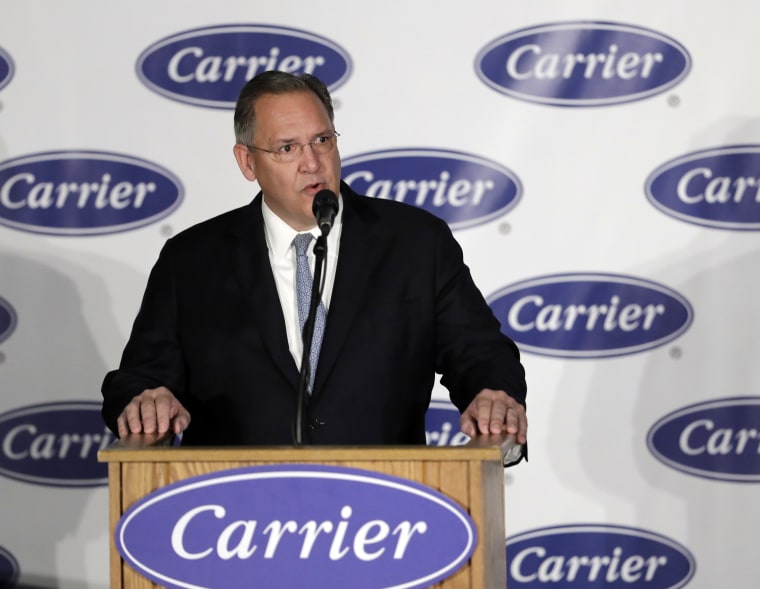 United Technologies is the parent company of furnace and air conditioner maker Carrier, which came under fire during Trump's campaign for its announced plans to close two Indiana plants and move production to an existing manufacturing facility in Mexico.
Carrier will keep more than 1,000 jobs, but will still close another Indiana plant and send about 700 jobs to Mexico.
Related: Plant Workers Still Losing Jobs Tell Trump: Don't Forget About Us
If Trump's plans to revive manufacturing in the U.S. leads to a resurgence on American soil, Hayes said that is a good thing, and he believes Trump's team will be focused on it.
Related: Sarah Palin Warns of 'Crony Capitalism' After Carrier Deal
"I think if we can see a renaissance in manufacturing in the U.S. that is a good deal for the U.S. But it's got to come from more thoughtful regulation, and a more competitive tax rate. I think those are the things they are focused on," Hayes said.