U.S. stocks finished the day sharply lower on Wednesday, but the rout was nowhere near as bad as it could have been. A late rally helped the markets recover most ground lost to an early oil-price-induced selloff that at one point sent the Dow Jones industrial average down more than 550 points.
As it was, the Dow finished the day down 249.28 points, or 1.56 percent; the Standard & Poor's 500 index shed 22 points, or 1.17 percent; and the Nasdaq Composite fell 5.26 points, or 0.12 percent.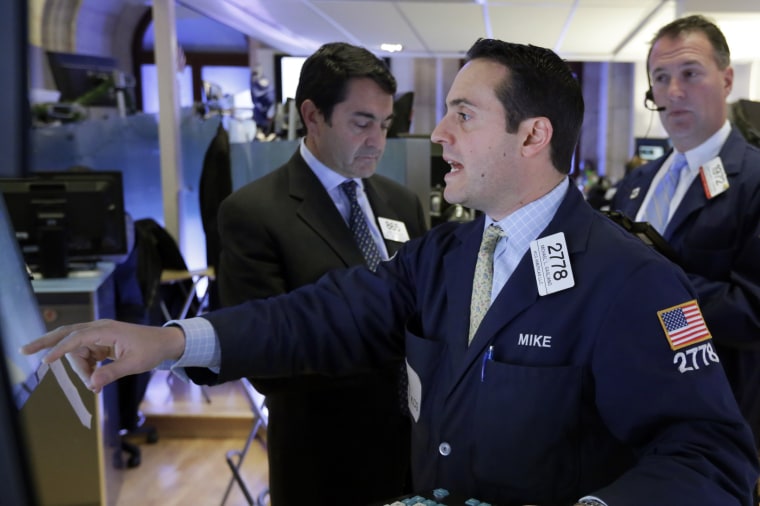 The major U.S. averages are down more than 9 percent for the year so far and are more than 10 percent below their 52-week intraday highs, in correction territory. The S&P closed at its lowest level since February 2014.
Cheap Oil Is Good for Consumers, So Why Is It Slamming Stocks?
The wild ride was again sparked by oil, which continued to trade near lows not seen in more than a decade. Oil prices had already fallen to 12-year lows this week, and the price of U.S. crude has dropped more than 20 percent this year. On Wednesday U.S. benchmark West Texas Intermediate (WTI) prices settled at $26.55 a barrel, down $1.91, or 6.71 percent, up slightly from an intraday low of $26.19, its weakest price since May 2003.
Brent futures fell by 91 cents to $27.87 a barrel, up slightly from a trough of $27.10.
Fears of a slowdown in China, the world's second-largest economy and a key market for U.S. companies, has also weighed on equities and commodities, leading to turbulent start to the year on Wall Street.
The CBOE Volatility Index (VIX), widely considered the best gauge of fear in the market, hit a high of 32, its highest reading since Sept. 1.
"The focus remains on oil and the impact of low oil prices, which points to slowing growth and possibly, even stagnant to negative growth here in the United States," said Peter Cardillo, chief market economist at First Standard Financial in New York.
But some analysts saw cause for optimism in the late-day rally.
"It's intraday volatility for sure, but it's a good sign. Today felt as close to capitulation as you can get," Art Hogan, market strategist at Wunderlich Securities, told CNBC, referring to the moment when the bears retreat. "To have it reverse itself, it's very strong sign technically."
Earlier, overseas markets also sold off sharply.
Japan's Nikkei fell 3.7 percent and is down more than 20 percent from its June peak. Hong Kong's Hang Seng retreated 3.8 percent. The Shanghai Composite Index lost 1 percent. In Europe, Germany's DAX tumbled 2.8 percent and France's CAC-40 shed 3.5 percent. Britain's FTSE 100 sank 3.5 percent.
In other U.S. economic news, consumer prices declined 0.1 percent in December, the Labor Department reported. December also saw the smallest annual increase in the Consumer Price Index in seven years, reflecting a big drop in energy prices.