In plenty of areas, having a million-dollar home implies a certain degree of wealth and prestige. In a handful of enclaves on the East and West Coasts, though, it's not only common, but it isn't even a guarantee that said seven-figure home will be anything close to palatial — which can be bad news for buyers who don't have that kind of housing budget.
In San Francisco, nearly 44 percent of homes are listed at the $1 million-plus mark, the highest in the United States, according to data from real estate site Trulia.com. Next is Connecticut's Fairfield County, where roughly 30 percent of homes come with at least a seven-figure price tag.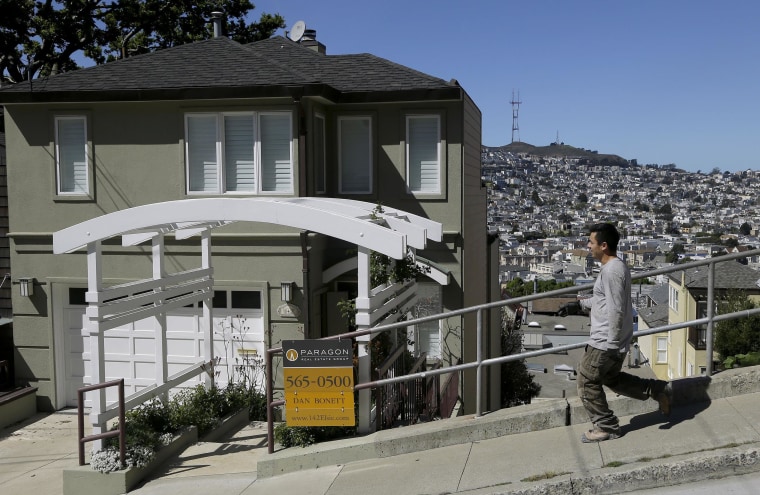 Five more areas in coastal California or the New York metro area — San Jose, Orange and Ventura Counties in California, and New York City and its bedroom communities in New Jersey and Long Island — all have more than 20 percent of homes listed at $1 million or more.
That $1 million buys homeowners the least amount of square footage in the Big Apple, with the average a bit under 1,500 square feet — a little less than two-thirds the size of the average American house, per 2010 Census data.
This scramble for space can play a role in shutting less wealthy homebuyers out of the market. And a growing number of economic studies suggest that the tax deduction homeowners get on mortgage interest plays a role in driving up home prices and encouraging rich homeowners' appetite for bigger houses.
"We estimate that houses today, depending on the metropolitan area in question, are from 250 to 1,000 square feet larger than they otherwise would be," a forthcoming study by the R Street Institute determined.
The richer the homeowner, the greater the benefit, it found. "We also find that major metropolitan areas on the East and West coasts get the most tax relief from the mortgage interest deduction," the study said.
"Owners of million-dollar-plus homes are likely to be in higher tax brackets than other homeowners, which increases the benefit of the tax deduction," said Jed Kolko, Trulia's chief economist and vice president of analytics.
Ultimately, the R Street Institute study comes to a sobering conclusion: "For millions of families who struggle to afford a house, these tax breaks offer no relief at all."