Fantasy football has added a golden arm to the NFL's already-flush business ground game, luring one in 10 Americans to the virtual trenches where they wage weekly stat battles.

And as fantasy-football draft season peaks ahead of the Sept. 5 regular-season kickoff, some of that $3.4 billion industry already is changing hands among devotees that, together, easily outnumber the combined populations of New York City, Los Angeles and Chicago.
"There aren't many things that could have happened to the NFL that carry this level of impact — you're turning 33 million good fans into 33 million hyper-passionate, fully-engaged, 365-day-a-year fans. You can't ask for something better to fall into your lap," said Paul Charchian, president of the Fantasy Sports Trade Association (FSTA).
But only recently has the NFL fully endorsed and tapped the rising bucks, zealous attention and massive time those U.S. fantasy players invest in online research and in watching parts of every NFL game on TV, said Charchian, whose Minneapolis-based trade group represents 140 companies in the fantasy-sports realm.
The NFL's long hesitation was fueled, in part, because league leaders were leery of how fantasy football might impact the true game, Charchian said, adding the NFL also wanted to clarify whether fantasy competitions were a form of gambling — a pursuit banned by the league.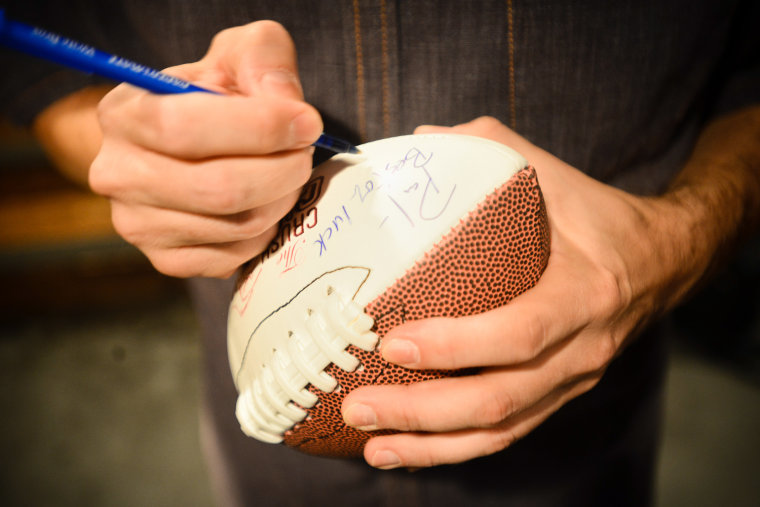 "Not only did the NFL not cultivate this, they dismissed it for 10, 15, 20 years," Charchian said. "Finally, in part because of the overwhelming amounts of revenue they were missing out on, the NFL embraced it and understood that it's not gambling." That came 2007, he added, when the NFL began producing its own fantasy product on NFL.com — a product they let CBS Sports run for seven years.
The NFL doesn't concur with that timeline or tone — albeit the different versions seem more rooted in semantics. When asked if that summary was accurate, league spokesman Brian McCarthy cited a 2000 news release that announced a fantasy-football partnership between NFL and CBS Sports, adding: "We used our advertising time to promote fantasy football then and continue today."
In typical fantasy leagues, the standard buy-in is $50 or $100 per player, though some cost nothing. Leagues usually number 10 or 12 players, and at the end of the season top-finishing team owners pocket slices of that jackpot. Each owner's team is made up of an array of actual NFL offensive players who are gathered during league drafts, sometimes done remotely, sometimes held together at a home or tavern. When real NFL players score or gain yards, they earn points for their fantasy owners who square off with one rival owner each week. The most total points amassed by either team owner wins that week's game.
One vital area where both the FSTA and the NFL agree: Fantasy sports are not a version of online wagering. In 2006, the NFL backed the passing of a federal law that outlawed Internet gambling while excluding fantasy leagues from that crackdown.

"Fantasy sports are considered games of skill and not chance which is considered gambling," McCarthy said. "Someone would have to go to extreme lengths to corrupt numerous players on numerous teams to manipulate their play in order to gather points for a fantasy team."
So, at the NFL, the doors now stand wide open for the fantasy frenzy. In 2009, the NFL launched a commercial-free TV channel (RedZone) that whips between games to show all touchdowns, catering to fantasy players. In 2011, the league mandated that each stadium display the fantasy points generated by real NFL players.
Many of those NFL players are also managing fantasy teams of their own. (While NFL Commissioner Roger Goodell doesn't play, some of his friends and family members do, league officials said, adding Goodell has "no issue with players participating in fantasy football.")
Minnesota place kicker Blair Walsh, who participates in three leagues, loves playing general manager in the fantasy-sports world, yet refuses to ever place himself on his own fantasy rosters.
"I don't want any people saying, 'It's weird that he drafts himself,' so I just stay away from it," said Walsh, the No. 2 ranked fantasy football kicker according to rankings by ESPN.
"Plus, I'm not that egotistical," added Walsh, who acknowledged that avoiding any gambling connotations is one more reason why he won't call his own name on draft nights. "I don't believe playing for money would make it better for me. I do it for the fun and the joy of trash talking my friends and family members.
"I completely forget I'm playing fantasy football once I'm in the game. But once the game ends, I realize it."