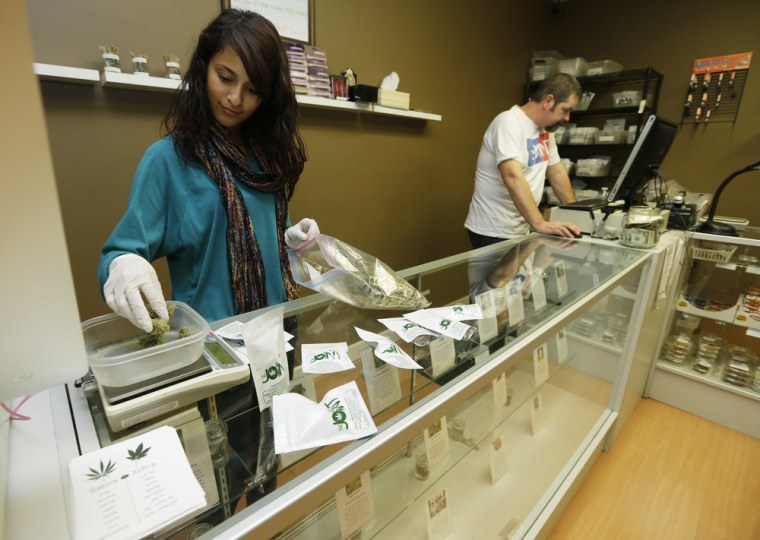 It looks like any other business conference — lots of suits, name badges, a long line to the buffet — except that the 700 people who each paid $599 to be in this conference hall south of Seattle are in an industry unlike any other: marijuana.
The people at this meeting aren't Cheech and Chong. They've come bearing business degrees and investor money, looking for the next great thing.
"This conference is 100 percent focused on business," said Chris Walsh, editor of the Medical Marijuana Business Daily. His publication is sponsoring the National Marijuana Business Conference. Now in its second year, attendance has doubled, and more than 30 exhibitors paid as much as $16,000 to talk about investments, equipment, legal services and accounting.
"There's a lot of other types of shows out there that are for the typical stoners," Walsh said. "This is all business and financial."
The pot business is, well, growing. A Gallup poll shows that U.S. support for legalizing cannabis has reached 58 percent. Election night saw pro-marijuana laws passing in places such as Portland, Maine, and Lansing, Mich.
"It's an incredibly exciting time to be in the cannabis industry," said Tripp Keber, an investor and the managing director of Dixie Elixirs & Edibles, which sells products laced with THC (tetrahydrocannabinol, the psychoactive ingredient in pot) to medical marijuana dispensaries.
Business has tripled in 2013, according to Keber.
"Three years ago, nobody was interested in investing, but just yesterday I met with a hedge fund. I met with institutional investors," he said.
Investment action is ramping up as the two states that have legalized recreational "adult use" pot — Washington and Colorado — begin to issue licenses and the first retail outlets prepare to open. The federal government said in August that the Justice Department would not stop states from creating their own regulatory and taxation frameworks.
That federal decision to step back in turn unleashed "pent-up demand" from investors, said Troy Dayton, co-founder and CEO of the ArcView Group, which conducts market research on the pot industry. It recently released a report predicting that the legal marijuana business will increase 64 percent this year and top $10 billion within five years.
"This is the next great American industry," Dayton said.
Banking and taxes
But there are a few weeds in the weed patch. One is banking. Though the federal government is looking the other way, banks remain reluctant to offer a place for growers and sellers to safely store their cash.
At the same time, new private equity and venture capital investors are coming out of the woodwork. Many want to invest in products and services not directly related to pot itself, such as security systems and software programs.
"Mark Twain had a great quote," said Dayton. "He said that when there is a gold rush on, it's a good time to be in the pick and shovel business."

The larger dilemma, however, may be the taxes on recreational pot. How high is too high? Colorado voters passed a 25 percent tax on it, more than three times the state tax on medical pot. Washington has mandated a tax of at least 50 percent, versus no tax on medical marijuana.
"I don't think it has gone very well," said Shy Sadis on the rollout of Washington's new law.
Sadis, a longtime owner of several medical pot dispensaries in Seattle, is applying for retail licenses to sell recreational cannabis. State officials want to close all untaxed, unregulated medical outlets and move everyone into the taxed, regulated recreational side — even though there will be far fewer outlets and the product will cost a lot more.
"A lot of patients come in here and are upset that medical is going to be gone, and they're thinking, 'Wow, maybe my vote should have went the other way,'" Sadis said.

Keber is confident that buyers will eventually migrate to a taxed, regulated, tested, legitimate system. "The alcohol industry has had 80 years to get the process right," he said.
Whether it takes 80 years or 80 days, few believe the momentum toward legalization will go up in smoke.
"No one knows how this is going to play out," said editor Walsh. "We're going to find out in a couple months."
—By CNBC's Jane Wells. Follow her on Twitter @janewells
Related stories:
Slideshow: A gallery of medical marijuana