Denise Smart has never stopped searching for her daughter Kristin, who disappeared 18 years ago and was declared legally dead in 2002. "If you had a missing child, you can't give up. It's the one last gift you can give your child," Denise said in a 2011 interview with local NBC affiliate KSBY.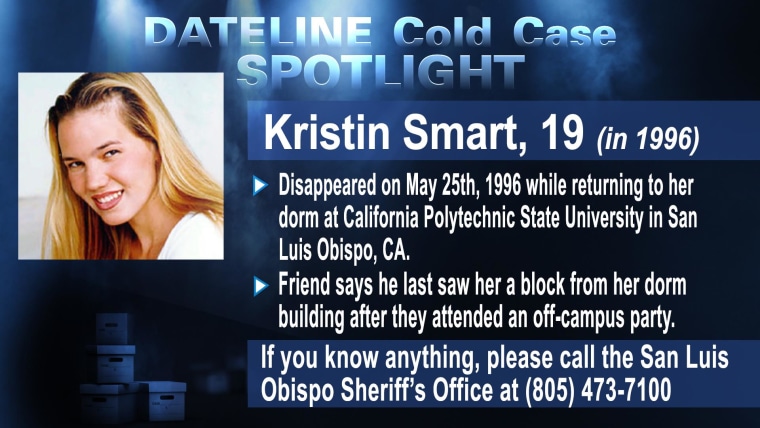 May 25th 1996 was the last time anyone saw or heard from Kristin. She vanished without a trace from the California Polytechnic State University in San Luis Obispo, CA, where she was a student. Kristin, 19 at the time, was returning to her Muir Hall dorm room following an off-campus party with fellow student and friend, Paul Flores.
Flores later told authorities that he said goodbye to Kristin a block away from her dorm room. In July 1996, he was named a key witness by police. Although Flores has never officially been charged in connection with Kristin's disappearance, he has since been the subject of several police inquiries and searches. Most recently, in 2007, police dug up the back patio of Flores' Arroyo Grande home, but found nothing.
Kristin, who would have been turned 37 last February, remains in the hearts and minds of close family and friends. A memorial was erected in her honor at the Dinosaur Caves Park at Shell Beach in Pismo Beach, CA, but was later moved to the northern-most spot in the area, to keep it safe from erosion and storm damage. The memorial features a plaque, adorned with part of a poem written by Kristin, in which she describes her love for the ocean:
"I face into the wind.It purrs and whistlesIts secrets in my ear.Under the sun,Floating upon the salty waters,I cringe with excitement,To be in such a heavenly place."
If you have any information that could lead to a break in the case, please contact the San Luis Obispo Sheriff's Office at (805) 473-7100.