When Armstrong Santana still lived in Venezuela, he attended many protests against the government of Venezuelan President Nicolas Maduro. As a student at one of the most prestigious public universities in the country, Santana felt the need to fight against what he believed to be a broken government.
Now living in France, Santana watches the current protests in Venezuela from afar, and feels a sense of sadness as civil unrest continues across his country.
"I left the country because living in the most dangerous city in the world (Caracas) is not propaganda, but a cruel reality," Santana said. "I also realized [leaving] was the only way I was going to be able to be who I really was."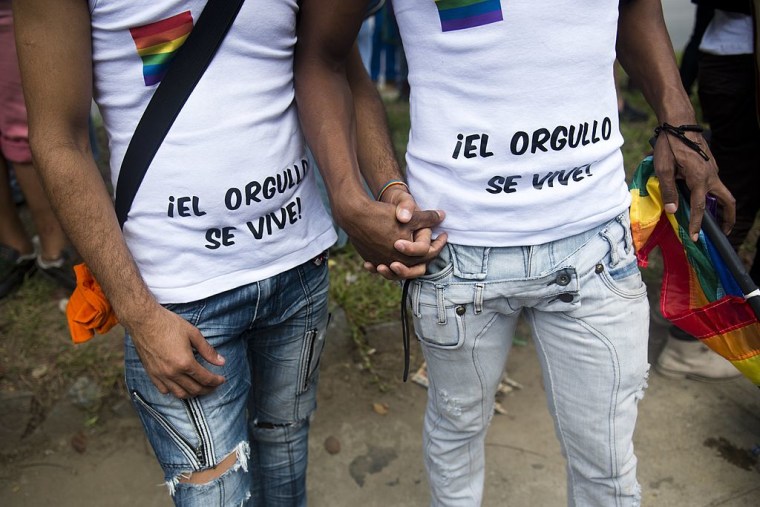 For Santana and many other LGBTQ Venezuelans living abroad, leaving the country was a necessary step toward living more openly as a gender or sexual minority.
"The basic issue is that we are not an issue," said Isaac Perez, who left Venezuela in 2015 and now lives in Argentina.
"When basic needs [are not being met], when people are more concerned with finding a meal to eat, you don't have time to focus on [LGBTQ rights]," he explained.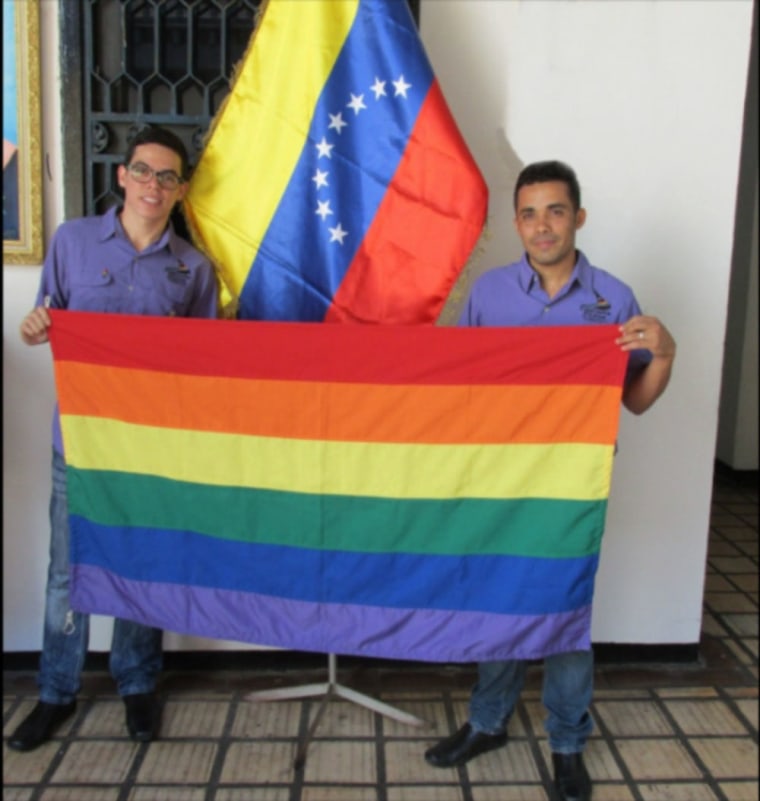 Many times those who do fight for progress for the country's LGBTQ community find their own lives and livelihoods put at risk. Activists Wendell Oviedo and Yonatan Matheus fled Venezuela in 2016 after receiving threats of violence to their personal safety.
The two activists believe the threats they received were in response to the work they did as directors of Venezuela Diversa — an LGBTQ civil society organization fighting for LGBTQ and human rights in the country, with a focus on hate crimes, police abuse and the violation of rights of transgender women engaged in sex work.
"Cases of violations of LGBTI rights [in Venezuela] continue to rise and are not reflected in official statistics," Matheus told NBC Out. "Victims prefer anonymity rather than being doubly victimized by law enforcement."
Related: LGBTQ Activists in Brazil Use Social Media to Spread Awareness
The challenges present when reporting hate crimes to local law enforcement as an LGBTQ individual in Venezuela is something that Venezuelan artist Daniel Arzola knows from firsthand experience.
Born in a poor community in Maracay, a city in northern Venezuela, Arzola suffered a violent hate crime for being gay while only 15.
"Some neighbors tried to burn me alive, and they destroyed all my drawings," Arzola told NBC Out. When he reported the crime to the local law enforcement, he says he was told that he needed to act more like a man.
After the attack, Arzola said he didn't draw again for six years. It wasn't until he learned of a similar hate crime years later that he began to create art again.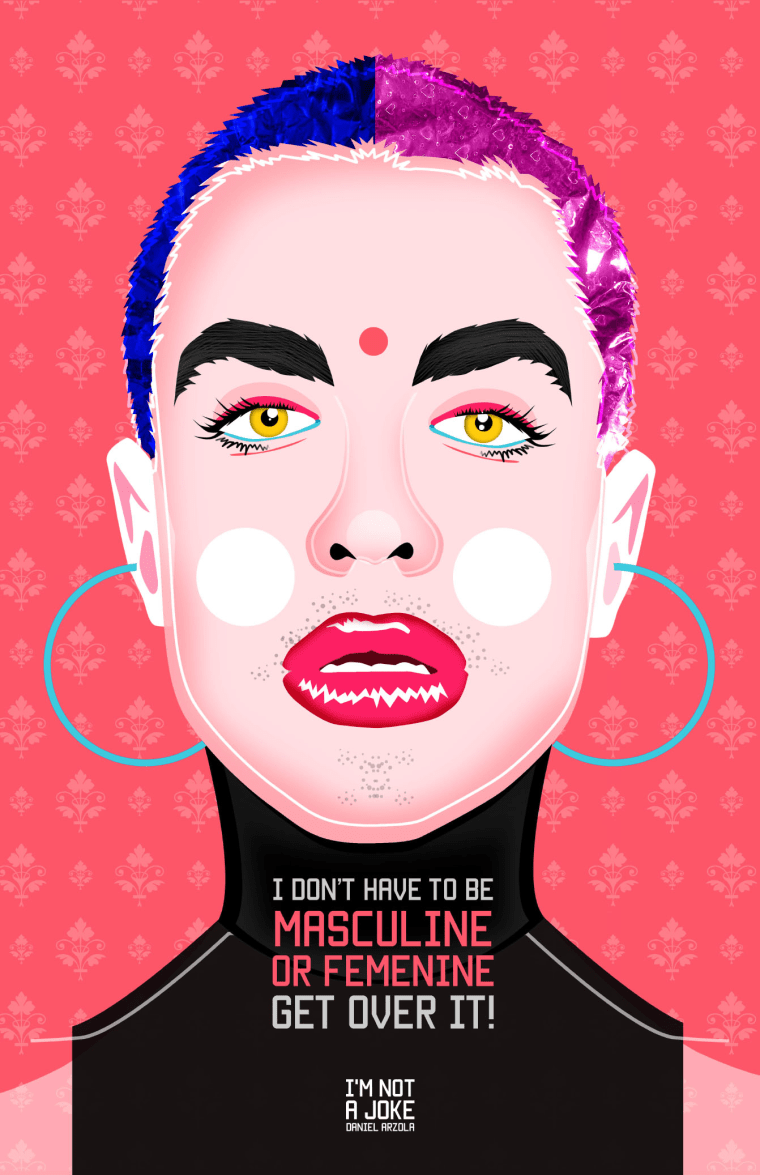 Today, the artist is known internationally for his art campaign titled "No Soy Tu Chiste" ("I Am Not a Joke"), a series of illustrations depicting the diversity of the LGBTQ community. Along with each image is a set of captions stating why sexuality and gender should not be used as a basis for discrimination or ridicule.
"All the time in Venezuela the media is used to ridicule the LGBT [community]," Arzola explained. As evidence, he points to the lack of positive LGBTQ characters on Venezuelan television and to comments made by President Maduro, who in the past has been accused of using a homophobic slur to ridicule his political opponent.
"So in that moment, I created 'I Am Not a Joke,'" Arzola said. "The campaign went viral in the first six months."
Soon Arzola was working with activists from across the world, and the campaign eventually caught the attention of pop icon Madonna, who included five pieces of Arzola's work in her campaign "Art for Freedom."
"I became more recognized because of my work, which gave me opportunities to talk about what is happening in Venezuela," Arzola said. "I exposed the government in Venezuela, because they are really homophobic."
It was then that Arzola began to receive threats of violence against his own personal safety, and the artist was forced to flee the country in 2014. Currently living in Chile, Arzola said the threats stopped after he left Venezuela but that his work is still being obstructed in other ways.
Related: Argentine Filmmaker Brings Personal Touch to Gay Characters
Since November, Arzola has been trying to renew his passport with the Venezuelan embassy in Chile so that he can travel to upcoming art exhibitions of his work, but he said his efforts have been ignored.
Arzola said that planned exhibitions in San Francisco and Paris in June will have to be canceled if he is unable to get his passport renewed in time.
"Even when you're out of your country, your nationality can be a jail," Arzola said. "I'm trapped here. I can't go anywhere, just because they don't give me a passport."
But Arzola is hopeful that the current protests in Venezuela are a sign that change can finally come to the people of his country — including positive change for the LGBTQ community.
As a sign of progress, Arzola points to the election of Tamara Adrian to Venezuela's National Assembly in 2015. With her election, Adrian became the first transgender lawmaker elected to public office in Venezuela, and one of the first transgender legislators in all of South America.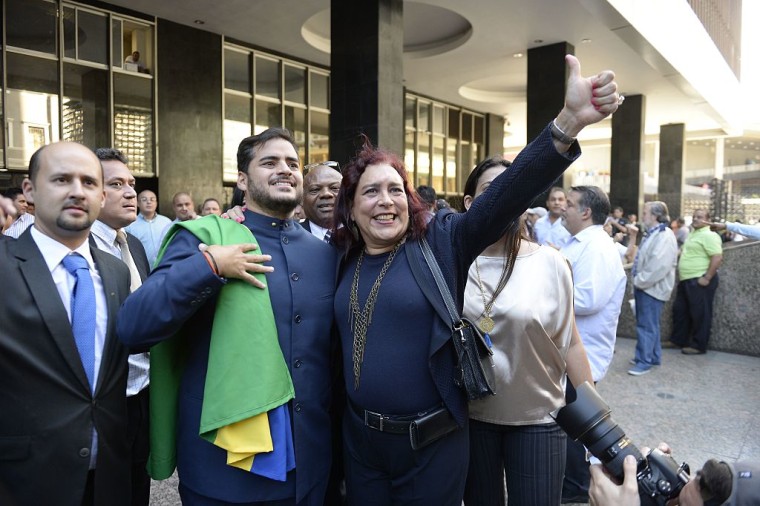 "It was a great responsibility," Adrian told NBC Out of her election to the National Assembly. "Many people always tell me they have the intention of entering politics [because of my election]."
Since being elected to office, Adrian has found a cause in fighting for LGBTQ rights in Venezuela, recently introducing an amendment to the country's Civil Registry Law. If passed, the amendment would bring marriage equality to Venezuela and recognize the preferred name and gender of transgender and intersex people. The amendment would also recognize same-sex marriages and gender changes done abroad and allow for gay people to adopt.
But Adrian said the current social and political situation in the country makes it difficult for her and other legislators to fulfill their roles as elected officials.
"During the past year, the government tried to impede the National Assembly to legislate or fulfill any of its functions," Adrian said, referring to a move made in March by the Venezuelan Supreme Court that stripped the National Assembly of its powers. Though the decision was ultimately reversed, protests resulting from what many perceived as a power grab by the Maduro government have continued throughout the country.
"We cannot stop, we cannot get tired, we have to recover democracy and freedom for Venezuela," Adrian said. "Everybody has a job to do in order to promote equal rights. That's in particular to the LGBTI issues, but at the same time to fight for democracy."