A wearable brain-scanning helmet. Designer drugs for controlling brain cells. A new executive order to prepare for solar storms.
The advancements were just some of the avant-garde technologies featured at a science conference Thursday co-sponsored by the White House — and what's more, they're getting a major infusion of federal cash.
The Obama administration announced several hundred million dollars in funding at the Pittsburgh event for projects ranging from its brain science initiative to programs to make traffic less infuriating.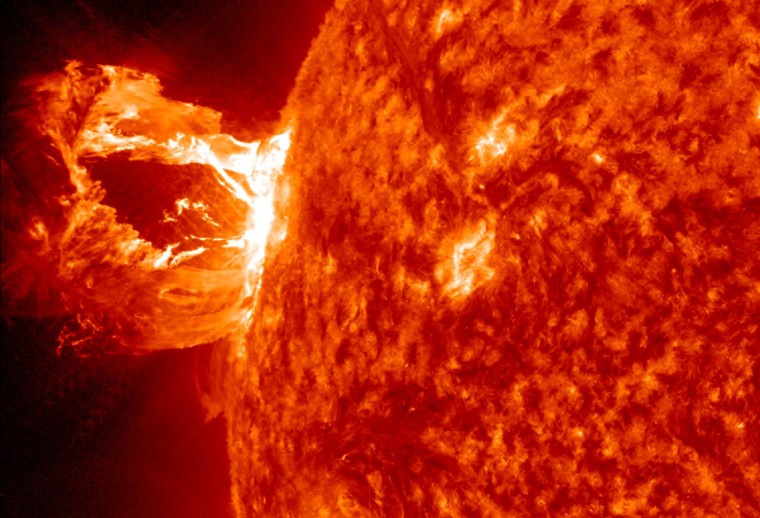 The Frontiers Conference at the University of Pittsburghand Carnegie Mellon University is typical of the administration's approach to promoting its agenda, with controlled-access, web-streamed pageants showcasing hand-picked winners of federal funding.
This one includes an executive order aimed at protecting the U.S. from geomagnetic storms that could knock out communications and power grids.
Related: President Obama Orders Government to Plan for 'Space Weather' Chaos
It says the Secretary of Energy with the aid of Homeland Security must develop a plan to "test and evaluate" devices that could mitigate the effects of space weather events on the electrical power grid.
"Space weather has the potential to simultaneously affect and disrupt health and safety across entire continents," the order reads.
The White House also detailed $70 million in spending by the National Institutes of Health as part of President Barack Obama's 2014 Brain Research through Advancing Innovative Neurotechnologies (BRAIN) Initiative.
"Space weather has the potential to simultaneously affect and disrupt health and safety across entire continents."
Among the 100 newly funded projects are a joint effort at the University of West Virginia and University of Virginia to make a wearable positron emission tomography brain scanner — a device that can be used for monitoring a person's brain function and their overall health.
Related: U.S. Partnering With Private Firms to Send Humans to Mars by 2030s
"This would allow doctors to watch the activity of a person's brain during a more natural state, such as walking through a park," the NIH said in a statement.
In addition, a team at the University of North Carolina-Chapel Hill will get funding to develop a drug that can target individual neurons to control behaviors such as eating or walking, while a group at the Baylor College of Medicine is getting cash to find ways to better control deep brain stimulation for treating patients with obsessive-compulsive disorder.
The administration also announced it would help pay for cities to take on issues such as traffic snarls, and said it was gathering private funding and $50 million to help companies developing small satellite technology.
"Entrepreneurs are taking advantage of recent advances in electronics and information technology to dramatically reduce the time and cost of designing, building, testing, and launching constellations of satellites," the White House said in a blog post, adding that federal agencies in the coming weeks will announce investments and new steps they will take to advance small satellite technology.