When Michelle Forney's breast started swelling and itching, doctors told her she had mastitis, a common infection, and treated her with antibiotics. When she discovered that she, in fact, had a rare form of lymphoma and that it was probably caused by her breast implant, she was both furious and frightened.
Forney is just one of hundreds of breast-implant recipients who have developed a rare blood cancer called anaplastic large cell lymphoma (ALCL). The Food and Drug Administration has been investigating reports linking breast implants with the cancer, and now has more than 400 reports about patients who developed ALCL after having a breast implant, including nine who died.
"I had my breast implants for about 19 years. And everything was fine for many of those years until about three years ago," when she developed major itching and pain in her breast, said Forney, who is 46 and lives in Sacramento.
"Come December of last year, I woke up one day and my breast was the size of a volleyball. Within a day it grew and just engorged," Forney told NBC News. "So I immediately went back to the doctor, saw my OB-GYN and she brought in a breast specialist. And they said: 'Oh, breast mastitis. You have an infection.'"
But a 10-day course of antibiotics did nothing to help.
Forney's doctors did not link the symptoms to lymphoma, she said, and mammograms showed no problem. It took several more visits to determine she had lymphoma. Finally, after a plastic surgeon persuaded Forney to have her implants removed, dozens of tiny tumors were found around the implant.
Women choose to get breast implants either for breast reconstruction after mastectomy or for cosmetic reasons. The American Society of Plastic Surgeons reported 400,000 breast implant procedures took place in 2017, up nearly 40 percent since 2000.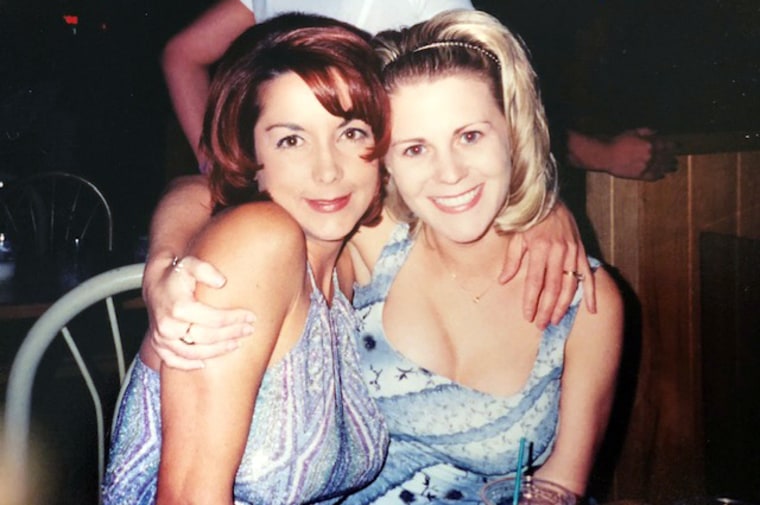 It's taken several years to gather data but the FDA now believes that textured breast implants may be more likely to cause ALCL, although it says smooth implants are also linked to an increased risk. The trouble is that there's no organized effort to put together data from people who have implants and those who have developed ALCL.
"Many studies have looked to estimate risk and, depending on the source data and country, the global lifetime risk of developing breast-implant-associated ALCL for patients with textured breast implants ranges anywhere from 1 in 3,817 to 1 in 30,000," the FDA said.
New data from Australia indicates as many as one in 1,000 people with breast implants may develop ALCL. The FDA said the implants available in Australia are different from those sold in the U.S., and that complicates efforts to figure out the true risks.
The FDA is holding public hearings on the issue next year to try to find out more about the potential links, and to ask people what should be done about it. So is the French government, and France's national health authority is in the meantime recommending against the use of textured implants.
"One of the problems in the United States is … with patients going to different doctors at different times and the doctors aren't necessarily communicating with each other and their medical records aren't communicating with each other," said Dr. Diana Zuckerman, president of the National Center for Health Research, a nonprofit, nonpartisan advocacy organization based in Washington. "There's really no way to know when women with breast implants get any number of health problems, including cancer."
Plastic surgeons put in the implants, and may not communicate at all with the oncologists who diagnose and treat ALCL.
Identifying risk factors
Breast-implant-associated ALCL was first identified in 1997, and it can take about 10 years to develop on average after an implant first goes in. It usually stays in the area right around the implant, WHO researchers reported in 2016 in the journal Blood. But it can break out and spread.
The American Society of Plastic Surgeons and the Plastic Surgery Foundation are each making a list of implant patients who develop ALCL. "The research will also focus on identifying potential risk factors and criteria detection and management of this disease," the groups say on a website devoted to the matter.
There doesn't seem to be a difference between silicone or saline filling in the implants. There's some evidence that making them rougher — a design meant to make the implants less likely to move around inside the breast — may raise the risk. Some plastic surgeons prefer the so-called textured version because there's evidence it reduces the risk of capsular contracture, a common complication that can leave the breast hard and misshapen. In the U.S., textured breast implants make up about 13 percent of the market.
Researchers are not sure why textured implants would raise the risk of cancer, but there are several theories.
It's possible that the texturing creates particles that cause abrasion, leading the body's immune system to respond and then malfunction. Or perhaps some women are genetically susceptible to ALCL. Another theory is that bacteria grow on the surface of the implant, causing a constant irritation that can lead to lymphoma.
"There may be multiple factors involved in the development of breast-implant-associated ALCL, such as patient characteristics, operative procedure history, breast implant characteristics — including surface characteristics — and duration the breast implant is in place," the FDA said in a statement.
There's a simple solution, says Dr. Eric Swanson, a cosmetic surgeonin private practice in Leawood, Kansas, a suburb of Kansas City.
"We know that the way to eliminate the problem is to just not use textured implants," Swanson told NBC News. "I think it's a moral question, and I think the answer is really easy."
The FDA says it's not so sure textured implants are the only cause of the lymphoma. "Breast implants, regardless of surface texture, are associated with a small risk of breast-implant-associated ALCL," the FDA said. "Breast-implant-associated ALCL appears to develop more frequently in individuals with textured implants than in people with smooth-surfaced implants, but this does not mean that patients with smooth-surfaced implants are not at risk for ALCL."
Makers of the breast implants have no immediate plans to stop selling textured versions.
"As with any medical procedure or device, patients considering breast implants are encouraged to have a comprehensive conversation with their surgeon about all potential risks and benefits, allowing for a fully informed decision," said Allergan, which makes several types of breast implants. "Based on available scientific information, global health agencies and manufacturers are not recommending any change in implant availability, current practice, post-implant care and check-ups," it added.
"Allergan is and has been fully committed to investing in and supporting work to further understanding and increasing awareness of breast-implant-associated ALCL."
Mentor, another maker of breast implants, links to the FDA's warnings on its website.
"Breast Implant Associated-Anaplastic Large Cell Lymphoma (BIA-ALCL) is a very rare and, if caught early, treatable type of non-Hodgkin's lymphoma that has occurred in a small number of the more than 5 million women who have breast implants globally," the company said in a statement.
"Mentor continues to work globally with industry groups, physician scientists and health authorities to better understand the associated risks and causes of this type of lymphoma."
Swanson said plastic surgeons also need to do more to warn patients about the risks. "Patients trust their doctors. Doctors need to tell their patients about this risk and patients need to be notified," he said.
Forney agrees. "We would love the FDA to require every hospital, every plastic surgeon, to send letters to every patient they put breast implants in, educating them on the signs and symptoms of ALCL," she said. "I think that every doctor that has put breast implants in any woman should be taking responsibility."
The series, in which NBC News investigated medical device alerts around the world, was part of a global project organized by the International Consortium of Investigative Journalists, a news organization notable for its work on the Panama Papers. More than 250 reporters in 36 countries worked on related articles that began publishing Sunday.