The Food and Drug Administration approved the first home DNA tests Thursday that let people find out if they have a genetic risk for certain diseases.
The FDA decision allows home DNA test company 23andMe to directly market its gene tests for 10 diseases, including Parkinson's, Alzheimer's and some rare blood diseases.
"These are the first direct-to-consumer (DTC) tests authorized by the FDA that provide information on an individual's genetic predisposition to certain medical diseases or conditions, which may help to make decisions about lifestyle choices or to inform discussions with a health care professional," the FDA said in a statement.
"Consumers can now have direct access to certain genetic risk information," said Dr. Jeffrey Shuren, director of the FDA's Center for Devices and Radiological Health, which approves these kinds of tests.
"But it is important that people understand that genetic risk is just one piece of the bigger puzzle. It does not mean they will or won't ultimately develop a disease."
Related: Stop Selling Home DNA tests, FDA Tells 23andMe
A person's genes almost never make for a 100 percent risk of any disease. Instead, many different genes usually interact with a person's lifestyle and other factors to cause disease. For instance, the National Institute on Aging (NIA) notes that many genes are involved in developing Alzheimer's disease, and it's not clear how much each one raises the risk.
Related: 23andMe Faces Class Action Lawsuit in California
"It is unlikely that genetic testing will ever be able to predict the disease with 100 percent accuracy, researchers believe, because too many other factors may influence its development and progression," the NIA, one of the National Institutes of Health, says on its website.
"It does not mean they will or won't ultimately develop a disease."
And some genetic mutations are inherited, some develop before birth, and some occur as people live their lives. How, where and when these changes develop can affect whether such changes causes disease.
Related: Smoking Permanently Scars Your DNA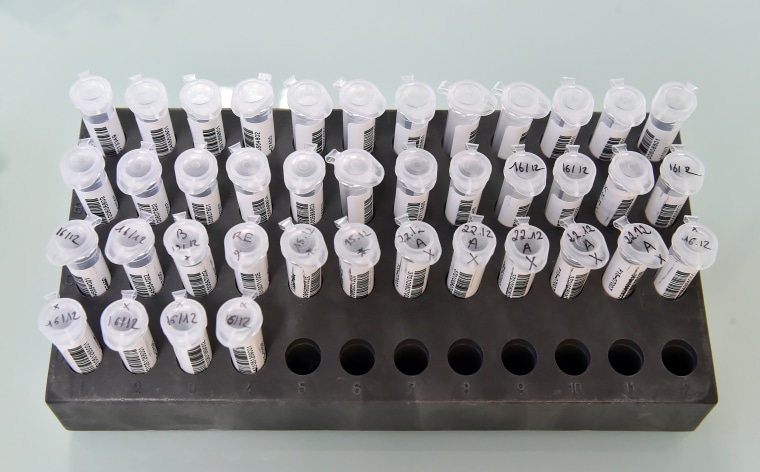 The FDA's decision, which is sure to stir up controversy, is a big turnaround from 2013, when the FDA singled out 23andMe, ordering the company to stop marketing its over-the-counter gene test.
23andMe is especially aggressive in marketing its home tests, usually offered as saliva tests that customers can send in for analysis.
This test does not include checks for genes that predispose people to cancer. They look instead for DNA variation involved in 10 conditions:
The FDA says these are all serious conditions and customers must first click an acknowledgement that they understand the results could cause them anxiety, a spokeswoman said. "The 'opt-in' page includes links to recommendations from professional medical associations on the benefits and risks of genetic testing for users to read before deciding whether to receive test results," the FDA spokeswoman, Tara Goodin, said via email.
Related: Mutant Gene Protects Against Heart Attack
New York University bioethicist Art Caplan says he is surprised the FDA approved the home tests, given the questions that still surround even genetic tests done by physicians.
"So much remains unknown, both about the accuracy of testing and the ability of consumers to process genetic information without counseling or help," Caplan said.
"Even physicians have a difficult time knowing how to interpret genetic test risk information. So this decision may wind up frightening as many people about genetic risk as it does empower them."
Kathy Hibbs, chief legal officer at 23andMe, said the company had changed the tests to address those issues.
"We had to conduct studies to show that consumers drawn from abroad swath of society could understand and use the product appropriately," Hibbs told NBC News. "We call those 'user comprehension' studies. We conducted those and submitted them to FDA to demonstrate that Americans can access and understand and use the product in a safe and effective way."
Hibbs says the tests will explain that having -- or lacking -- a genetic predisposition to a disease does not make for perfect certainty. "We provide information on how to access genetic counseling, although we don't provide genetic counseling ourselves," she said.
"Even physicians have a difficult time knowing how to interpret genetic test risk information."
And the FDA says the test will recommend that customers "speak with a healthcare professional, genetic counselor, or equivalent professional before getting the results of the test."
Medical geneticist Dr. Robert Green of Harvard University said people who buy the test tend to understand the risks. "We're moving as a society toward empowering people with health related information and this is, I think, a welcome step, along that journey," Green said.
Caplan says it's also not clear what privacy people have and how well 23andMe could safeguard their test results, or even their actual samples.
Related: How Much Cancer is Due to Genes?
The FDA said it reviewed the tests through a new process.
Consumers can expect more such tests to hit the market now.
"In addition, the FDA intends to exempt additional 23andMe genetic health risk tests from the FDA's premarket review, and genetic health risk tests from other makers may be exempt after submitting their first premarket notification," the FDA said.
"A proposed exemption of this kind would allow other, similar tests to enter the market as quickly as possible and in the least burdensome way, after a one-time FDA review."