President Donald Trump's nominee to head the Food and Drug Administration, Dr. Scott Gottlieb, said on Wednesday he'd use his drug industry experience as a force to improve the agency and agreed with his critics who said the FDA had not handled the opioid crisis well.
"I want to earn and keep the public's trust," Gottlieb told the Senate Health, Education, Labor and Pensions committee hearing Wednesday. "I recognize the importance of bringing impartiality to this role."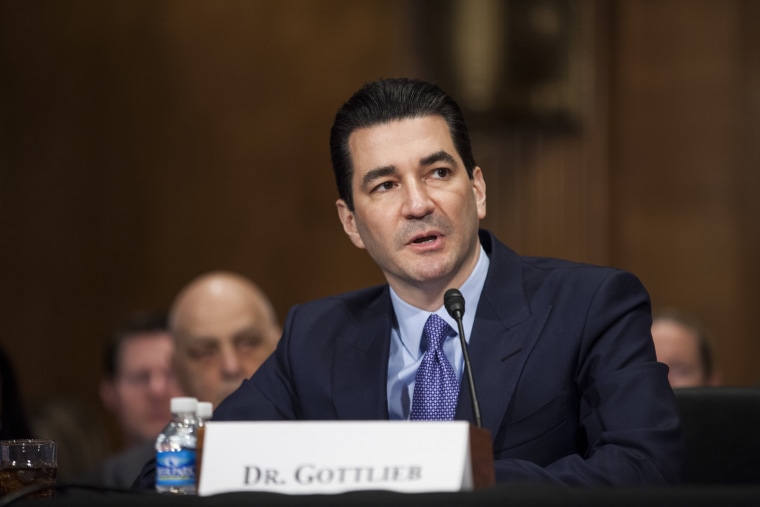 Gottlieb is a Washington fixture, with a medical degree, experience at the FDA and in the Centers for Medicare and Medicaid Services. He is a fellow at the right-leaning American Enterprise Institute and a respected health policy analyst.
But his critics cite his ties to the drug industry and his role at New Enterprise Associates, which bills itself as the world's largest venture capital firm. It invests heavily in medical technology and healthcare companies.
Related: 78 Die From Opioid Overdoses Daily
They seized on the opioid crisis as Gottlieb's potential weak spot.
"Trump's nominee to be the next FDA commissioner, Dr. Gottlieb, is entangled in an unprecedented web of close financial and business ties to the pharmaceutical industry and was no doubt chosen because he is well-suited to carry out the president's reckless, ill-informed vision for deregulating the FDA's review and approval process for prescription medications, including opioids," Dr. Michael Carome, director of Public Citizen's Health Research Group, told reporters on a conference call.
"Dr. Gottlieb has had a cozy relationship with big drug companies for decades," added Sherrod Brown, a Democratic senator from Ohio. "He has supported allowing those same companies to rush their drugs — including potentially addictive opioid painkillers — onto the market before we're sure that they're safe," Brown added.
"Dr. Gottlieb has had a cozy relationship with big drug companies for decades."
Republican senators, however, used the hearing to lavishly praise Gottlieb. "I just want to compliment you," Utah Sen. Orrin Hatch said. "You have had a wealth of experience," he added.
The HELP committee chairman, Sen. Lamar Alexander (R-Tenn.), said Gottlieb's experience should be an asset to the giant agency, which oversees approval of new drugs, medical devices and biological products; regulates food safety; and supervises some tobacco product marketing.
Gottlieb has said that if confirmed as FDA commissioner, he'd stay away for a year from decisions involving nearly two dozen companies he has been involved with, would divest himself of medical company stocks and would resign from his other positions. And he said he'd make the opioid crisis a major focus of the agency's efforts.
"I think this is a public health emergency on the order of Ebola and Zika," Gottlieb said at the hearing.
The opioid epidemic has the attention of Congress, Trump, the Centers for Disease Control and Prevention and public health experts, with deaths hitting a new high each year.
Related: Nearly 12,000 Kids Poisoned by Opioids
Massachusetts Sen. Ed Markey, a Democrat, says the FDA has done too little to control opioid misuse.
"For years, the FDA has granted unfettered access to Big Pharma and its addictive opioid painkillers to the American public," Markey told reporters in a teleconference.
"The result is a prescription drug, heroin and fentanyl epidemic of tragic proportions and the greatest public health crisis our nation currently faces," Markey added. "At a time when we need its leader to break the stronghold of big pharmaceutical companies on the FDA, Dr. Scott Gottlieb will not do the job."
But Gottlieb agreed the FDA had acted too slowly to address the overuse of opioids to treat pain.
"I think in order to address it now, the types of actions that we are going to need to take are going to be more dramatic, perhaps, than the types of actions we would have taken 10 years ago," Gottlieb said at the hearing. He said the FDA alone cannot fix the crisis.
"At a time when we need its leader to break the stronghold of big pharmaceutical companies on the FDA, Dr. Scott Gottlieb will not do the job."
Related: To Cut Opioid Overdoses, Watch Doctors
Gottlieb, a cancer survivor — he had Hodgkin's lymphoma — has the support of other groups, including the National Comprehensive Cancer Network (NCCN), where he's an adviser.
"We deeply respect Dr. Gottlieb's experience in health care and particularly his experience with the issues that patients with cancer and providers face, and we look forward to working together to accomplish the goal of high-quality cancer care for all Americans," said Dr. Robert Carlson, CEO of the NCCN.
Gottlieb said he could use his insider knowledge of how drug companies work to stop them from manipulating the FDA for commercial advantage.
"I think the FDA is constantly getting drawn into commercial disputes, which puts the agency into a difficult position," he said.
"I think this is a problem that I am uniquely suited to try to ... solve," he added.
Gottlieb also said he would not unfairly favor e-cigarette companies. He resigned last year from a position with e-cigarette company Kure.
"As a cancer survivor, I am not going to countenance a rise in adolescent smoking rates in this country under my watch," he said. But he said there could be a role for vaping in weaning smokers away from burnt tobacco cigarettes.
Flavored vaping products that aim to lure young people to use nicotine could sometimes go too far, Gottlieb said. "I recognize that there is a line here somewhere and I don't know where that line gets drawn," he said, promising to leave the issue up to FDA experts.