The Centers for Disease Control and Prevention has sent a team of five experts to help in an international effort to fight an outbreak of Ebola virus that is threatening at least three west African nations.
CDC director Dr. Tom Frieden says the team has gone to Guinea, where the outbreak appears to have started. It's killed at least 70 people, out of 112 suspected and confirmed cases.
There's no good treatment and no cure for Ebola, a virus that causes an especially deadly and virulent form of hemorrhagic fever. Patients bleed internally and usually die of shock. Luckily, the virus is not spread very easily but it can be transmitted when people care for victims or handle their bodies.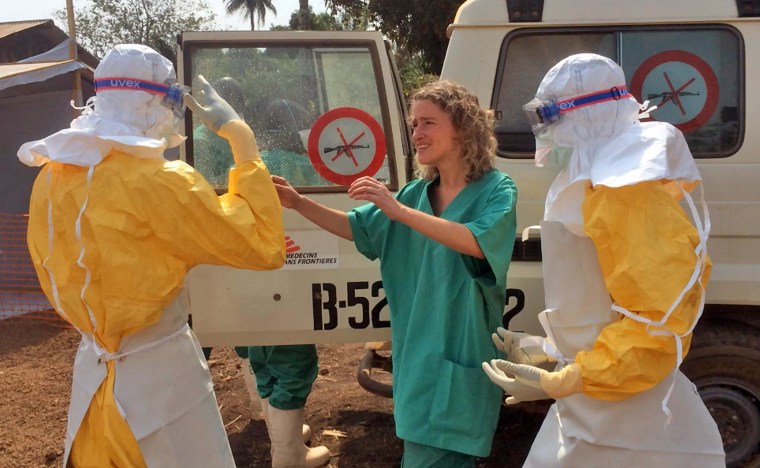 "Ebola risk for travelers very low," the World Health Organization said in a statement, explaining that infections result from contact with body fluids of infected patients, especially in hospitals.
People without symptoms usually don't transmit the virus, WHO says, with one notable exception: Men can transmit it in their semen for as long as seven weeks after recovering from an infection.
But the outbreak is worrisome both because it's an especially deadly strain of the virus and because it's in a border area.
"This is the most aggressive and deadly Zaire strain of Ebola virus. It kills more than 9 out of 10 patients," said Michel Van Herp, an epidemiologist for the non-profit group Medecins sans Frontieres (Doctors Without Borders) in Guinea.
The United Nations is coordinating an effort to deliver experts and medical supplies to Guinea, Liberia and Sierra Leone.
"The supplies include single-use personal protection equipment, and disinfection and secure burial material. Half of the infected persons in Conakry are health workers. Providing them with adequate training and necessary equipment is crucial for infection control," WHO says.